Dickey receives little support in no-decision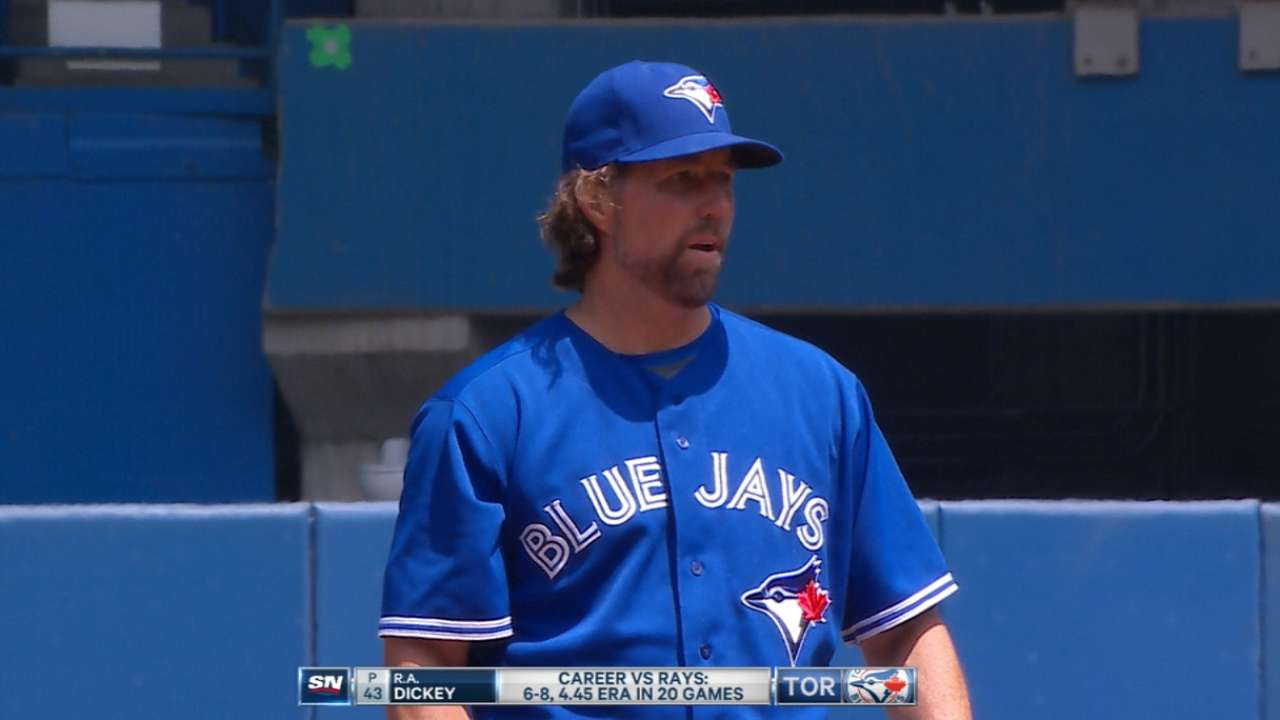 TORONTO -- The Blue Jays are known are to score a ton of runs, but lately they haven't saved many for days when R.A. Dickey takes the mound.
The 40-year-old knuckleballer turned in his 10th quality start on Saturday, but for the fifth game in a row the Blue Jays were unable to score more than two runs in support of their right-hander in dropping a 3-2 decision to the Rays at Rogers Centre.
"It's been a peculiar year in that regard," Dickey said of the lack of run support. "But I've been feeling really good since early June, so I just have to keep concentrating on how I can get myself to be the best I can be. If I can consistently do that for our team, more times than not, I feel good about our chances of winning."
Dickey left the game after tossing six innings of one-run ball and a 2-1 lead on the scoreboard. Dickey walked one batter and allowed four hits, but his early work was undone as the bullpen faltered in the later innings, leaving him without a win for the ninth time in his last 10 starts.
The veteran hurler has been backed by only six total runs over his last five starts. Despite the trend, Dickey said he's less preoccupied with stats like run support average and more concerned with ERA and his strikeout-to-walk rate.
"I haven't had a year like this, so it's kind of new territory for me," said Dickey, whose is 3-10 on the season. "This deep into the year, where the luck just hasn't been going my way. But that's OK. So much of that is outside of my control. So it's great mental exercise to put it behind you."
Blue Jays manager John Gibbons said a start like Dickey's should be good enough to win.
"He gave us what we need," Gibbons said. "When you get a start like that out of anybody, you'll take it."
Jamie Ross is an associate reporter for MLB.com. This story was not subject to the approval of Major League Baseball or its clubs.