Casali, Guyer new Rays' power combination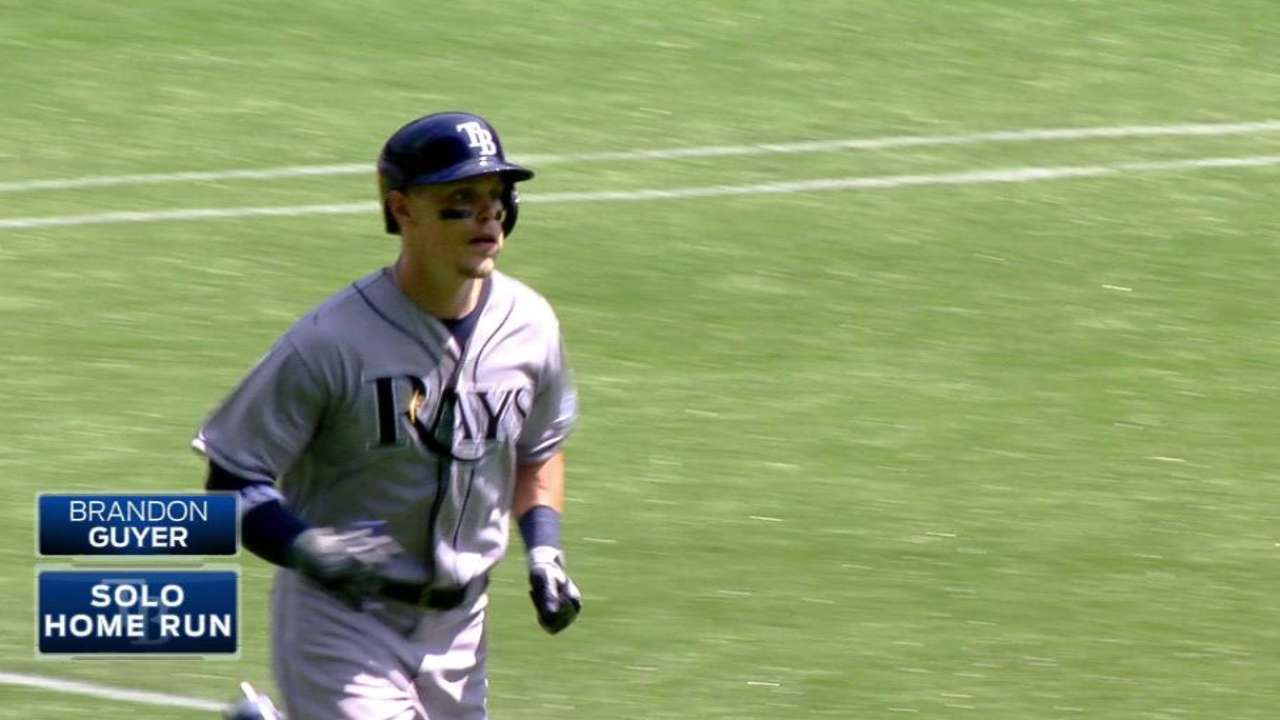 TORONTO -- The Bash Brothers they aren't.
But on Saturday afternoon, no one in the Rays' dugout cared as solo home runs by Brandon Guyer and Curt Casali proved to be the difference in a 3-2 win over the Blue Jays at Rogers Centre.
Entering the game, the pair had combined for four home runs. That did not stop them from coming through with the game-tying and go-ahead homers.
Rays manager Kevin Cash looked relieved to have some offense on his side for a change as the bats have struggled of late.
The hits have "eluded us a lot before the break," Cash said. "Today, we won the ballgame because we pitched well. But we got big hits. Casali and Guyer both. Those were huge at-bats."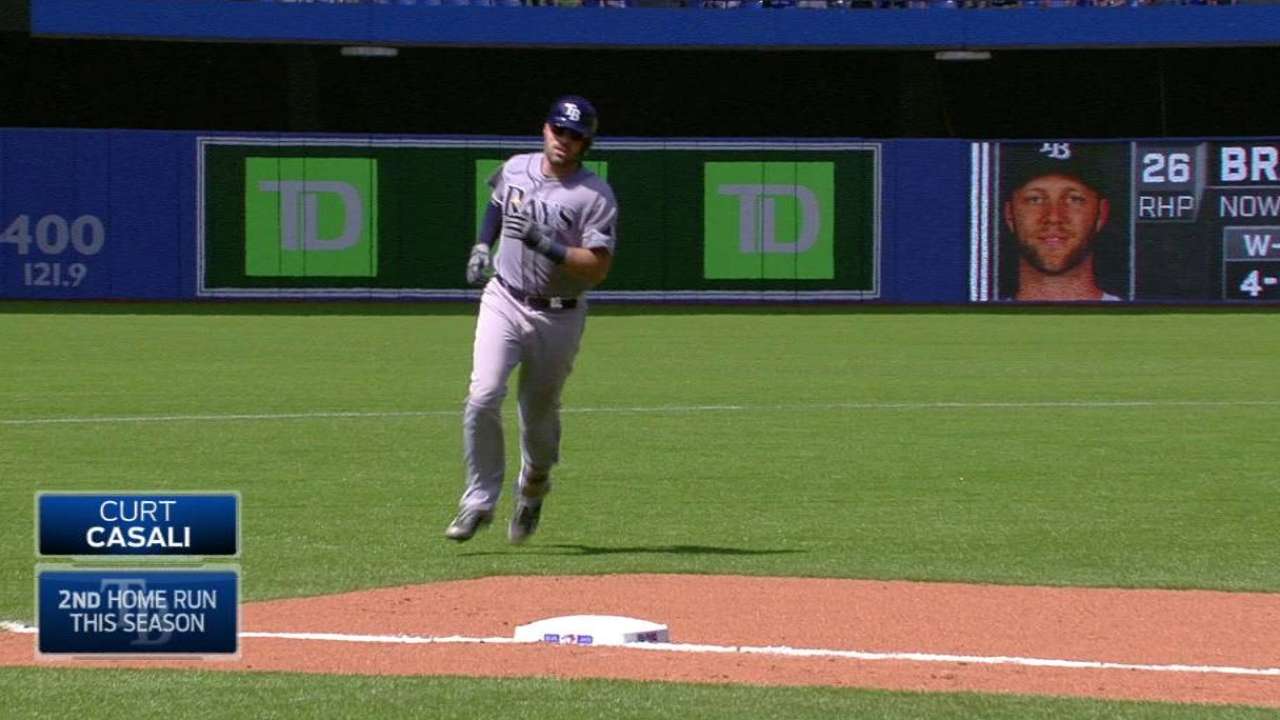 Casali's second home run of the season turned out to be the decisive blow and came in the eighth when he connected on a 1-0 pitch from reliever Ryan Tepera to give the Rays a 3-2 edge.
"Yeah, it was pretty cool," Casali said when asked about hitting the game-winning home run. "It definitely was not in my mind to do that. I was just trying to get on base any way I can. [Hitting coach Derek Shelton] was talking to me before the at-bat and he told me [Tepera] throws a lot of cutters, so to try and stay with a right-center [field] approach. I did. And he left one up. My swing path was in the right spot at the right time and fortunately it went out."
Casali pumped his fist when he reached second on his trip around the bases.
"I was pumped, I'm not going to lie," Casali said. "Nail-biter like that. After yesterday. Trying to get the second half off to a good start and anything I can do to help the team win, I'm going to be excited about."
Guyer's fourth home run off the season came in the seventh off Aaron Loup. The Blue Jays' left-hander got ahead 0-2 in the count with two fastballs.
"Fastballs that I just missed," Guyer said.
Guyer went to a "two-strike" approach after getting behind in the count.
"Then 0-2, I took a very close changeup," Guyer said. "I knew it was off, but I've gotten rung up on that before."
Guyer explained his two-strike approach.
"Stay short and let the ball get to me," Guyer said. "Put it in play. If I don't have that approach, I'm probably hooking it foul there. I just let it get deep and put a good swing on it."
Guyer planted 1-2 offering over the left-field wall to tie the game at 2.
"He made a mistake and I tried to capitalize," Guyer said. "I think it was a slider. He left it right there. I'm sure if he went back, he'd wish it was in a better spot. Times like that you have to take advantage of it."
Now the Rays hope the clutch hitting will be contagious throughout their lineup.
"I hope so," Cash said. "I certainly hope they are. We're going to need them for about two months."
Added Casali: "I'd like to say [clutch hitting is] contagious. Baseball's hard enough as it is to put together clutch hits. It's difficult. It's difficult when you don't know how the pitcher's going to be from one day to the next. But that's our formula. We have to have clutch hits in order to win ballgames. It's nice to put up 10-spots, but that's not the kind of team we are. We need timely hitting and fortunately, we got some today."
Bill Chastain is a reporter for MLB.com. This story was not subject to the approval of Major League Baseball or its clubs.