2005 champions honored in on-field ceremony
Guillen, former players speak to crowd prior to Saturday's game vs. Royals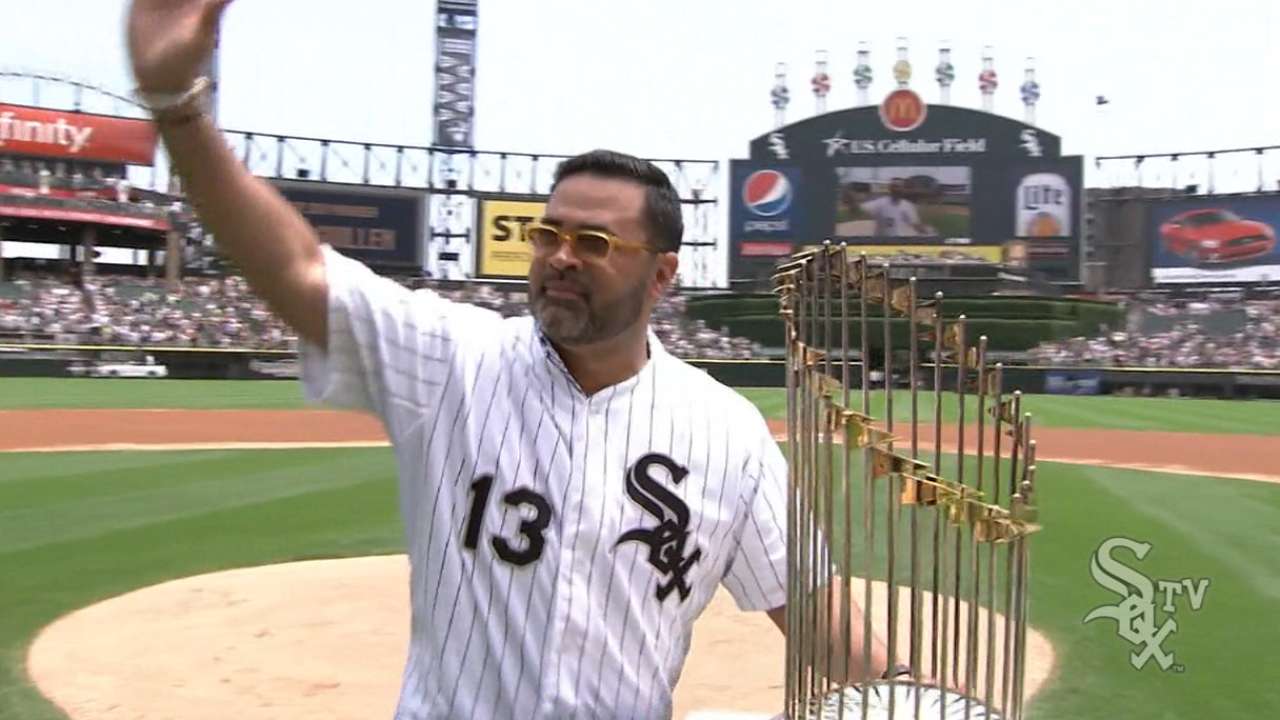 CHICAGO -- The 10-year reunion for the 2005 White Sox World Series champions moved into the celebration phase before Saturday afternoon's game against the Royals at U.S. Cellular Field.
There was a 30-minute on-field ceremony honoring the 25 members from that historic team in attendance, with manager Ozzie Guillen and each of the players driven in from center field in separate cars. Aaron Rowand, Orlando 'El Duque' Hernandez, Jon Garland, Paul Konerko, Scott Podsednik, Jermaine Dye and Guillen all spoke, with video highlights coming before and after. These festivities followed an earlier picture taken with the whole team in front of the World Series statue, and a Q & A session for season ticket holders with Guillen, Rowand, Geoff Blum and Brian Anderson.
Memories flooded back for all those involved, including White Sox chairman Jerry Reinsdorf, who spoke about the team's stature in baseball lore.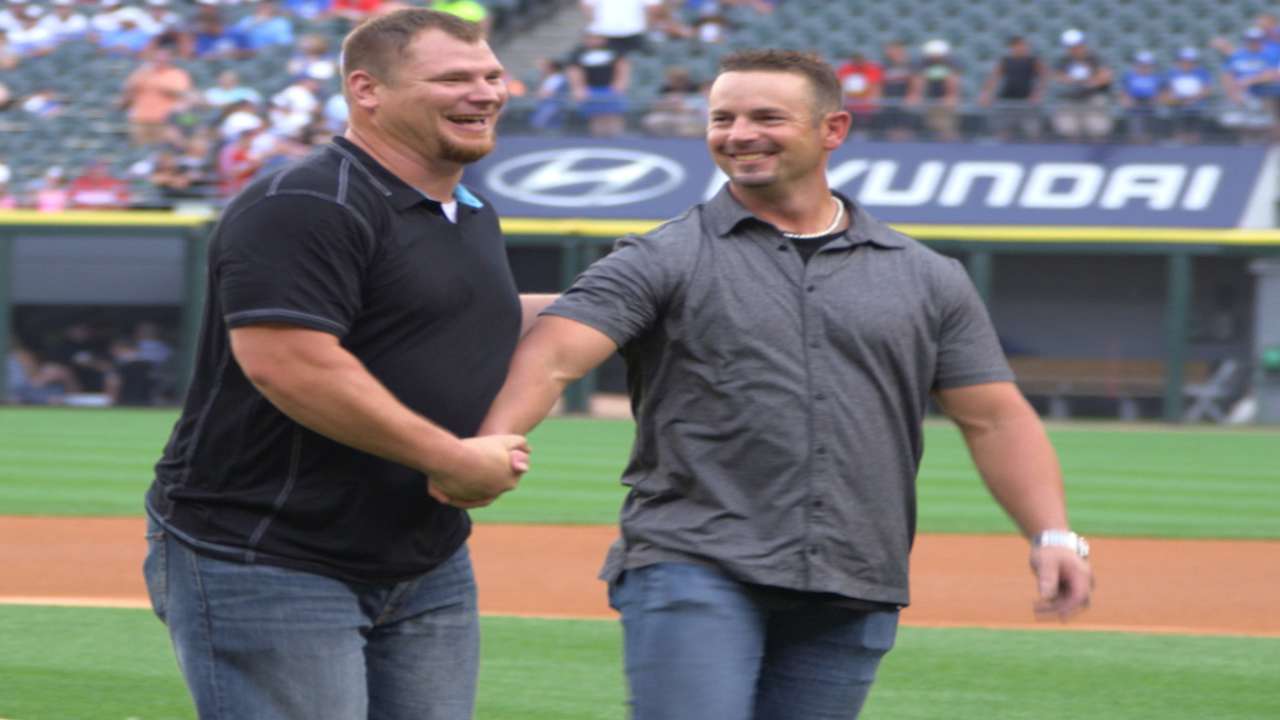 "It doesn't matter if you go 11-10 or 11-1 [in the postseason]. A championship is a championship," Reinsdorf said. "We weren't the '27 Yankees, but we probably were better than a lot of other teams.
"But what recognition do you need other than a trophy? It's a memory you never lose. I didn't appreciate it while going through it, because all the games were so close. We couldn't really enjoy it until it was over."
Some players were a little bigger, some looked as if they could put on a uniform for Saturday's game and Pablo Ozuna grew his hair out since the 2005 season.
This particular group topped the American League Central from start to finish. They tied a franchise-record with 99 regular-season wins, put together an 11-1 postseason run and finished with 16 wins in their last 17 games overall. Yet, these White Sox aren't always discussed in the long list of classic champions, recognition they richly deserve.
As the weekend comes to a close, with a program Sunday night at the Chicago Theater and then the Field of Greens charity golf outing Monday, the goal in some ways is to move on from the past. Always remember the greatness of 2005, of course, but the White Sox want to carve out a new set of championship memories.
"I'm hoping to have a great time today," Chicago pitching coach Don Cooper said. "Then my goal is to try to make the 2025 one."
"It's great. It's a great memory that they'll always have, that I will always have, that our fans will always have," Reinsdorf said. "Hopefully there will be another one, but if there isn't, you can never take it away."
Scott Merkin is a reporter for MLB.com. Read his blog, Merk's Works, follow him on Twitter @scottmerkin and listen to his podcast. This story was not subject to the approval of Major League Baseball or its clubs.