Yanks option Mitchell to Triple-A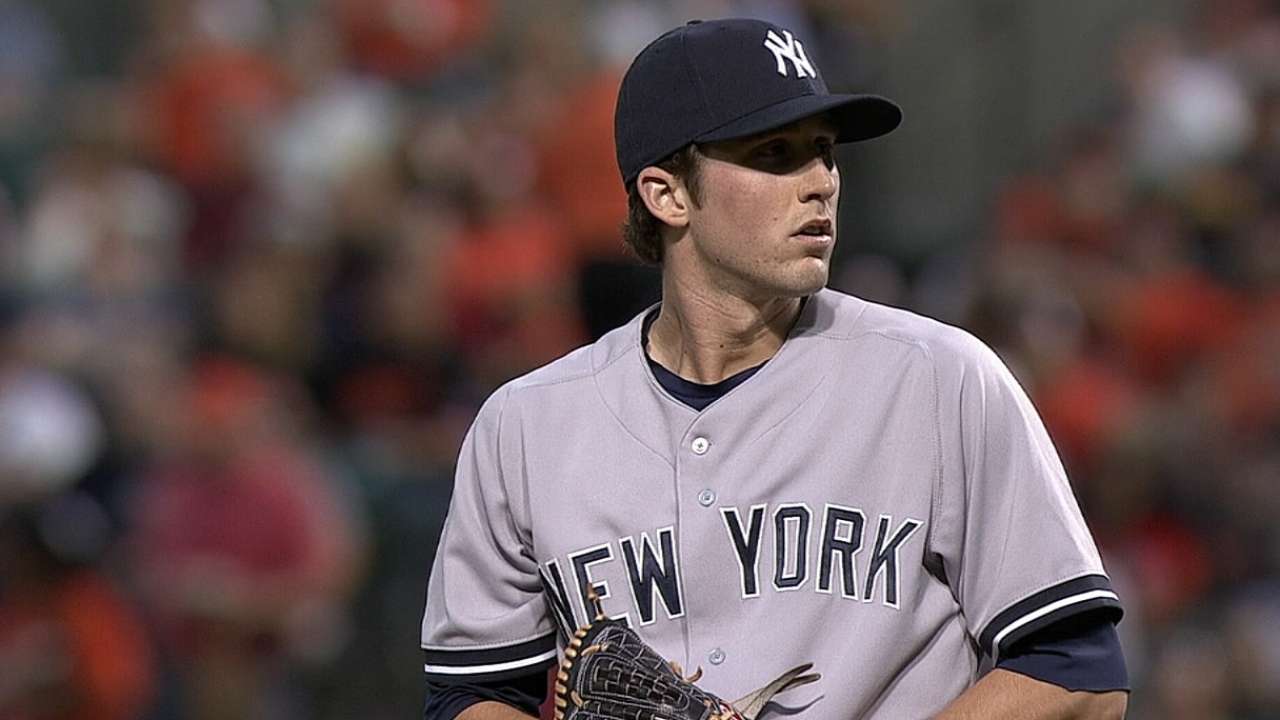 NEW YORK -- When Yankees manager Joe Girardi called right-hander Bryan Mitchell into his office on Friday night, he assured the pitcher he had done nothing wrong.
"'You actually did a lot of good things for us,'" the skipper said he told his righty. "'But we need to stretch you out.'"
Mitchell has been optioned to Triple-A Scranton/Wilkes-Barre in an effort to make that happen. In a corresponding roster move, the Yankees recalled righty Branden Pinder.
"We just wanted to stretch Bryan back out. He has not thrown really any distance in the last three weeks," Girardi said. "We're going to probably start him [on Saturday] in Louisville and try to get him stretched back out, in case we need him as a starter."
Mitchell has made six appearances in relief over the course of three different stints with the Yankees this season, after making his season debut on June 20. He became the fourth pitcher in Yankees history to register a save within his first four career games since the save became an official stat in 1969. He's posted a 2.89 ERA and nine strikeouts over 9 1/3 innings of work.
Girardi said if the situation arose where it was necessary, former starters Adam Warren and Chris Capuano could make spot starts, but he added he didn't think the Yanks would get a lot of distance from them. Additionally, he said, it would mean keeping two of his most experienced relievers out of the bullpen for a few days.
"Would I feel comfortable throwing Adam 50 pitches? Probably. Capuano, 50 pitches, maybe a little bit more, probably," Girardi said. "But not much more than that, at this point."
Pinder has played in nine games this season, posting a 2.53 ERA. He made his debut on April 15.
Girardi said the Yankees expect to welcome Carlos Beltran back on Sunday for the series finale with the Mariners.
"I think he's going to travel here today, and there's a good chance we'll activate him tomorrow," Girardi said.
Grace Raynor is an associate reporter for MLB.com. This story was not subject to the approval of Major League Baseball or its clubs.