Back in the 'pen, Vogelsong locks down win
Right-hander delivers two scoreless innings and key bunt single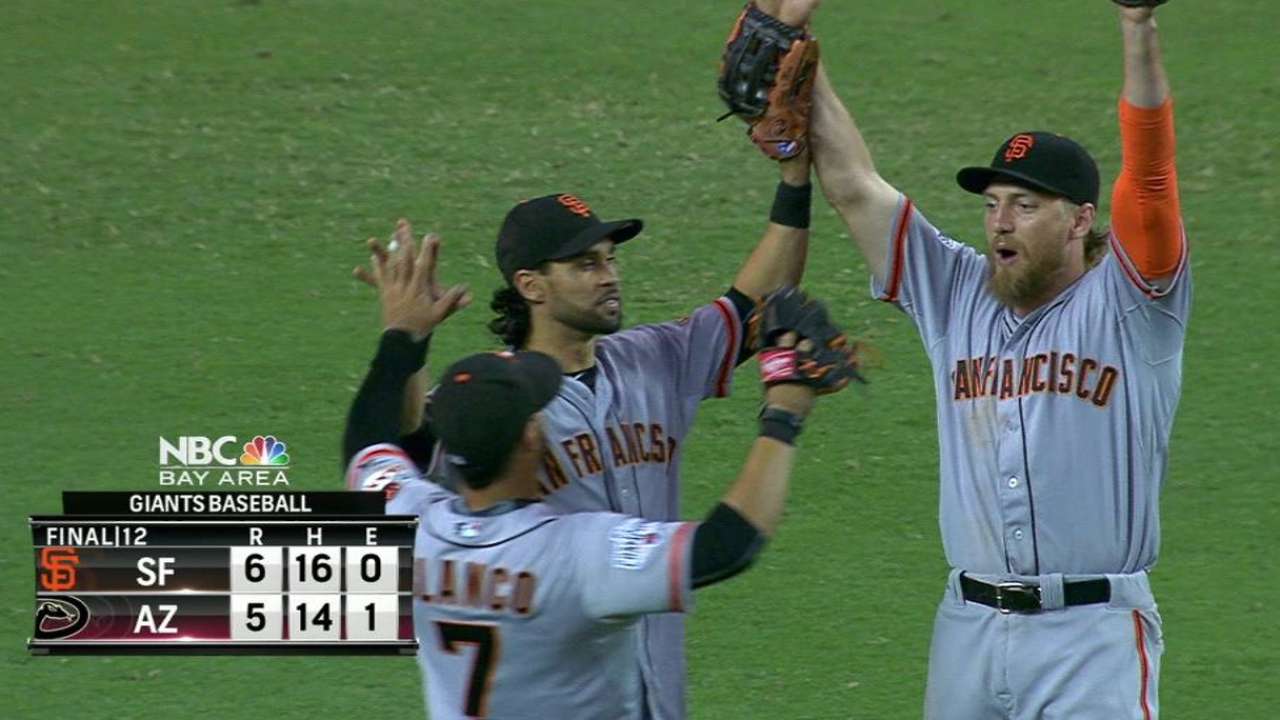 PHOENIX -- Giants manager Bruce Bochy has been telling Ryan Vogelsong to have patience after the All-Star break since the right-hander was moved out of the starting rotation to the bullpen in lieu of Tim Hudson. And Vogelsong didn't have to wait long.
Down to his last pitcher in the 11th inning on Friday night, Bochy called on Vogelsong to save the day for the Giants. He pitched the final two innings of his club's 6-5 victory in 12 innings, earning his seventh win of the season and first in the Major Leagues as a reliever since 2005.
"He probably thinks this is a little easier getting a win this way," Bochy said. "He goes two innings and gets a W."
But in all seriousness.
"He came out with good command and great stuff," Bochy added. "I know he's got to get over the hump. He hasn't had a ton of success coming out of the 'pen. This should do a lot for him."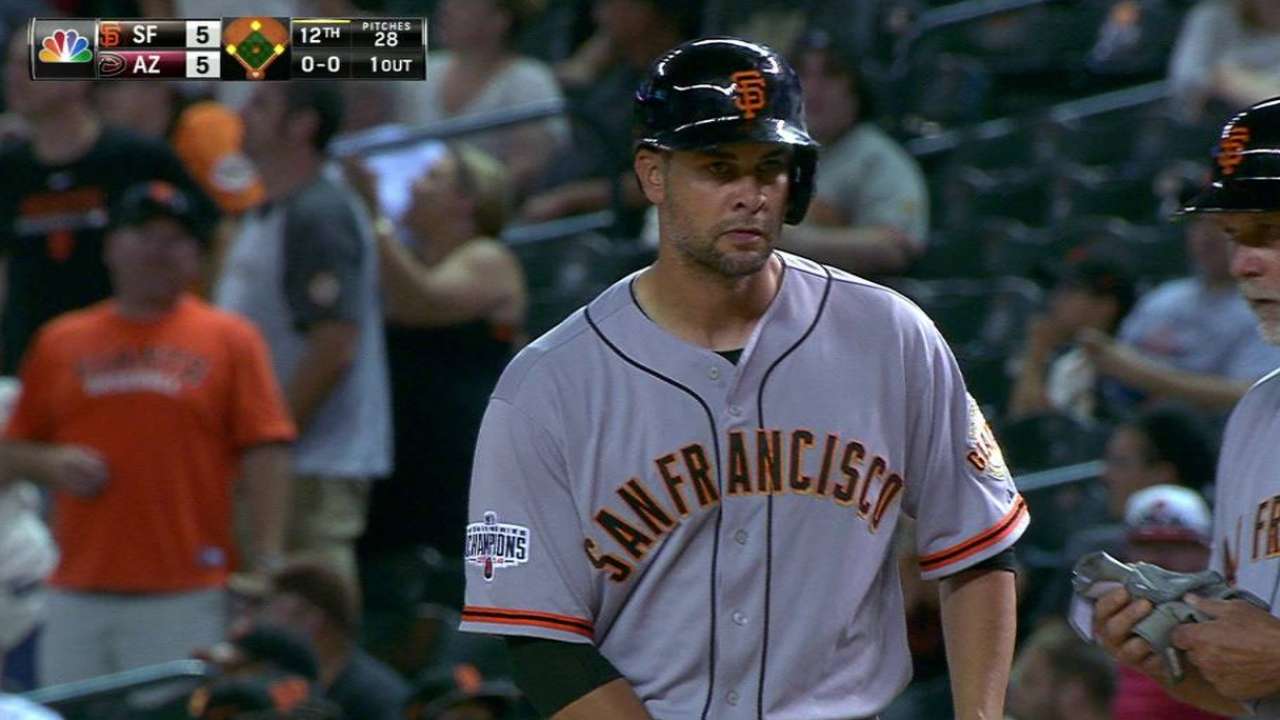 Vogelsong still hopes this a passing phase. He made two relief appearances during the opening weeks of the season and because of injuries to Matt Cain and Jake Peavy, was hoisted back into the rotation. Vogelsong made 16 starts in all and was 6-6 with a 4.23 ERA mostly in that role.
Now Cain and Peavy are back, Cain making his third start on Friday and lasting just five innings. Peavy's fifth start of the season will be against the D-backs on Saturday. Hudson is expected to be taken off the disabled list for a start Monday against the Padres in San Diego. Vogelsong is the odd man out.
It's taking a bit of adjustment.
"Well today was the first day I've been back down there since April, so I guess based on today I'm doing pretty good," Vogelsong said. "I mean it's not like I haven't done it before. I've been in this situation multiple times in my career so it's nothing new."
Vogelsong has made 251 appearances in his big league career, 159 of them starts. There's no doubt that's what he likes to do.
"Yes," he said. "I just feel more comfortable starting, warming up, the flow of the game. It's just a different beast down there [in the bullpen]. The adrenalin rush is just way different. It takes a little getting used to."
By the time Vogelsong came into what turned out to be a 5 hour, 11 minute, game, Bochy had used all 22 of his available players, including 10 pitchers. All that he had left on the 25-man roster were starters Peavy, Madison Bumgarner and Chris Heston. So Vogelsong was in for the long haul.
He made short work of it, pitching a flawless 11th -- punching out David Peralta to end the inning -- and worked out of the 12th despite allowing three singles. The victory, coming on an unearned run in the top of the 12th, during an inning in which Vogelsong contributed a key bunt single, was a moment to savor.
"Anytime you can contribute it's a good thing," Vogelsong said. "Tonight it happened to be at the end. I threw the ball pretty good and got out of there with a win."
Barry M. Bloom is a national reporter for MLB.com and writes an MLBlog, Boomskie on Baseball. Follow @boomskie on Twitter. This story was not subject to the approval of Major League Baseball or its clubs.