Mistakes big and small add up for D-backs
Pennington's throwing error, Delgado's misplay of bunt lead to run in 12th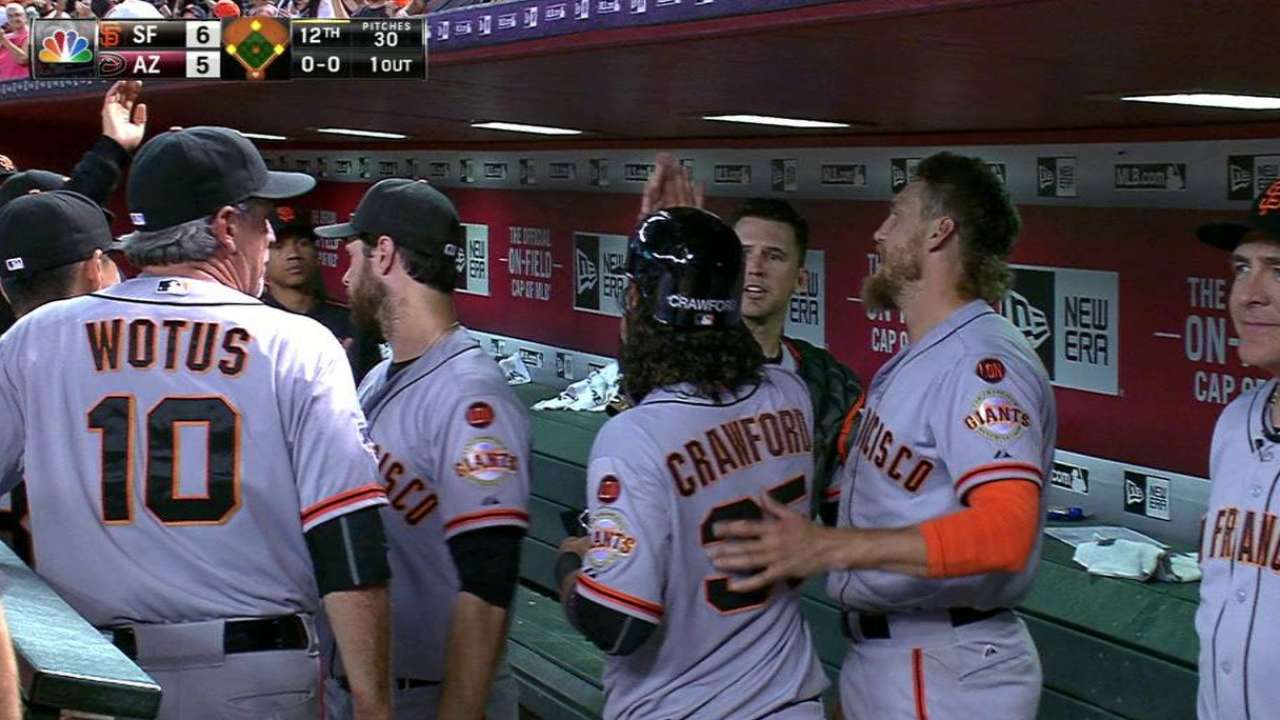 PHOENIX -- The D-backs escaped several tough situations to extend Friday night's game against the Giants once it reached extra innings.
But it was a pair of defensive lapses that allowed the Giants to surge ahead and escape with a 6-5 win in the 12th inning after 5 hours, 11 minutes of play at Chase Field.
First, there was a misread bunt by D-backs third baseman Jake Lamb. It was soon followed by an errant throw by shortstop Cliff Pennington that allowed the winning run to score.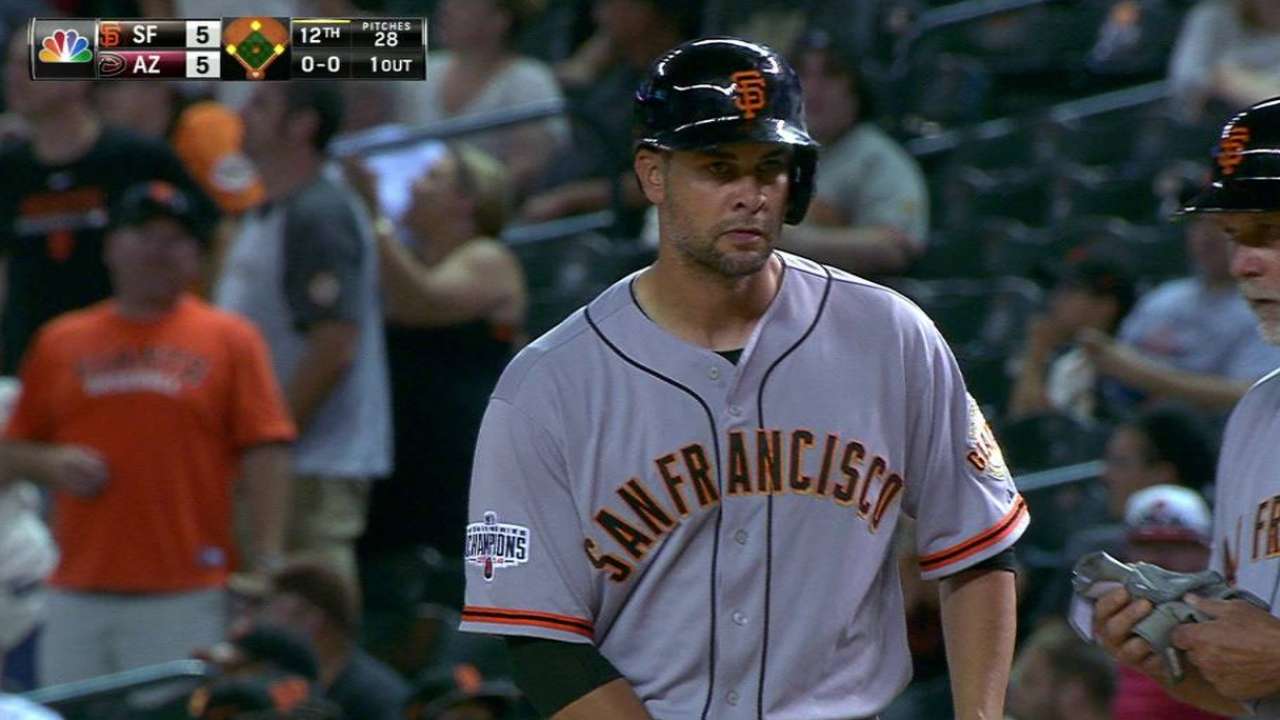 With one out and runners on first and second, Giants reliever Ryan Vogelsong dropped down a bunt to the left side, past the reach of D-backs reliever Randall Delgado. However, Lamb wasn't in position to field the ball, Vogelsong reached first, and the Giants suddenly had the bases loaded.
"That's all my fault, that was just a bad read off the bat," Lamb said. "What I thought I saw was the ball going right back to Delgado, I looked at it and it was just a bad read on my part, so I take full blame for that."
The next play, Giants center fielder Angel Pagan tapped a slow grounder to Pennington. The D-backs shortstop fielded it and tried to throw home to prevent the run from scoring. But the ball went past catcher Welington Castillo and Brandon Crawford crossed home plate for the go-ahead run.
In both the 10th and 11th innings, the Giants had leadoff doubles by Crawford and Pagan respectively. Yet both times, the D-backs escaped the jam and stranded Giants baserunners at third to end the inning.
"I feel like we played a pretty good ballgame up until then," D-backs second baseman Chris Owings said. "We could've done a couple things better, but overall it was a great game, I felt like we did really well and battled the whole game."
Owings homered earlier in the game and the D-backs had a 5-2 lead entering the seventh. But the Giants struck for three runs against Enrique Burgos, with Hunter Pence's two-run shot to right tying the game at 5.
But the D-backs also made some minor mistakes that helped cost them. David Peralta led off the seventh with a triple, but then got out on a fielder's choice for the first out of the inning.
The minor mistakes and sloppy play was what upset D-backs manager Chip Hale, although he said he didn't feel it was a product of a few days off for the All-Star break.
"We played very poor fundamentally, baserunning, defense, made too many mistakes," Hale said. "We just did a poor job.
"We've got to figure it out, that's four [losses] in a row now. We're a better team than that."
Jake Rill is an associate reporter for MLB.com. This story was not subject to the approval of Major League Baseball or its clubs.