Wilson sets the stage for Trout's heroics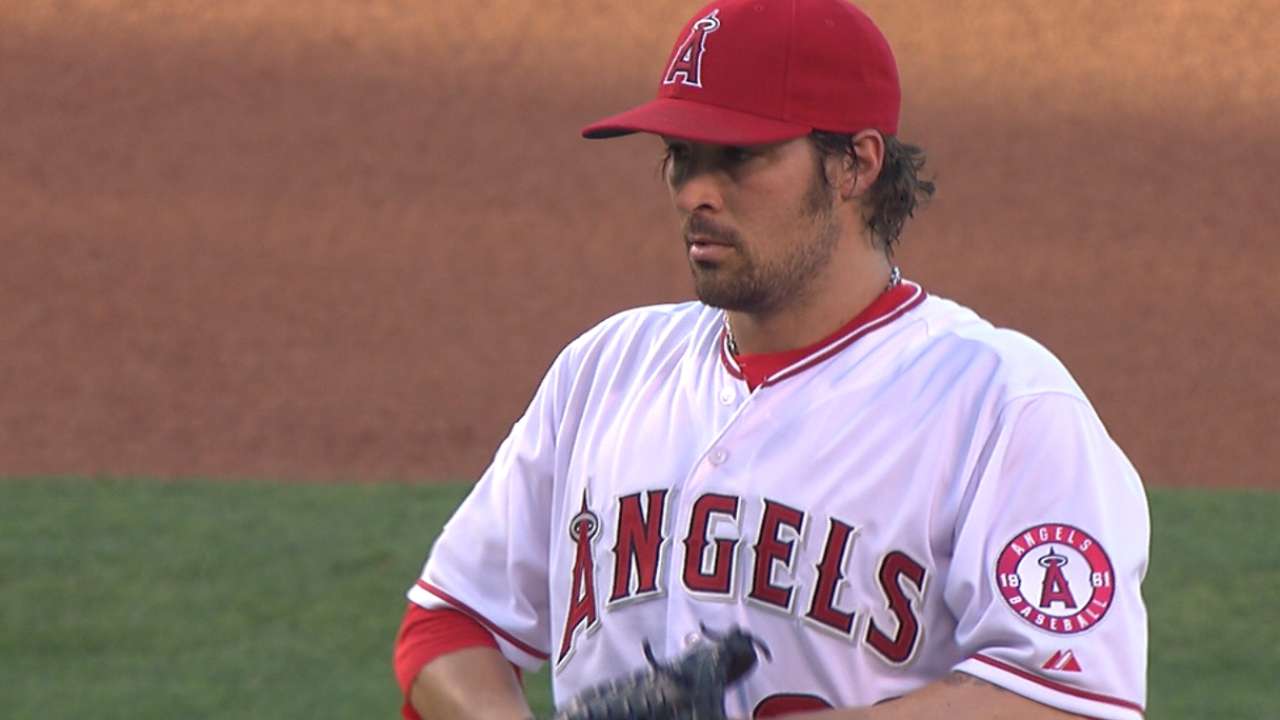 ANAHEIM -- Mike Trout could only hit his walk-off homer on Friday night, in the Angels' 1-0 win over the Red Sox, because the game was still scoreless after eight innings. And the game was still scoreless after eight innings because of C.J. Wilson.
With Boston starter Wade Miley no-hitting the Angels through six innings and one-hitting them through seven -- heck, Miley got Trout out three times as the "MVP!" chants rang around Angel Stadium -- the Angels needed Wilson's best in their second-half opener. And they got it.
"Just trying to get out on the right foot in the second half, it was a big win," Trout said. "Miley had great stuff tonight … but so did C.J."
Wilson threw 111 pitches over eight innings. The veteran lefty allowed one baserunner in each frame, but none crossed home plate.
"Really tug-of-war type the whole way," Wilson said. "It wasn't like one of those wins where you can, as a team or as a pitcher, just cruise. Very stressful -- I'll definitely sleep well tonight."
He should, especially after his last out, a big one: Wilson retired David Ortiz with a man on to end the eighth, getting the Boston slugger to line out to left field. Wilson had held Ortiz to three hits in 20 at-bats in his career entering the game, but Ortiz had singled twice on Friday.
"Yeah, but I mean, what kind of hits were those tonight? Little flares? It's not like he hit two homers or something like that," Wilson said. "I felt like I was in control of all the at-bats. He hit the ball where I wanted him to hit it on the field. I didn't want him to yank a ball down the line for a home run or anything like that. I didn't give him a chance."
Thanks in large part to Wilson's effort before Trout's home run, the Angels preserved the lead they'd taken from the Astros in the American League West in their last game before the All-Star break. Houston also won Friday.
"C.J. got some big outs, against some tough right-handed hitters, too," manager Mike Scioscia said. "There's some guys in that lineup that'll let you know if you're missing spots."
And, in fact, Wilson said a keys for him was getting out Hanley Ramirez and Mike Napoli.
"I had to make the ball move because every guy in their lineup can hit a home run," Wilson said. "I did a little bit of everything tonight."
Worth noting
• Reliever Joe Smith took a Napoli line drive off his right shin in the ninth inning, but Scioscia said preliminary indications were that it was just a bruise and Smith should be good to go Saturday.
• Pitching in the 2015 Pan American Games, Angels prospect Nate Smith tied a Team USA strikeout record in PanAm play with 10 a win on Friday.
David Adler is an associate reporter for MLB.com. Follow him on Twitter @_dadler. This story was not subject to the approval of Major League Baseball or its clubs.