Gnarly Angel: Walk-off is Trout's ASG encore
ANAHEIM -- The legend of Mike Trout is getting ridiculous. It's to the point where all Kole Calhoun can do is shake his head and smile.
"The kid is a joke, dude," Calhoun said. "We needed a win. He did it. Period."
Really, what else can you say at this point?
Trout broke a scoreless tie with a walk-off home run with two outs in the ninth inning on Friday night, because of course he did. Three days earlier, the superstar center fielder became the first back-to-back All-Star Game MVP in the history of the game, and now here he was, stepping to the plate against Red Sox closer Koji Uehara -- who had allowed all of two home runs in 33 2/3 prior innings -- and sending the Angels to a 1-0 win in the second-half opener.
• Trout stuns Red Sox with walk-off homer
After Trout circled the bases and remained on the field for a post-game interview, the entire Angel Stadium crowd of 43,234 remained on its collective feet to serenade him with "MVP!" chants. He was asked how he keeps doing things like this, and all he could do was smile.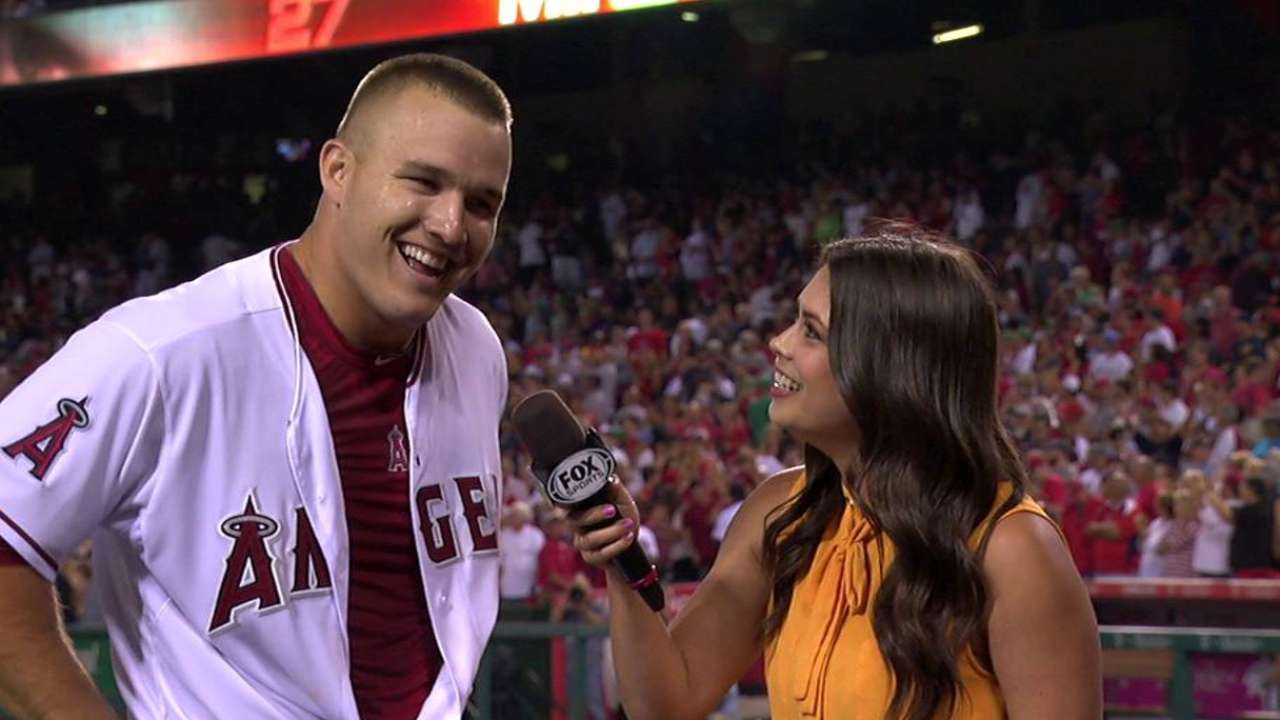 He was asked the very same things by the 15 or so reporters who circled his locker, and Trout struggled to articulate it all. He is, after all, just 23 years old.
"I'm just having fun," Trout said, laughing when asked if he possesses the ability to surprise himself. "It's one of those weeks I'm definitely going to remember."
Trout began it by being named American League Player of the Week, then went to his fourth straight All-Star Game, began the Midsummer Classic with a leadoff homer against Zack Greinke, flew on a private jet back to New Jersey with Home Run Derby champion Todd Frazier, returned back to the West Coast, took an 0-1, outside-corner fastball from Uehara and crushed it for his 27th home run this season.
• Trout knows value of AL's 'huge' ASG win
• Trout a fan of Derby format, Frazier
• Trout wins ESPY for Best MLB Player
"I don't think you can find more accolades to talk about Mike Trout," Angels manager Mike Scioscia said, his team still holding a half-game lead in the AL West. "He does so many things in so many different forms, whether it's with his legs or his bat or anything. He did it tonight."
Friday marked Trout's third walk-off hit, all of which have been home runs. He became the sixth player to homer in his first game after winning All-Star Game MVP, and the first since Alfonso Soriano in 2004. And he delivered on a night when the Angels were no-hit by Wade Miley through the first six innings.
"If I was not a Major League Baseball player, I'd just try as hard as I could to trade for him in fantasy leagues," said C.J. Wilson, who threw eight scoreless innings to help give the Angels their eighth win in the last 10 games. "He's just really, really good."
Prior to the game, Angels closer Huston Street was immersed in a discussion with fellow pitchers Joe Smith, Garrett Richards and Matt Shoemaker about how it is that they would go about pitching to Trout.
His conclusion?
"I don't know," Street said later with a smile.
After the game, Street knelt down with his two young sons, Ripken and Ryder, and had them watch Trout do his postgame interviews.
"I told them, 'Listen to him,'" Street said. "'Listen to how he talks to the media; listen to how humble he is.'"
Street is 31 years old, well into his 11th season in the Major Leagues, and he said Trout pushes him to be better every day. He's got all the talent in the world, he displays it all with a charming humility -- and he obviously has a sense for the moment.
"The simplest thing to say is he deserves all the credit that he gets," Street said. "He's one of those special players that comes around once in a lifetime."
Alden Gonzalez is a reporter for MLB.com. Read his blog, Gonzo and "The Show", follow him on Twitter @Alden_Gonzalez and listen to his podcast. This story was not subject to the approval of Major League Baseball or its clubs.