Road win eludes Syndergaard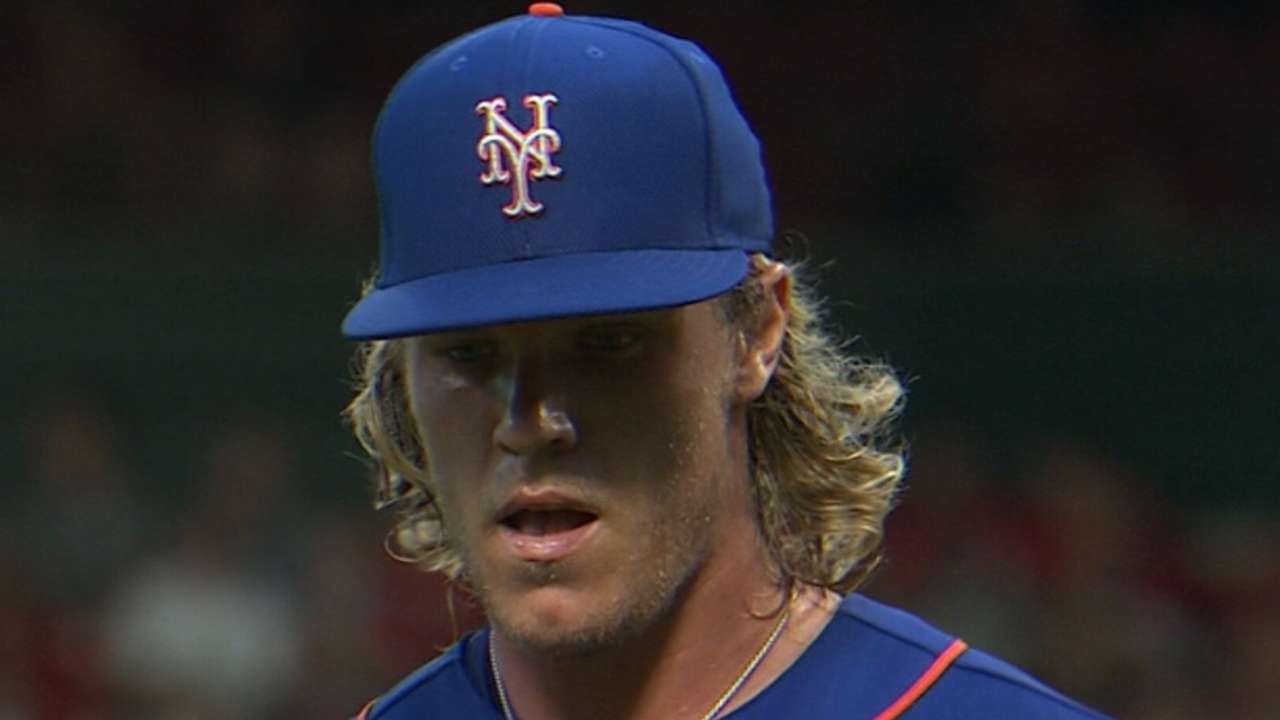 ST. LOUIS -- Most of the road numbers for rookie righty Noah Syndergaard continue to improve, except the most important one -- the final score.
Syndergaard fell to 0-4 away from home this season after the Cardinals escaped with a 3-2 win on Friday at Busch Stadium in both teams' first game back from the All-Star break.
Despite the outcome, Syndergaard (4-5, 3.05 ERA) continued to impress, giving up two runs over seven innings.
"We battled our tails off till the very last strike," Syndergaard said. "We all knew how important it was to come out for the second half on a good streak. We just came up a little short, but I feel like I threw pretty good."
Syndergaard's command -- 70 of his 96 pitches were strikes -- was the difference between this outing and his earlier road struggles.
"He's just commanding the zone really well," catcher Kevin Plawecki said. "He's been able to throw those three pitches for strikes whenever he wants, and when he can do that and locate with all that stuff, it makes for a great outing."
Syndergaard's road ERA dropped from 5.33 to 4.73, and his opponent's batting average fell from .286 to .267 with this performance.
"He's just got it," manager Terry Collins said. "He's figured it out. He's got a feel for what he's got to do now. He knows he's got great confidence in his offspeed stuff -- that he can throw it when he needs to. Plus, he can throw 98 [mph], so that helps."
The only blip came in a two-run sixth, which was highlighted by a Jhonny Peralta home run that just escaped the outstretched glove of Kirk Nieuwenhuis over the left-field wall to make it 2-1.
The Cardinals added a much-needed insurance run off the Mets' bullpen in the eighth.
Curtis Granderson started the game with his fifth leadoff home run of the season and the Mets scored their second run on Ruben Tejada's infield single off Cardinals closer Trevor Rosenthal in the ninth, but the potential tying run was stranded at third when John Mayberry Jr. struck out.
Afterward, Syndergaard was still thinking about his one mistake.
"I had pretty good command of my fastball, I was throwing my breaking and my offspeed pitches for strikes," Syndergaard said. "I just made one mistake to Peralta, and he hit it over the wall."
Despite the loss, this was Syndergaard's fourth straight quality start, two of which have come on the road.
"It's an unbelievable feeling, just them having the confidence in me to start the second half," Syndergaard said. "Unfortunately, we just fell a little short."
Joe Harris is a contributor to MLB.com. This story was not subject to the approval of Major League Baseball or its clubs.