Big hit continues to elude Rangers
Texas collects 15 hits, but struggles to produce runs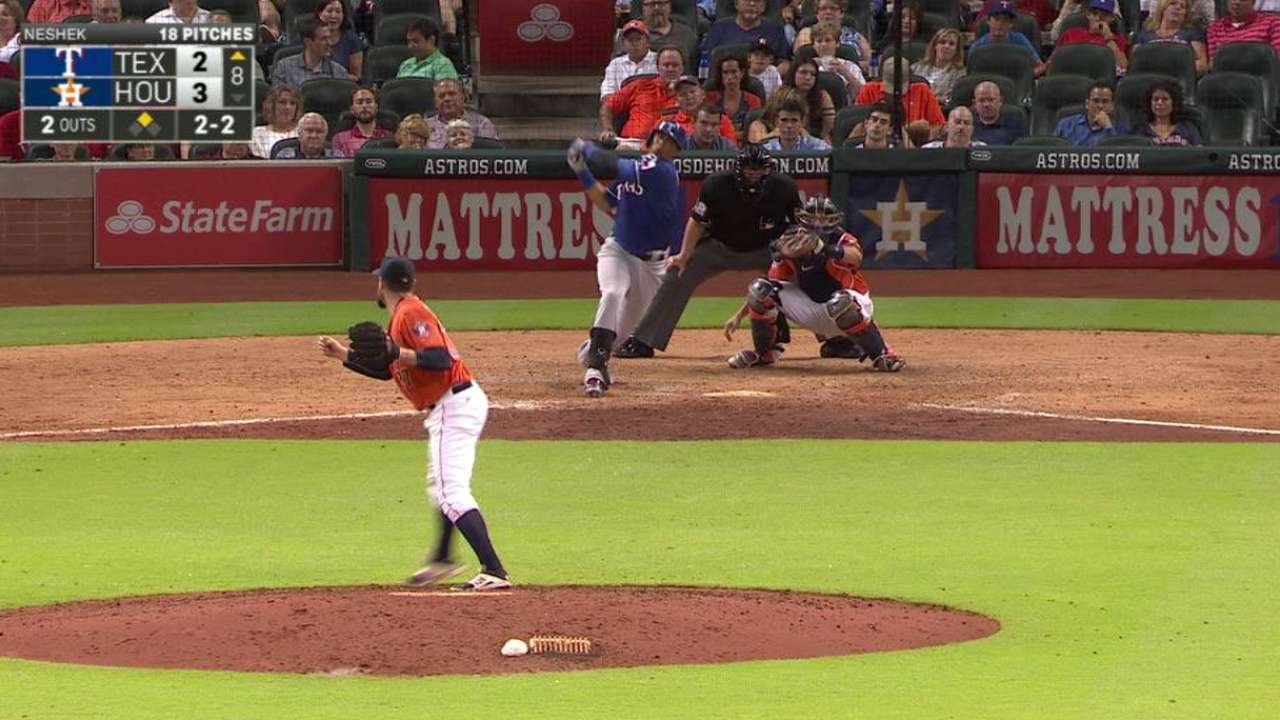 HOUSTON -- The Rangers were hoping for better offensive execution in the second half. Instead, they made a little club history in a 3-2 loss to the Astros on Friday night.
The Rangers had 15 hits, marking the first time in club history they have done that and scored just two or fewer runs. Manager Jeff Banister found that hard to take.
"It has been our nemesis, not being able to get the big hit," Banister said.
The Rangers outhit the Astros, 15-9. But they had just three extra-base hits, they were 2-for-8 with runners in scoring position and they had two runners thrown out on the bases.
"It's good we're getting hits," outfielder Josh Hamilton said. "If we continue that, we'll start getting hits with runners in scoring position."
Texas' offensive misfiring began in the first inning against Astros starter Colin McHugh when Rougned Odor singled with one out and was thrown out trying to stretch it into a double. Three straight singles by Prince Fielder, Adrian Beltre and Mitch Moreland loaded the bases, but Hamilton grounded out to end the threat.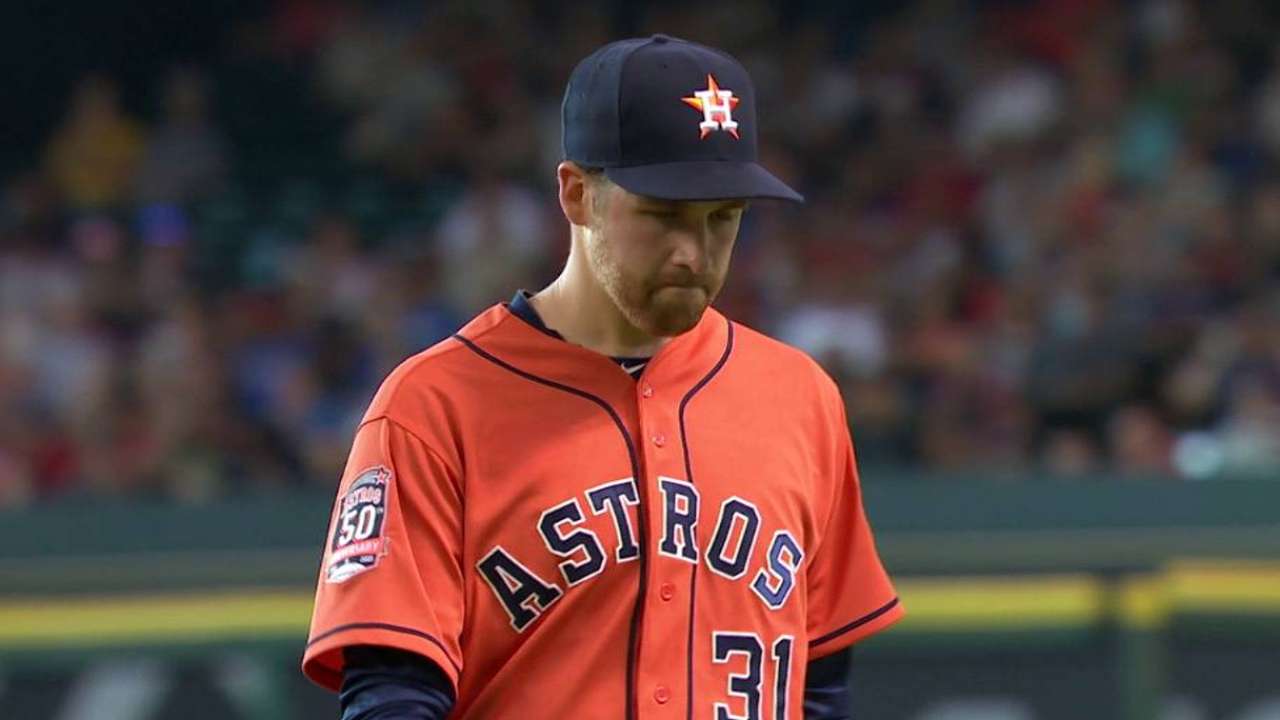 In the third, Delino DeShields led off with a single and was running on a full-count pitch to Odor, who hit a fly to right field. DeShields lost track of the ball at second base and ended up getting doubled off first.
"He's a basestealer," Banister said. "The one thing he could have done is if you can't find the ball, utilize the base coach. He didn't do that quick enough."
The Rangers, trailing 3-0, finally scored in the sixth when Beltre led off with a single, went to third on Moreland's single and scored on right fielder Colby Rasmus' throwing error. Rasmus made up for it by catching Hamilton's long drive up against the right-field wall, possibly taking a home run away.
"I hit it off the end of the bat a little bit and got under it," Hamilton said. "If I square it up and get under it, I got a chance."
The Rangers picked up a second run in the eighth when Moreland doubled with one out and scored on a two-out double by Elvis Andrus. But Leonys Martin struck out to end the inning.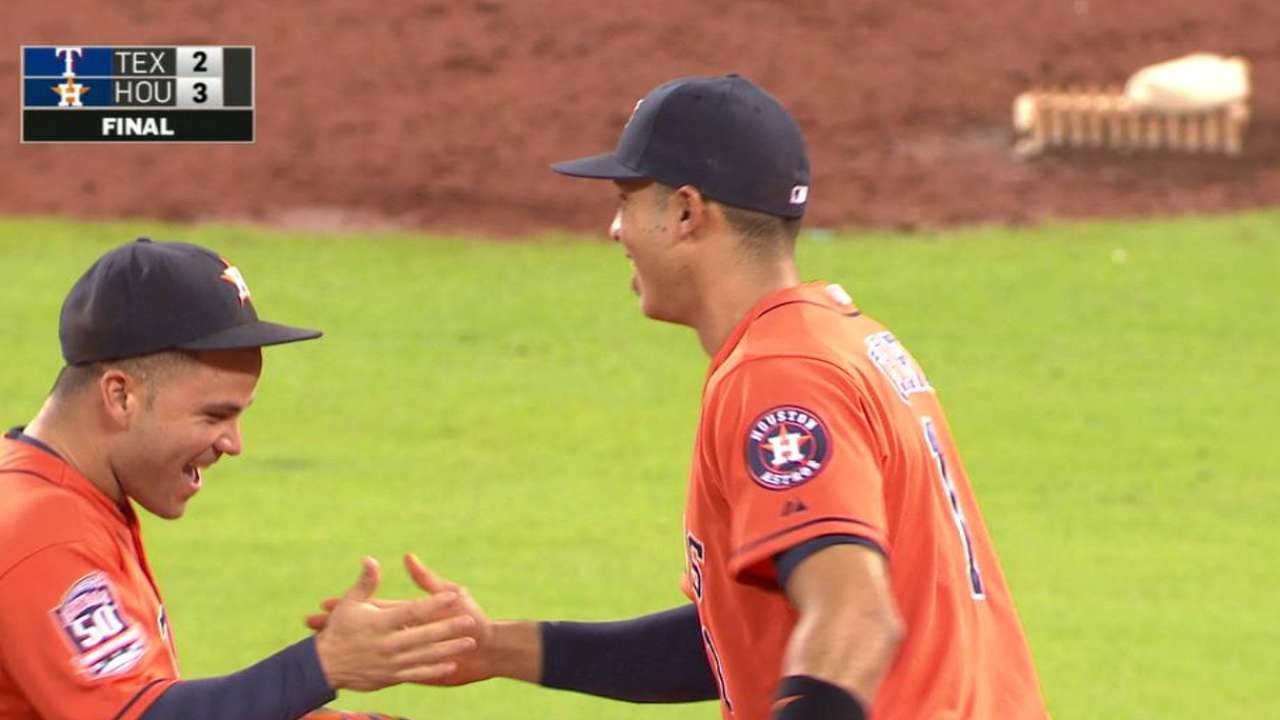 Odor reached on a two-out infield single in the ninth against Astros closer Luke Gregerson. Fielder then worked the count full before hitting a one-hop bullet right at shortstop Carlos Correa to end the inning.
"It's frustrating only because you lose," Fielder said. "That's the way things go. We'll come out tomorrow and see what happens."
T.R. Sullivan is a reporter for MLB.com. Read his blog, Postcards from Elysian Fields, follow him on Twitter @Sullivan_Ranger and listen to his podcast. This story was not subject to the approval of Major League Baseball or its clubs.