Bucs may have fix for struggling Caminero
Hurdle, staff set to work on fireballer's arm angle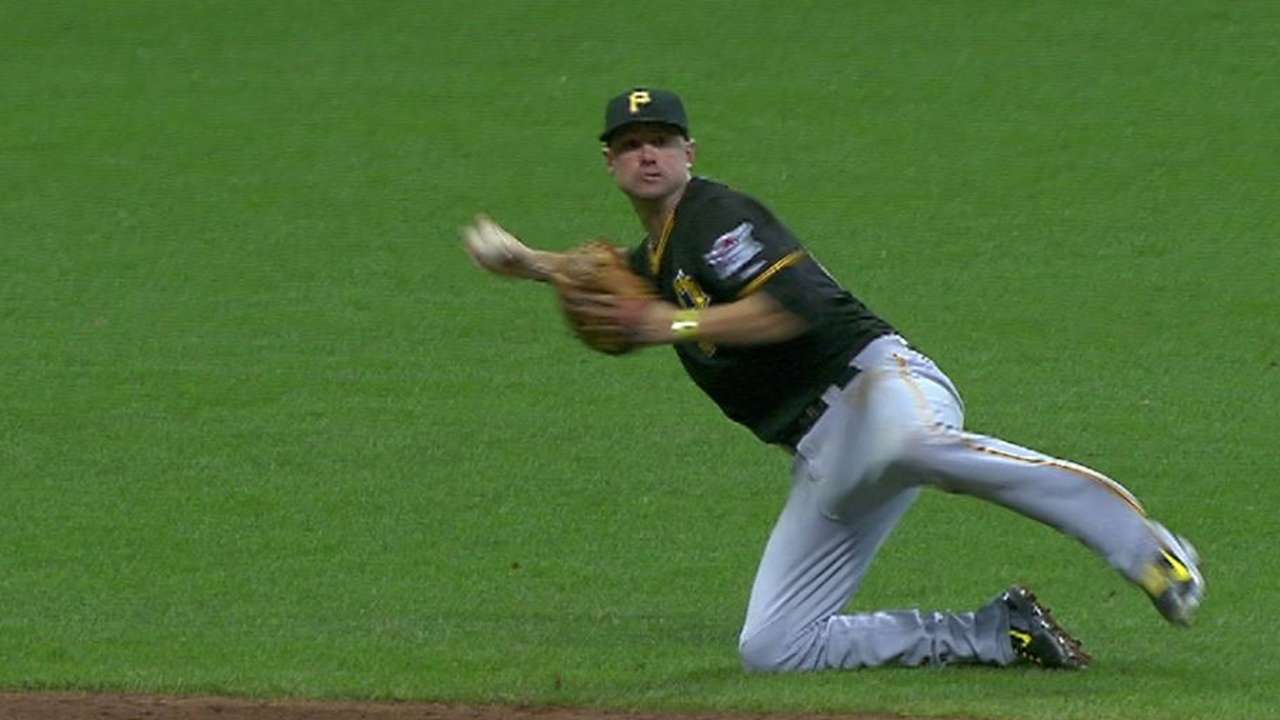 MILWAUKEE -- Arquimedes Caminero still has the speed. But the Pirates' hard-thrower, second to only Aroldis Chapman in the 100-plus mph standings, has been hitting a lot of speed bumps.
Caminero got away with letting the Brewers load the bases in the eighth inning of Friday night's 4-1 loss at Miller Park, but in six July appearances, he has faced 31 batters -- and allowed 15 of them to reach base.
Turns out, the reliever so important as a bridge span to closer Mark Melancon just needs a dash of Mike Fiers.
Manager Clint Hurdle went overboard after Friday's game in praising Milwaukee starter Fiers' ability to pitch downhill from a high release point, and a few minutes later noted his staff was "working on some things" to straighten out Caminero.
So guess what that is?
"I've been dropping my elbow, and we're trying to get back to keeping the arm up, to throw downhill," Caminero said. "I still throw hard, but when I drop the elbow, the ball comes in flat and is easier to pick up."
At 6-foot-4, Caminero should be able to use height to an even bigger advantage than the 6-foot-2 Fiers, who mastered over the Pirates for seven innings.
"The downhill angle on his fastball is tough," Hurdle said. "It's tougher to hit than a lot of people think. Anybody that knows anything, or works with, angles knows that when a ball comes in that way, it's harder to square up than when it's coming in flat. You get your arm up and create that downhill angle, it can be problematic.
"You don't have to throw 100 [mph]. When you got that downhill angle with a high release point, you can effectively throw low strikes."
Hurdle's treatise was without reference to Caminero, who does throw 100. So you can imagine his potential as a bullpen weapon.
"The league has now seen him a bunch, that could be number one," Hurdle said of the challenges facing the reliever. "He was new and fresh coming in early, and it always helps when you get to see a pitcher a few times and develop different game plans. But we have identified some things we'll be able to help him with, moving forward."
There is nothing wrong with Caminero's luck, however. He dodged any scoring Friday night when shortstop Jordy Mercer turned Ryan Braun's bases-loaded smash into an inning-ending force at second.
In his previous outing, the final game prior to the All-Star break, Caminero allowed the Cardinals two runs in the top of the 10th -- and wound up with his first Major League victory when the Bucs stormed back with three runs in the bottom of the inning.
Tom Singer is a reporter for MLB.com and writes an MLBlog Change for a Nickel. He can also be found on Twitter @Tom_Singer and on his podcast. This story was not subject to the approval of Major League Baseball or its clubs.