Manfred, Fowler preview '16 ASG in San Diego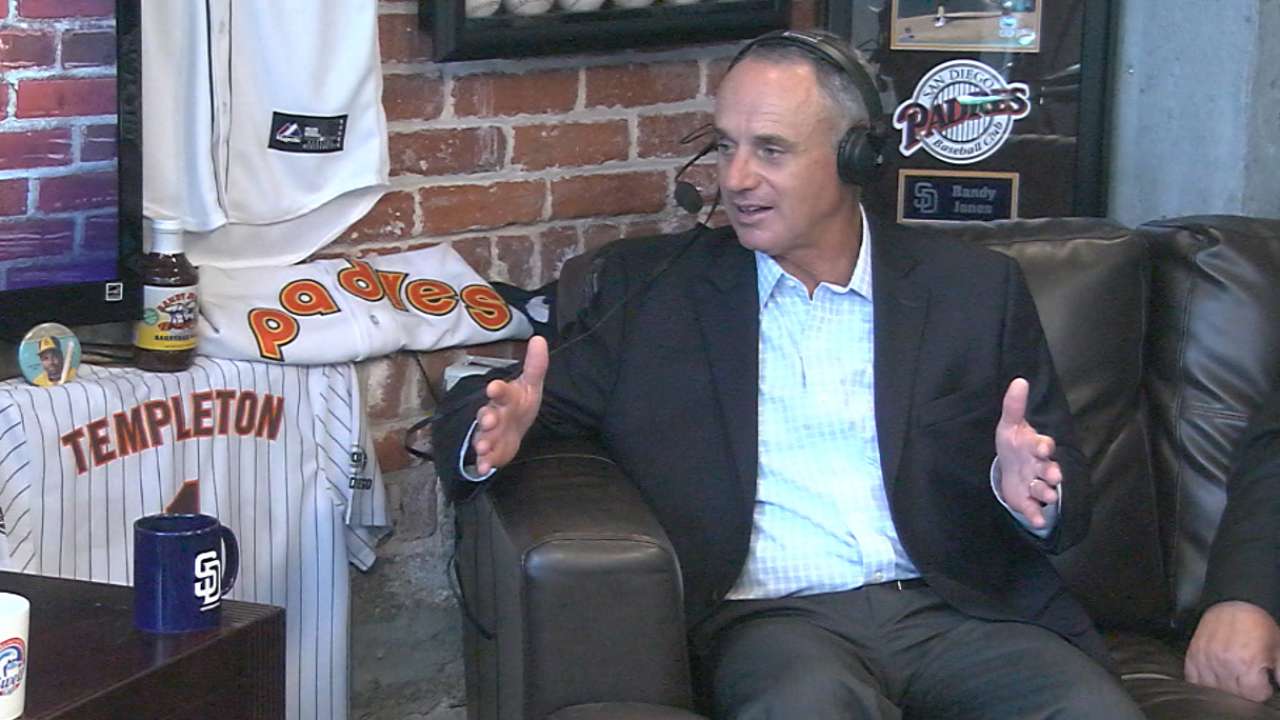 Padres Executive Chairman Ron Fowler and Commissioner of Major League Baseball Rob Manfred joined Jesse Agler for a special interview on Padres Social Hour Friday morning as the Padres were preparing to unveil the official logo for the 2016 MLB All-Star Game, which will be held next Summer at Petco Park.
Bringing the Midsummer Classic to San Diego has certainly been a labor of love for Fowler who was quick to note that having the All-Star Game at Petco Park has been in the works for quite some time.
"It's very exciting," said Fowler of bringing the game to San Diego. "It was the first priority (the ownership group) had and we worked very hard at it, so now we're starting the clock. A countdown starting and we're looking forward to a very exciting All-Star Game in 2016."
Fowler went on to discuss the process and how both the Padres and the city of San Diego teamed up to bring the All-Star Game to America's Finest City. "We're overdue for having an All-Star Game in this ballpark," added Commissioner Manfred. "I hope the city appreciates the efforts by the city and the ball club to bring this week long celebration to San Diego."
Fowler and Manfred also discussed the bigger picture of what the game means to not only the San Diego baseball community, but the overall community as well. Specifically, it seems, Fowler is looking for a rallying call to bring everyone together at Petco Park.
"There will be a lot of interactivity with the community," said Fowler. "I think it's going to be bigger and better and it's up to us to rally the community to show the same kind of support, if not more, than they did in Cincinnati. There was all kinds of red back there, so we want all kinds of blue out here."
To hear more about Fowler's and Manfred's thoughts on the upcoming All-Star Game, including the recent 'Pace-of-Play' initiatives, the change of format to the Home Run Derby and bringing the All-Star Game celebration to an International audience and venue, then be sure to watch the entire interview with Jesse Agler in the video above! And for more interviews, highlights and Padres content just like this, be sure to check out padres.com/socialhour.