Volquez bruised but not broken by defeat
Right-hander escapes injury from comebackers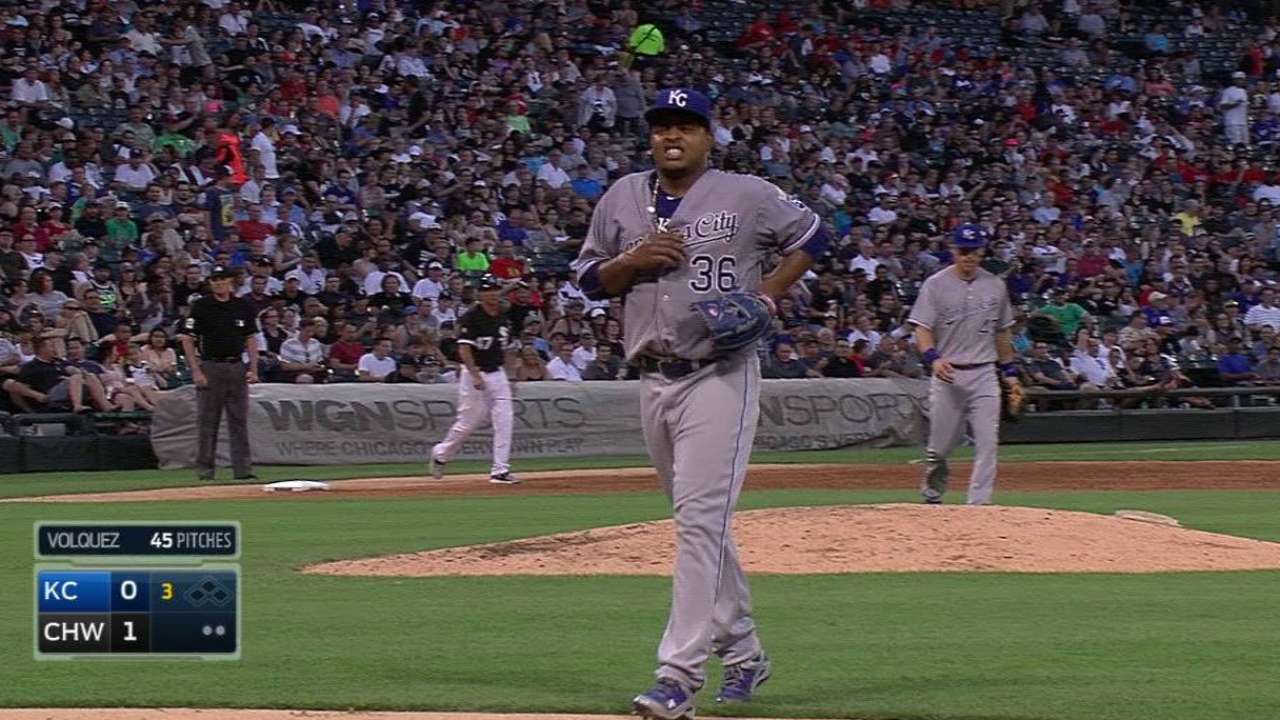 CHICAGO -- Royals right-hander Edinson Volquez walked out of the training room with his right hand wrapped and a brace around his left knee. He didn't look like a pitcher who had his "best stuff."
Volquez was hit three times on comebackers in Friday night's 2-0 loss to the White Sox, but he still managed his ninth quality start. The right-hander pitched 6 1/3 innings while allowing two runs on eight hits and two walks.
• Royals homer twice, claim Game 1 of twin bill
"I thought, actually, Volquez had his best stuff that he's had, especially in his last few starts," said Royals manager Ned Yost. "He was commanding his fastball down well. His breaking ball, he was throwing that for a lot of strikes, keeping it down and not missing up with it."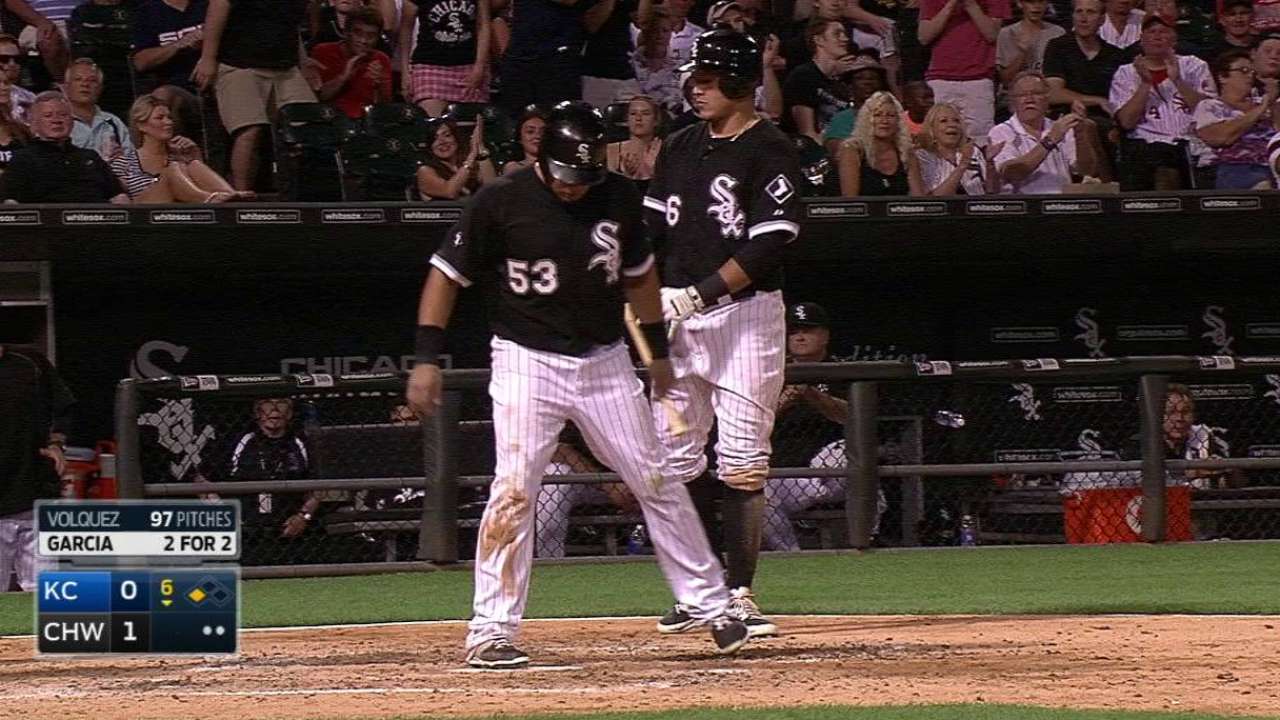 Volquez's only flaws came on an RBI single from Tyler Flowers in the second inning and a wild pitch in the sixth inning. Volquez was especially frustrated after the wild pitch with White Sox outfielder Avisail Garcia at bat, as he tried to work his way to Flowers.
Otherwise, Volquez pitched well enough to put himself in line for the win. Instead, he had his seven-game streak without a loss snapped, despite the strong outing.
"I felt pretty good," Volquez said. "My breaking balls and my fastball command were way better this time."
He was beat up while he did it all, too. After the game, he said he felt sore, but he didn't require any X-rays.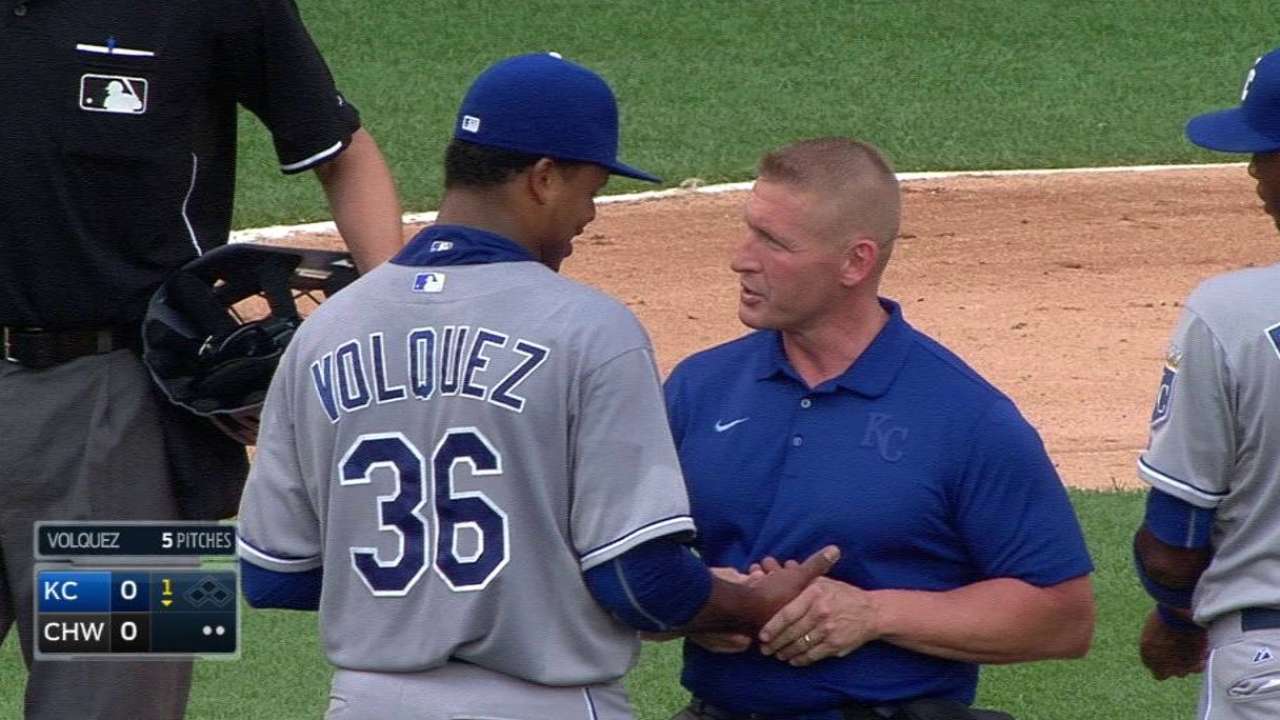 In the first inning, Volquez was hit on his throwing hand, but he still made the throw to first base. In the third, with Melky Cabrera at bat, Volquez fielded a ball off the inside of his left leg. He made the throw to first without an issue, joking as he walked off the field.
And in the fifth, Adam Eaton lined a single that bounced off Volquez's glove. By the end, Volquez would have preferred the ball leave the yard before seeing another come back his way.
"I told Melky he had to stop hitting the ball back to me," Volquez joked. "Somebody hit the ball into the outfield or somebody hit a homer, please."
Greg Garno is an associate reporter for MLB.com. This story was not subject to the approval of Major League Baseball or its clubs.