K. Johnson giving Braves just what they need
Veteran delivers RBI single during Friday's victory over Cubs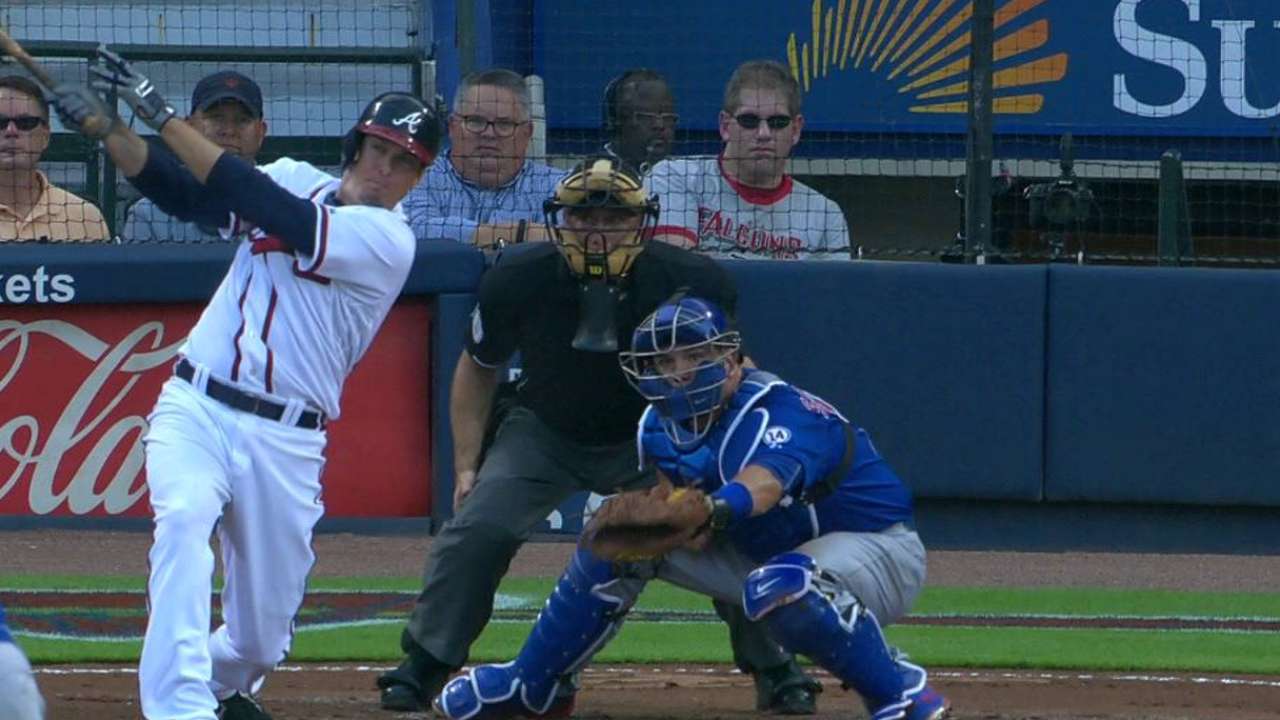 ATLANTA -- Before Friday's game against the Cubs, Kelly Johnson talked about the importance of having every player step up in the wake of Freddie Freeman's prolonged absence from the team.
It's fitting then, that in the 4-2 win over Chicago, Johnson provided the exact performance he was talking about.
The 33-year-old former Atlanta first-round Draft pick played a game reminiscent of his time with the 2007-08 Braves, when he was an everyday player, finishing 2-for-3 with a double, sparking the Braves' first run of the game and setting up the decisive eighth inning.
"He's been terrific, really," said Braves manager Fredi Gonzalez. "We feel comfortable when he plays left field, he can play third, he can play first base. He's done a nice job."
With Freeman on the disabled list, the Braves offense has -- not surprisingly -- seen a dip in production, but over the past 10 games, Johnson has done everything he can to prevent that from happening.
Johnson has hit .400 (12-for-40) during that stretch, with three home runs, 12 RBIs and six runs scored.
"It's been a good year," Johnson said. "[Got] off to a good start in the spring, just having [Braves hitting coach Kevin] Seitzer get with me and working on approach, shortening the stride, my swing and things like that.
"And it's paying off."
At the start of the season -- before going down with an oblique injury and missing the end of May and early part of June -- Johnson provided the Braves with their only power threat not named Freddie Freeman, hitting six home runs with an .829 OPS in 28 games.
He struggled upon his return from the disabled list (he hit .268 with a .562 OPS in 18 games during June), but it now looks as if Johnson is getting back into the form the Braves became accustomed to at the start of the season.
"He's a pro," Gonzalez said. "He prepares well, he's a good clubhouse guy, good teammate ... good for him to be having a year like he's having right now."
But Johnson is focused on winning and making a run for the division title. When asked if he thought the team still had a shot at the playoffs, he responded confidently.
"Why not? It's still within reach in our division, no one is really pulling away," he said. "As we've seen in the past it takes good stretches. You get hot and the teams in front of you don't -- you never know. There's still so much baseball...you have to have that to kind of make a push.
"And we're going to need that. We haven't had it and that's what it would take. Hopefully we're up for that challenge."
Carlos Collazo is an associate reporter for MLB.com. This story was not subject to the approval of Major League Baseball or its clubs.