Iggy does Miggy impression on rare homer
Tigers shortstop Iglesias belts 6th HR of MLB career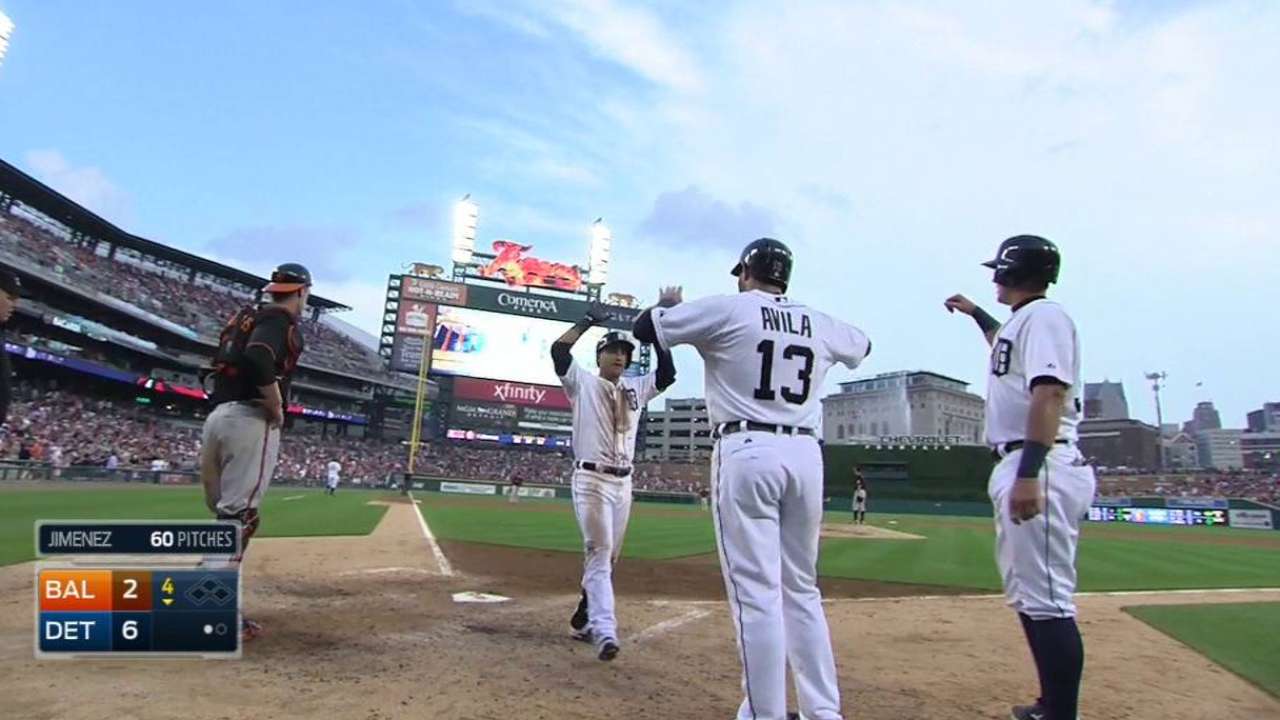 DETROIT -- Tigers manager Brad Ausmus struggled to keep a straight face as he described his reaction to shortstop Jose Iglesias' three-run homer, which propelled the club to a 7-3 win over Baltimore on Friday night at Comerica Park.
"That's why we have him -- to hit homers," Ausmus said as he broke into laughter.
Iglesias' response?
"Yeah, he's right."
Both were joking, of course. Iglesias has hit just six career home runs -- about one every 125 plate appearances. He was an All-Star this week for his glove, not his power. But he didn't follow that script in the fourth inning Friday, turning on an off-speed offering from Orioles starter Ubaldo Jimenez and launching it into the bullpens in left field.
Iglesias stutter-stepped around third base -- imitating the home run jog of injured teammate Miguel Cabrera -- and returned to the dugout, where he flexed his muscles for left fielder Yoenis Cespedes.
The shortstop hasn't had too many opportunities to show off that home run trot and celebration. It was just his second of the year, but Friday's blast didn't surprise Ausmus too much.
"If you watch him on a daily basis take batting practice, he certainly has the ability to go deep," the manager said. "He actually has a quick bat. It's just not his game."
Since recovering from stress fractures that sidelined him all of last season, Iglesias has been no slouch at the plate. He's batting .314 this year, though Ausmus has elected to keep the shortstop near the bottom of the order.
Friday, he finished 1-for-3 and used his speed to help produce a run in the second inning. He was hit by a pitch with two outs and the bases empty, then stole second base and was driven in on a ground-rule double off the bat of Anthony Gose.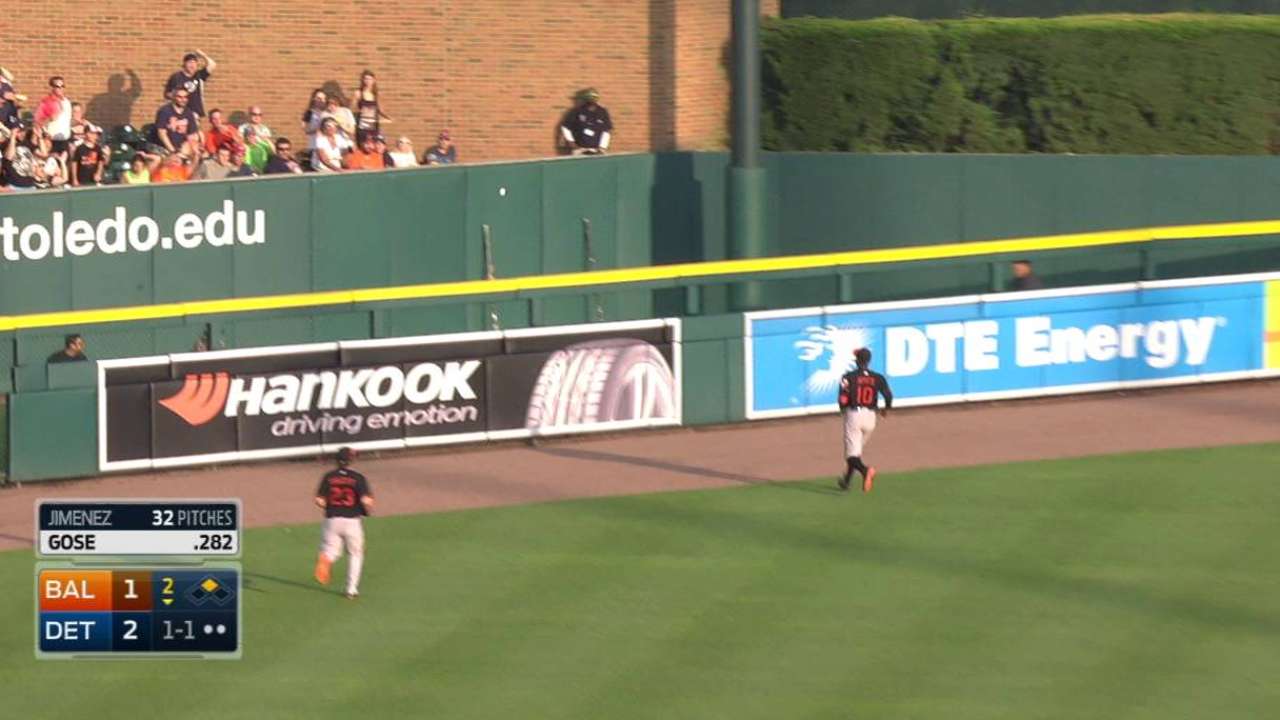 "We got a good lineup," Iglesias said. "We just have to be consistent each and every day."
And that lineup delivered against Jimenez. Designated hitter Victor Martinez and right fielder J.D. Martinez also hit home runs to complete the club's fourth three-homer game over its last eight contests.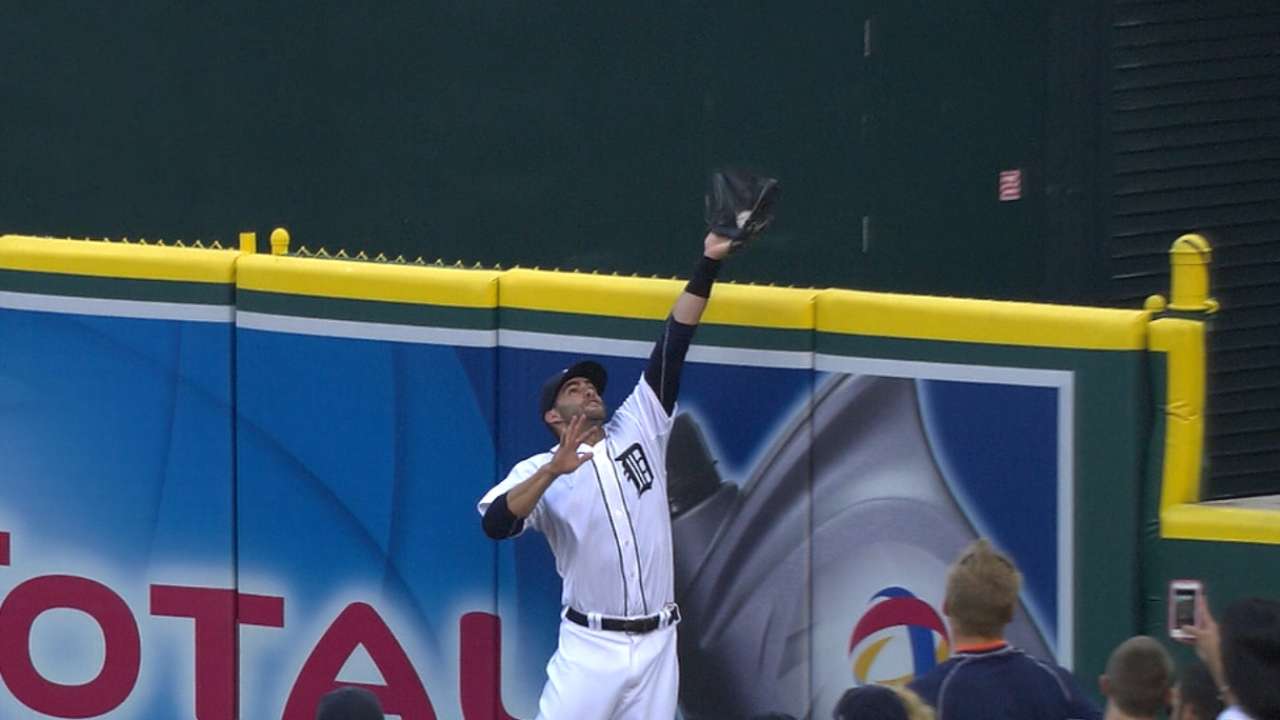 But Iglesias isn't known for power -- much like J.D. Martinez, who robbed a home run with a leaping catch at the wall in the third inning, isn't known for his defense. That role reversal wasn't lost on the right fielder, who chuckled as he recounted the atypical night.
"A lot of weird stuff happened today," J.D. Martinez said.
Alejandro Zúñiga is an associate reporter for MLB.com. This story was not subject to the approval of Major League Baseball or its clubs.