Leake brings it with arm and bat
Righty sets career high with three RBIs in game, pitches six strong frames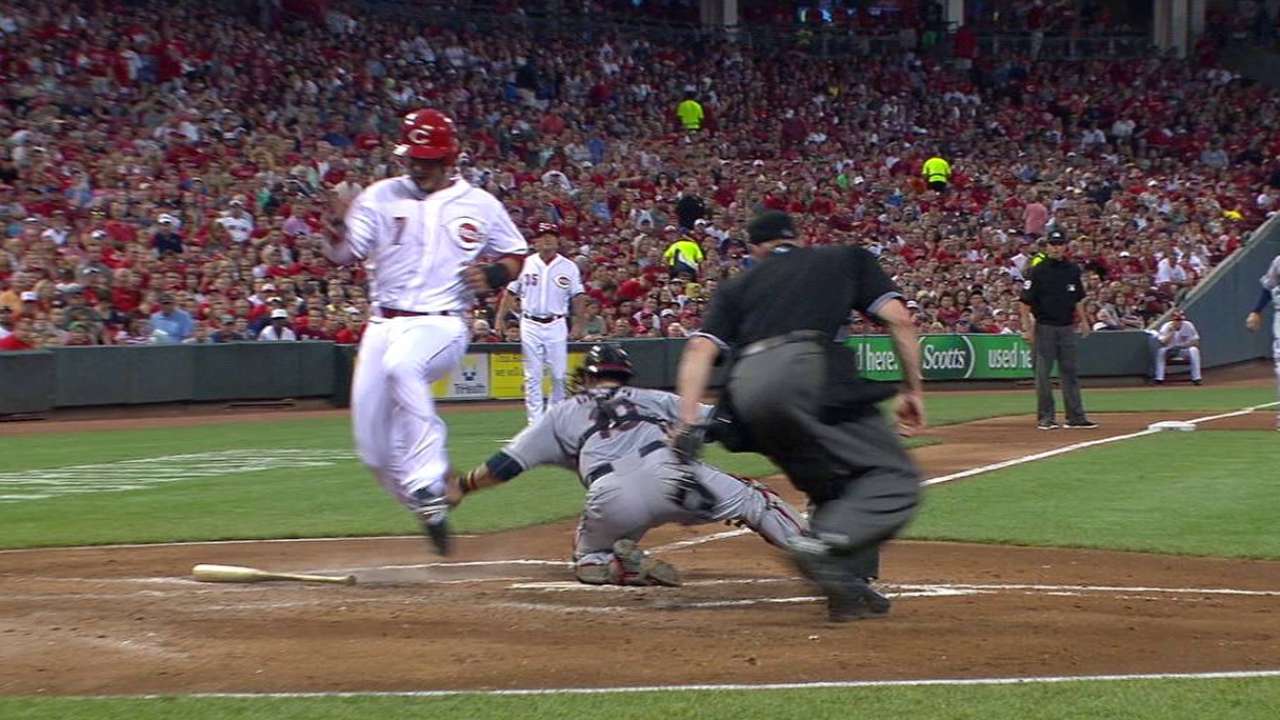 CINCINNATI -- Reds righty pitcher Mike Leake is expected to be moved before the Trade Deadline, and on Friday he proved to some potential suitors that he should remain in the National League.
Leake (7-5, 3.95 ERA) had it going with both his arm and bat on Friday night, helping lead the Reds to a 6-1 victory over the Indians. Despite having to wait out a one-hour-and five-minute rain delay, Leake threw six innings, giving up one earned run on four hits and two walks.
"He did a nice job," Reds manager Bryan Price said. "This team gave him some trouble in Cleveland in May, and he came back and just made better pitches. Had a good tempo going with [catcher] Tucker [Barnhart], and good thing they put the ball in play and so it gave him a chance to get some quicker outs and kept the defense on their toes. Was able to weather an hour-plus rain delay, which was really big."
The only time Leake ran into trouble came in the sixth inning, when he gave up a leadoff single to Francisco Lindor and double to Michael Brantley. Lindor eventually scored on a groundout by Carlos Santana to snap Leake's 14-inning scoreless streak.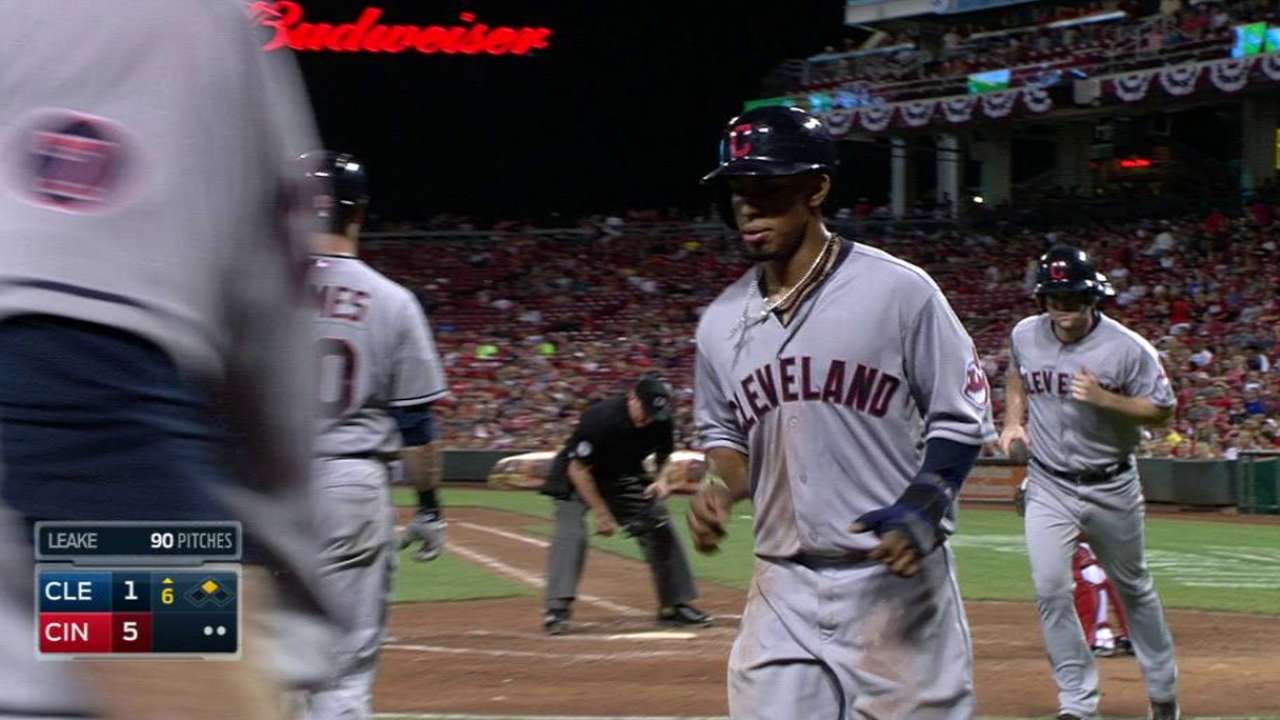 The strong performance for Leake on Friday came on the heels of an eight-inning, three-hit outing against the Marlins right before the All-Star break.
He was equally impressive offensively, recording a career-high three RBIs off a perfectly executed suicide squeeze bunt in the second inning and two-run double in the third inning. It was only the second time in Leake's career he had multiple RBIs in a game, and it gave him five RBIs on the season to match his single-season career high.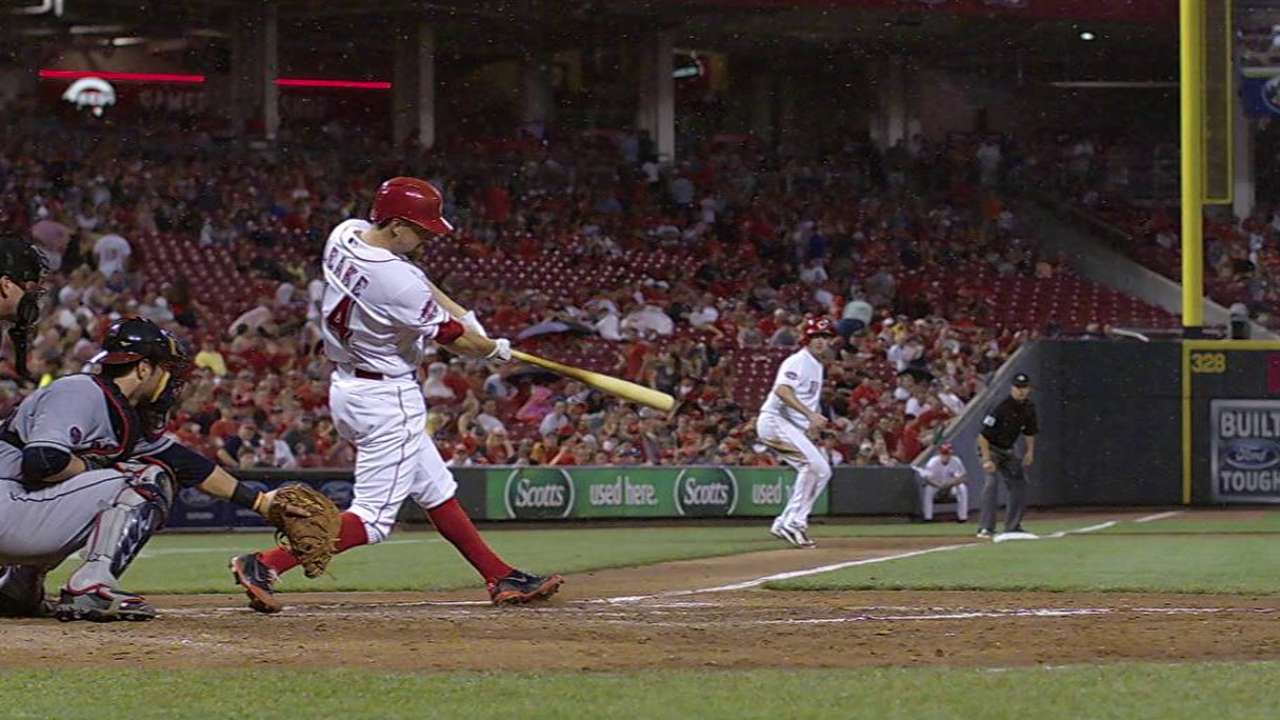 "I was trying to suck the first baseman in, that way [Eugenio] Suarez could have all the time he needed to try to get home," Leake said of the squeeze play. "I was a little surprised he went home with it but happy he did."
With the Reds organization expected to move the 27-year-old pitcher, he acknowledged that Friday could have been his last time pitching in a Reds uniform. After the game, he said the trade rumors are more of a motivator than distraction, and if he is dealt, he is excited about going to a contender.
"I'm eager to play for a winning team right now," Leake said. "It [stinks] that we had the season that we did. I wish it was a different story for us, but I'm definitely, if they are going to trade me, eager to pitch for a team that is in it."
Robert Bondy is an associate reporter for MLB.com. This story was not subject to the approval of Major League Baseball or its clubs.