MLB.com Columnist
Mike Bauman
Hurdle: Pirates have 'room for improvement'
Bucs manager looks to spike offensive numbers in second half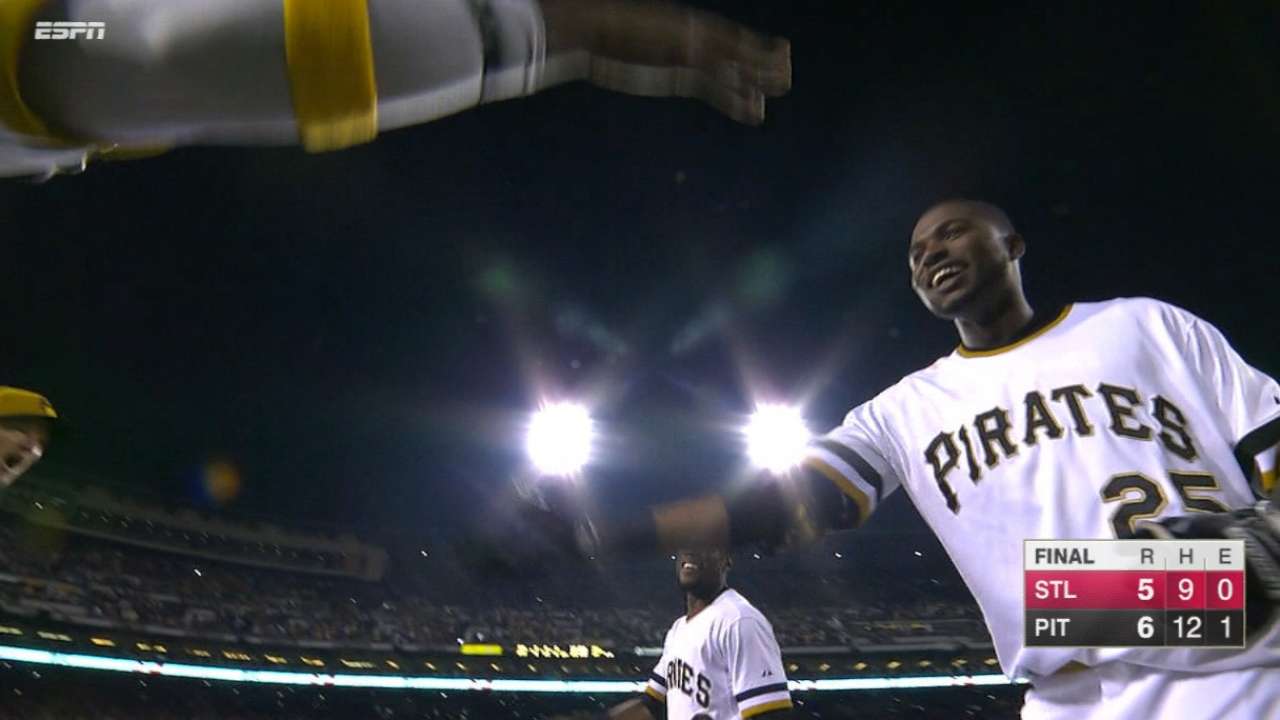 MILWAUKEE -- Since May 9, the Pittsburgh Pirates have been the best team in the Major Leagues, going 40-20. And they believe there is still room for improvement.
You proceed at your own peril if you diminish a run like 40-20. That's not a hot streak. That's nearly 40 percent of a season. That is a long enough stretch of superior play to make it part and parcel of a team's identity.
Before the All-Star break, the Pirates had won 11 of their last 13 games, eight of their last nine and the last three of a four-game series against the only team in the National League with a better record, the St. Louis Cardinals. The fact that these two teams are in the same division holds the promise of a terrific race.
The Bucs have qualified for the postseason two years in a row. At this juncture, they're headed for a third straight postseason berth. Their level of play over the last 10 weeks has opened the question of whether they will reach the postseason as a Wild Card again, or as the winner of the NL Central.
But that's the kind of big-picture question that is not going to create immediate interest on this club. Pittsburgh is involved in the daily, relentless effort to not only maintain its level, but lift it.
Where could they improve? If you ask Pirates manager Clint Hurdle, he reasonably lists every area of play except pitching. The Bucs have the second best team earned run average in the Majors, behind the Cardinals. At 2.86, the pitching has truly been sturdy.
"I think you're always looking to get better within the structure of the game," Hurdle said. "Overall, our defense has been solid. I think our middle infield, we've turned more double plays that anybody. We still can improve defensively in some areas.
"Our baserunning at times has been very good. First-to-third, scoring runs, dirt-ball reads. At times we haven't had the awareness we need to have, so I think that can improve.
"We've been excellent behind the plate in framing and blocking and throwing. Our pitchers have done an outstanding job.
"And then there are situations on offense where I think we can improve upon; the overall consistency of connecting the dots in the lineup, throughout the order, moving runners, scoring runners, on-base percentage can spike, there's going to be opportunities there. Our 3-2 chase rate was off the ledger for a while early in the season. So there's times when we've got to reel that in. The walks got to come into play; it's got to become a recognizable objective at some point during the at-bat. And it has. But there's room for improvement, individually and collectively on offense, as well."
The second half didn't start well for the Pirates on Friday night, as they lost 4-1 to the Brewers at Miller Park. The Bucs managed only three hits and struck out 10 times against a trio of Milwaukee pitchers: starter Mike Fiers, reliever Will Smith and closer Francisco Rodriguez.
Maybe not playing since Sunday had cut off the Pirates' momentum.
"That's always the conversation you have when you score one run after the All-Star break," Hurdle said with a smile.
This three-game series will be followed by a three-game series at Kansas City, which looks like a much tougher visit, since the Royals have the American League's best record.
Hurdle was asked on Friday if he had investigated the topic of schedule strength.
"I don't have to [investigate]," Hurdle said. "People bring it to my attention all the time. And I'm aware of the fact that we've probably got one of the more challenging schedules set up for the second half."
The Bucs will have a difficult schedule, and more road games than home games. But this sort of thing won't be their focus.
"I understand strength of schedule, but there's nothing you can do about it," Hurdle said. "And again, it goes against everything we do. We're going to focus on today's game. It's just another demand of the game that we'll meet when we get there.
"It's the big leagues, and when you're a good team and you're playing meaningful games, all of them can be exciting through our lens. When we're best served is knowing when we're playing good teams. I'm not saying that we're our own worst enemies when we don't, but I like the fact that when you play better teams, it gives you a chance every day to be sharper."
"A good team playing meaningful games." There is a prediction upon which you can rely. That will be the Pittsburgh Pirates in the second half of the 2015 season.
Mike Bauman is a national columnist for MLB.com. This story was not subject to the approval of Major League Baseball or its clubs.