Lifted for pinch-hitter, Jose done after 70 pitches
Eyeing big inning, Jennings takes Fernandez out in seventh, but strategy doesn't pay off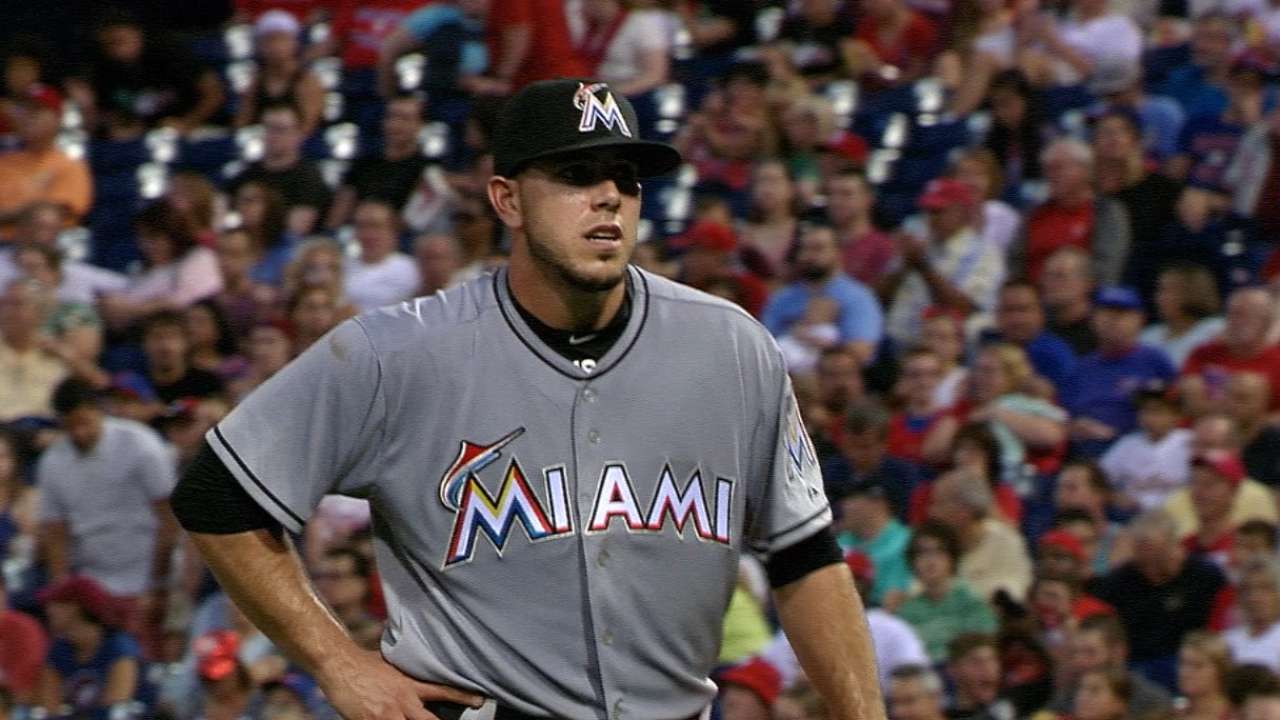 PHILADELPHIA -- Stick with your ace or strive for the big inning?
Manager Dan Jennings confronted that situation in the seventh inning on Friday night in the Marlins' 6-3 loss to the Phillies at Citizens Bank Park. Being on the road, the decision was made to lift Jose Fernandez in a tie game, and momentum eventually slipped away from Miami.
"The tough part of the night was the decision to pinch-hit for Jose, who was at 70 pitches," Jennings said. "He certainly had plenty left and had thrown a heck of a ballgame. But at the same time, with runners at second and third, you have to give yourself a chance to win the game at that point."
Fernandez indeed was efficient and masterful, striking out six while giving up two runs on four hits over six innings. He kept his pitch count to 70, and in his third start back from Tommy John surgery, the ace certainly had plenty left to navigate at least another inning, if not two.
But after Miami tied it at 2 on Cole Gillespie's two-out RBI double, Fernandez was lifted for pinch-hitter Derek Dietrich. With runners on second and third and two outs, Dietrich hit a sharp grounder to short, ending the threat.
"Unfortunately, the ending wasn't exactly what we wanted," Jennings said. "But once we had that opportunity out there, second and third, I felt like we had to go get a hitter at that point. Dietrich put a good swing on the ball. It just didn't get through. We had a chance to take a lead right there."
After two impressive home starts to open his season, Fernandez was dominant at Citizens Bank Park. His fastball reached as high as 99 mph, and against a left-handed-hitting lineup, he mixed in some effective changeups.
"I feel healthy," Fernandez said.
In terms of the manager's strategy, Fernandez understood completely the move to go with Dietrich.
"Obviously, I respect the decisions the manager and the coaches made," Fernandez said. "I am here to do what I'm told, and I respect that."
Fernandez issued his lone walk, to Domonic Brown, with two outs in the fifth inning. It was his first walk in 17 2/3 innings since returning. The two runs the Phillies scored in the sixth snapped a 13-inning scoreless streak by Fernandez.
The sixth started rough with pitcher Adam Morgan lining a double over the head of left fielder Michael Morse. The inning compounded itself when Ben Revere reached on a bunt single. On the play, third baseman Casey McGehee broke toward third base, and no play was made. Maikel Franco reached on first baseman Justin Bour's error, loading the bases with no outs.
"That was a great bunt," Fernandez said. "It wasn't a short one, it wasn't a long one. We both kind of were shocked he put a great bunt down. That's something that happens in the game. We learn from it as a team. We're not going to let it happen again."
Joe Frisaro is a reporter for MLB.com. He writes a blog, called The Fish Pond. Follow him on Twitter @JoeFrisaro and listen to his podcast. This story was not subject to the approval of Major League Baseball or its clubs.