5th-inning woes sink Odorizzi vs. Blue Jays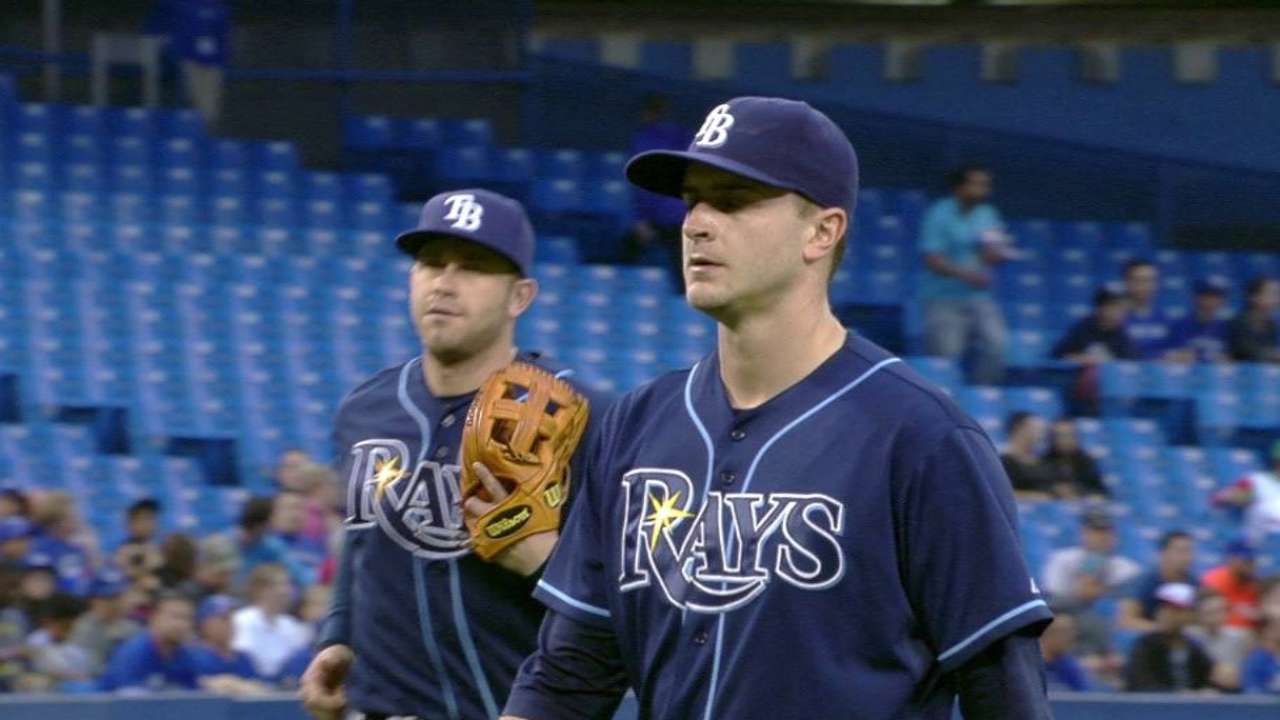 TORONTO -- Optimism greeted the start of the Rays' second half Friday night in Toronto. They finished the first half with a three-game sweep of the Astros, and Jake Odorizzi would be making his second start since returning from the disabled list.
Unfortunately for Odorizzi and the Rays, that optimism proved to be short lived in a 6-2 loss to the Blue Jays at Rogers Centre.
Odorizzi shut out the Astros for 5 2/3 innings Saturday at Tropicana Field to pick up his first win since May 31. He allowed just two hits while lowering his ERA to 2.30 and showed no ill effects from the left oblique tightness that kept him away from the team for over a month.
Flash forward to Friday night.
Odorizzi pitched three scoreless frames before taking a 1-0 lead into the bottom of the fourth. Chris Colabello's sacrifice fly tied the score, but Odorizzi did a nice job of minimizing the damage after the Blue Jays put two aboard with one out.
Any positive mojo from the fourth quickly disappated in the fifth when Josh Donaldson hit a two-run homer and Justin Smoak added a three-run blast. Five Blue Jays crossed the plate before Odorizzi got lifted with one out in the inning.
Odorizzi noted that he felt good warming up prior to his start.
"Probably the best I've warmed up all season, but it didn't really carry over that well, obviously," Odorizzi said. "But I felt good. My arm felt great, really fresh. Just couldn't find a good release point early.
"The whole game I just kind of struggled with my stuff. It was good here and there, but it was by no means a good control or command day. But I tried to make the most of what I had."
Odorizzi said Donaldson's home run "was a cutter that kind of spun a little bit."
"I think he was kind of looking out there a little bit, too," Odorizzi said. "I'd thrown it to him in his fist two at-bats and the next one [to Smoak] was a split away and he just kind of dragged the bat through and put it out. ... Just two unfortunate pitches at bad times."
The six runs against Odorizzi represented the most runs he's surrendered in any of his 14 starts. In addition, the five-run fifth was the most runs he's given up in an inning this season and the five walks were the most for any game this year.
Odorizzi "did fall behind more than we are accustomed to seeing him doing," Rays manager Kevin Cash said. "And then that fifth inning sped up quick. Those guys got some good looks, good swings and they kind of did what they do. They hit the ball out of the ballpark, got a couple of guys on and decided to hit the home run. That was basically the ballgame."
Bill Chastain is a reporter for MLB.com. Listen to his podcast. This story was not subject to the approval of Major League Baseball or its clubs.