Stifled early, Phillies capitalize on sloppy Fish play
PHILADELPHIA -- The Phillies hope their second half is much better than their first, and they took a step in that direction Friday night at Citizens Bank Park. Rookie left-hander Adam Morgan pitched and hit well in a 6-3 victory over the Marlins.
Morgan allowed two runs in 6 1/3 innings and he sparked a two-run rally in the sixth with his first career hit. The Phillies scored four runs in the eighth to take the lead with the help of a one-out error from Marlins center fielder Cole Gillespie, which allowed the go-ahead run to score, and a pinch-hit three-run home run from Jeff Francoeur.
"You don't want to sit here and say we need to win this many games in the second half," Francoeur said of his team coming out of the All-Star break with a win. "More than anything I want to see us play good fundamental baseball. Tonight I thought we did that."
Marlins ace Jose Fernandez snapped his 13-inning scoreless streak. He had allowed just one hit and one walk in his first five innings against the Phillies before Morgan's double, which went just over left fielder Michael Morse's head, a bunt single and an error led to two runs.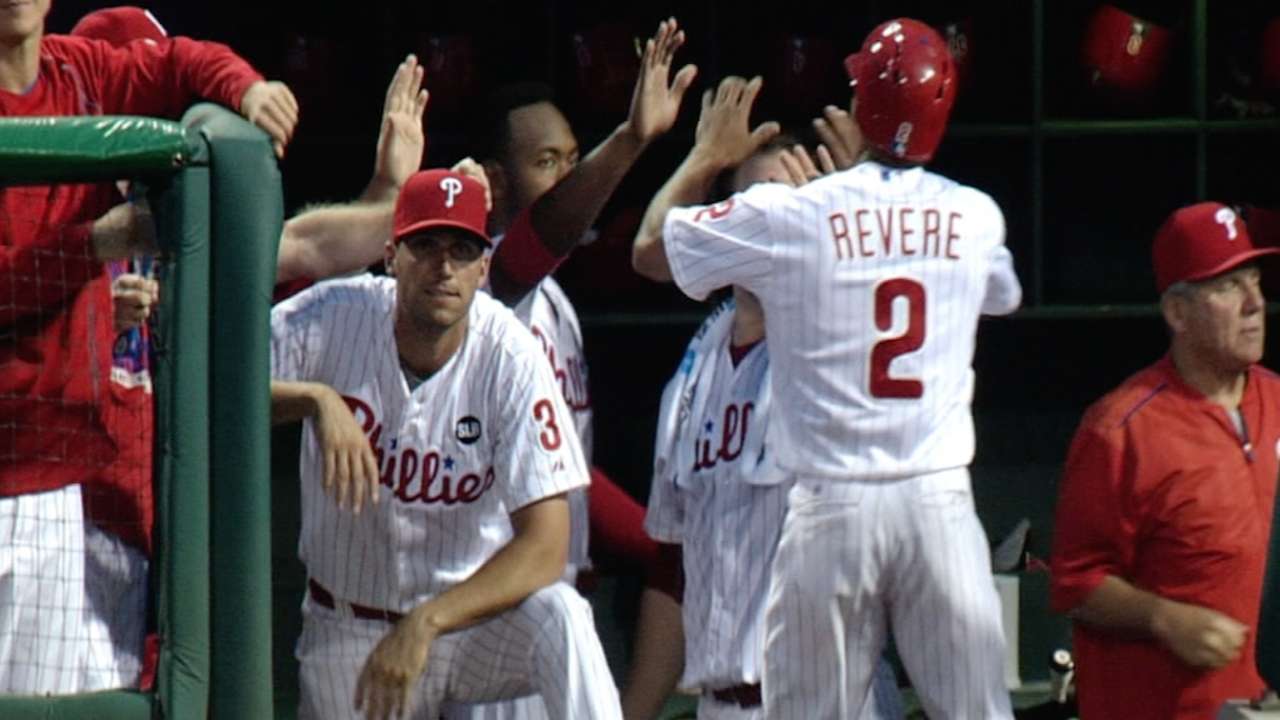 "It's tough. You've got your ace on the mound, and you feel pretty comfortable if you're able to get him a few runs," Gillespie said. "We got him one early, but they obviously did a good job coming back there. It's kind of frustrating night. We don't want to start the second half [like this]. It's one game. We've got to move on from this one."
MOMENTS THAT MATTERED
Runs, no RBIs: Rookie third baseman Maikel Franco drove in two of the Phillies' first three runs Friday night including the go-ahead run, but had zero RBIs to show for it. After grounding into a double play with the bases loaded in the sixth to push across the Phillies' first run, Franco accidentally came through with the deciding offensive play in his next at-bat in the eighth. The third baseman lifted a fly ball into center field that defensive replacement Gillespie overran, and the ball lipped out of his glove. The error scored Odubel Herrera from second, giving the Phillies a 3-2 lead.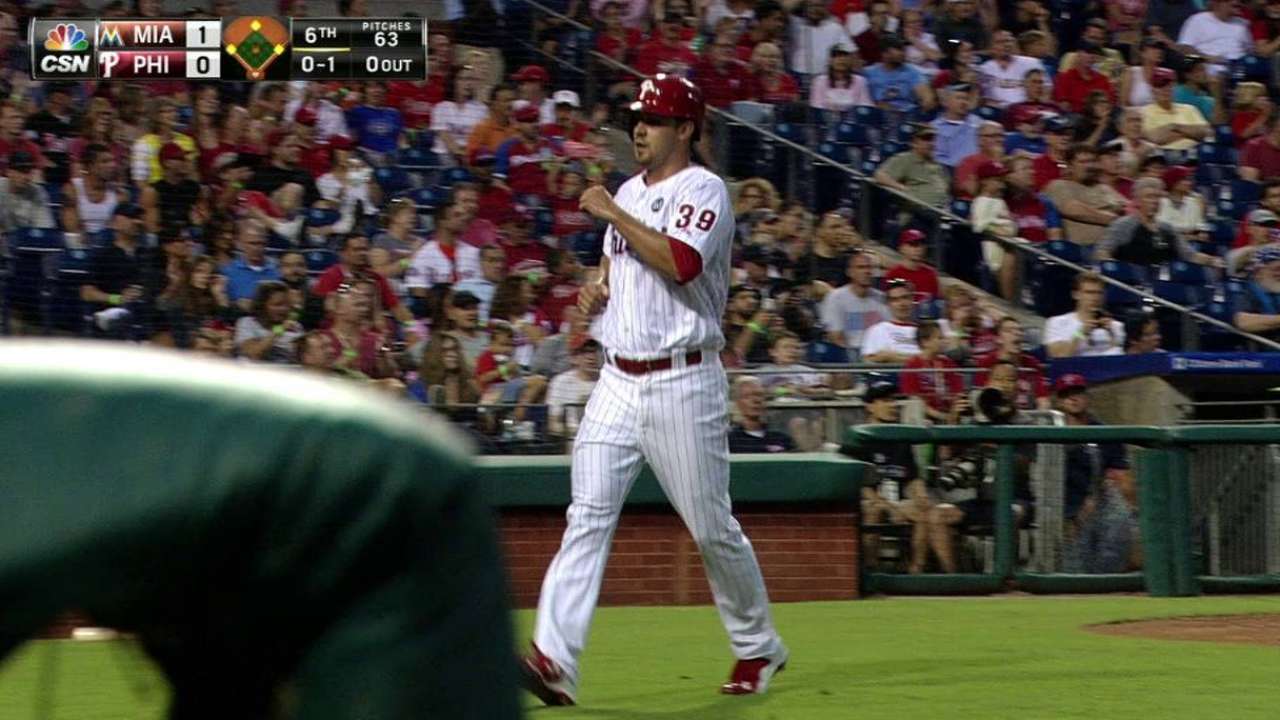 "I think I kind of took too sharp of an angle," Gillespie said. "When I got to the spot where I thought it was going to be landing at, it was still over my head. I kind of reached back and up [and] it went off the top of my glove. It's tough. It's definitely frustrating, especially in that spot. It's a big out, changed the whole game. It's just something I hope doesn't happen again."
Morgan's moments: Morgan proved himself on both sides of the diamond, coming through with another solid start and sparking an offensive rally with his first career hit. The 25-year-old lefty surrendered just four hits while walking three and striking out three. The outing was the third time in Morgan's four Major League appearances that he held his opponents to fewer than three runs. Morgan's first career hit came off Fernandez in the sixth. He scored the Phillies' first run of the game three batters later.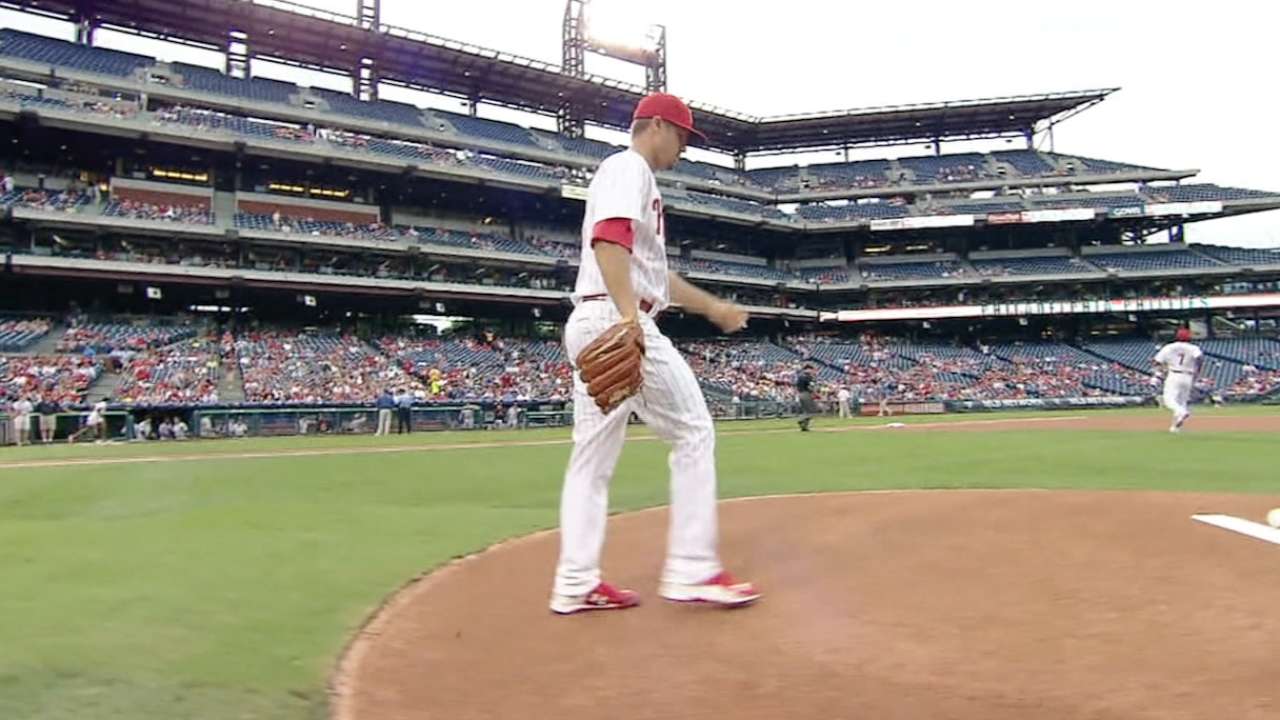 "I just ran into it," Morgan said of the double. "I wasn't trying to do anything crazy with it. I don't know. I just kind of ran into it. It just feels good to get a hit. I feel like I'm a pretty good hitter, but the numbers just weren't there. So it feels good to get the first one off." More >
Bour delivers vs. lefty: The Marlins were held without a hit for three innings, but Adeiny Hechavarria opened the fourth with an infield single, and he stole second. With two outs and Hechavarria on third, Casey McGehee walked. Left-handed-hitting Justin Bour, who was 3-for-19 with two RBIs on the season against lefties, drove home Hechavarria with a single to center, giving Miami a 1-0 lead.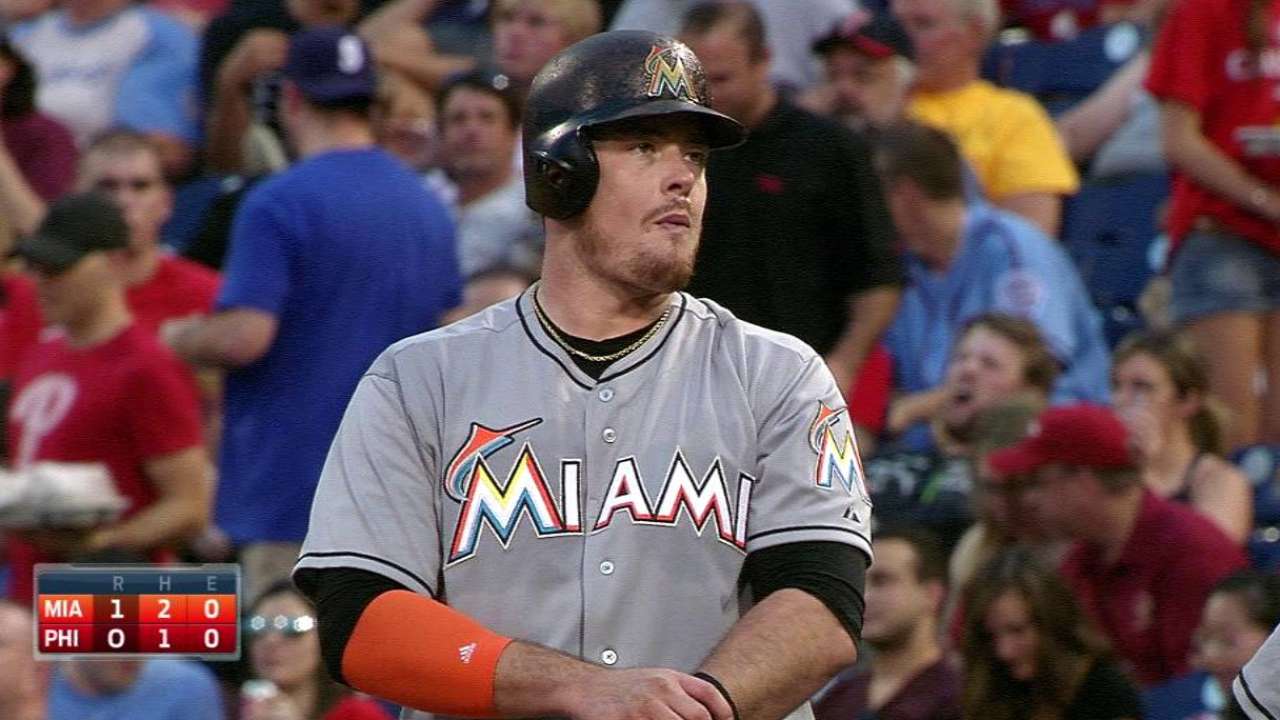 Pinch-hitting for Jose: Before giving up the two runs in the sixth inning, Fernandez was sailing along. Even through six innings, the right-hander was at 70 pitches. Miami tied the game at 2 in the top of the seventh on Gillespie's RBI double. But with two outs and runners on second and third, manager Dan Jennings went with pinch-hitter Derek Dietrich, who grounded out sharply to short.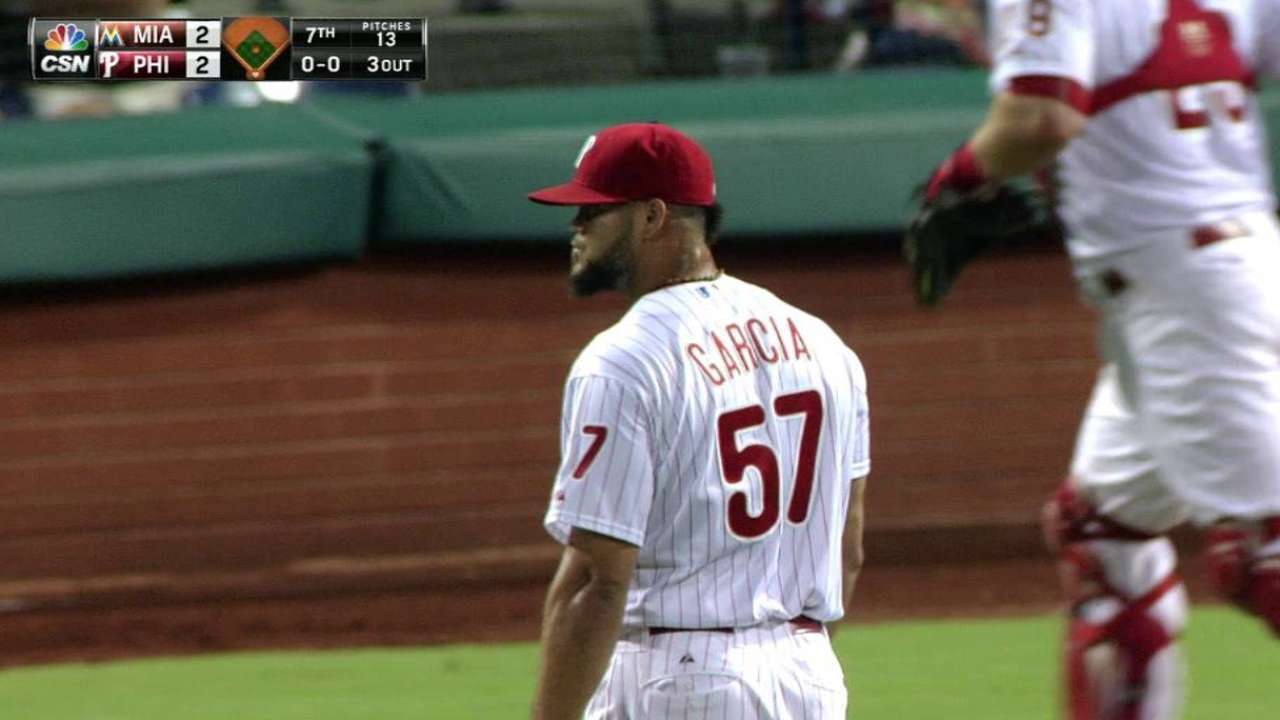 "In the National League, you get a chance like that, go out and think you've got the opportunity to score, especially on the road, that was the reason for the decision," Jennings said. "I thought he threw a great ballgame." More >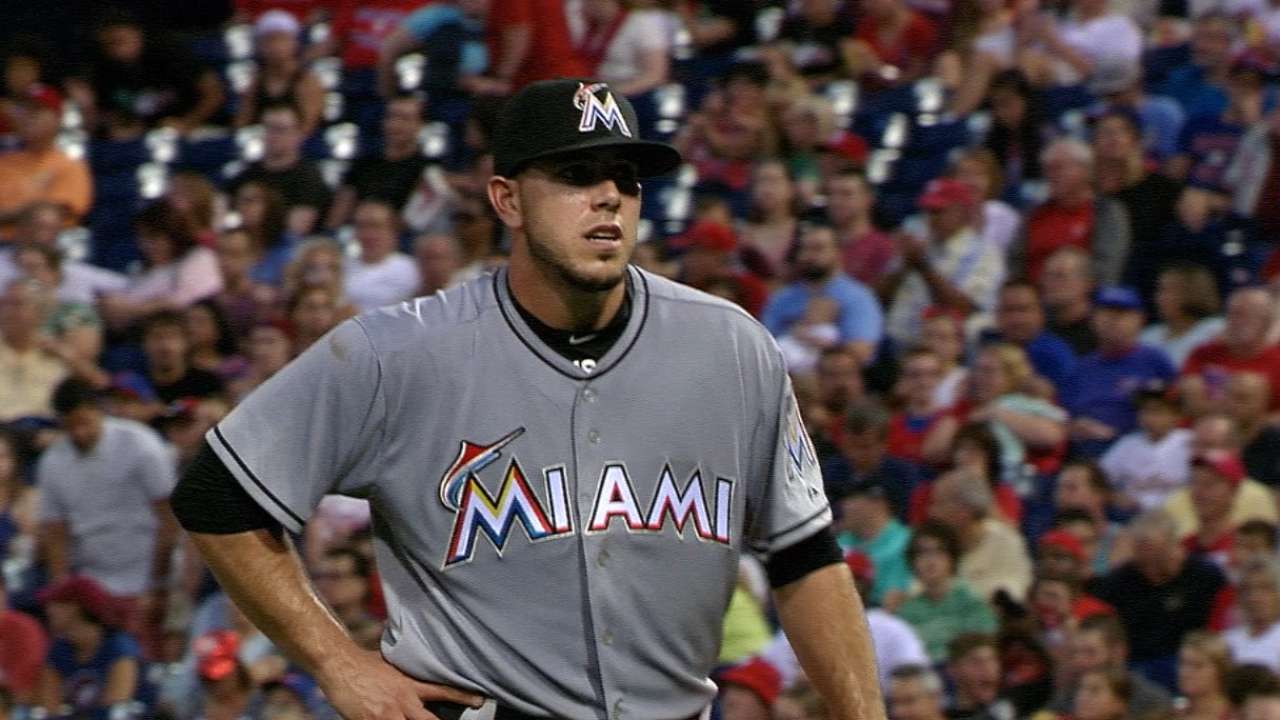 QUOTABLE
"I think I'm just stupid enough to be able to do it." -- Francoeur, on pinch-hitting. His home run Friday night was his first career pinch-hit home run. He is now 8-for-16 with three extra-base hits and nine RBIs as a pinch-hitter in 2015
"It's the last thing you think is going to happen on that pitch. I felt like I executed my pitch, threw it where I wanted. It was down in the zone. It was probably going to bounce before it gets to [catcher] J.T. [Realmuto]. It's one of those, one inch left, one inch right, one inch up, one inch down, one mph slower or harder, he doesn't [hit it out]. It's the last thing I thought would happen on that. I got him way out on in front. I felt like he almost threw his bat at it. Sometimes you've got to just tip your hat." -- Marlins reliever Mike Dunn, on giving up Francoeur's golf-shot home run
SOUND SMART WITH YOUR FRIENDS
When Fernandez walked Domonic Brown with two outs in the fifth inning, it marked the first walk the Marlins' ace has allowed since his return from Tommy John surgery on July 2. Fernandez had gone 17 2/3 innings without issuing a free pass.
INSTANT REPLAY
After the Gillespie error and the Francoeur home run in the eighth, Freddy Galvis continued the rally for the Phillies with a two-out single. He quickly ended the rally too, as he was caught attempting to steal second base. The Phillies asked for a review, but the replay officials confirmed the call on the field. The replay lasted a minute and 16 seconds.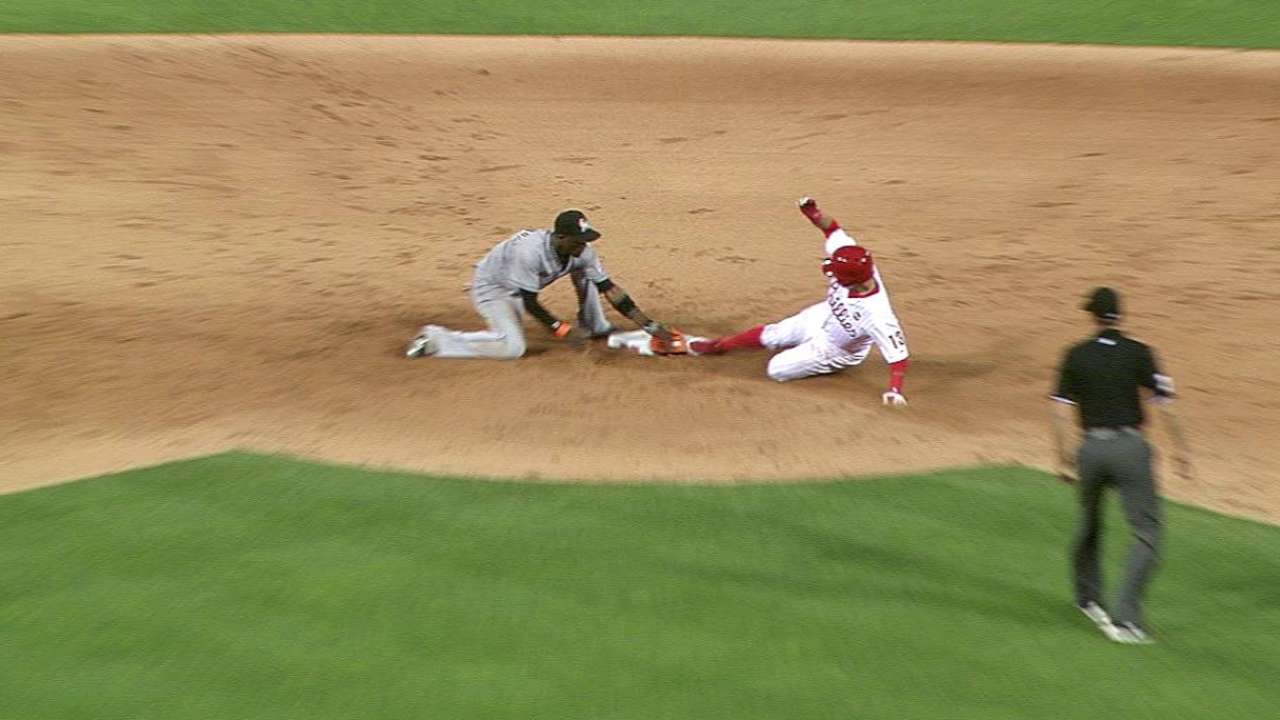 WHAT'S NEXT
Marlins: Tom Koehler (7-5, 3.40 ERA) gets the middle game of the weekend series -- a 7:05 p.m. ET start on Saturday at Philadelphia. The right-hander is 2-1 (4.30) lifetime against the Phillies.
Phillies: Right-hander Chad Billingsley is looking for some consistency. He has pitched six innings in just two of his first six starts this season. He has allowed four or more runs in four of those starts.
Watch every out-of-market regular season game live on MLB.TV.
Todd Zolecki is a reporter for MLB.com. Read his Phillies blog The Zo Zone, follow him on Twitter and listen to his podcast. Joe Frisaro is a reporter for MLB.com. He writes a blog, called The Fish Pond. Follow him on Twitter @JoeFrisaro and listen to his podcast. This story was not subject to the approval of Major League Baseball or its clubs.