A-Rod's go-ahead HR lifts Yanks over Mariners
NEW YORK -- Alex Rodriguez hit a go-ahead homer in the seventh inning to propel the Yankees to a 4-3 win over the Mariners on Friday night at Yankee Stadium.
The shot over the right-center-field wall was Rodriguez's 19th homer and 52nd RBI of the season. He had a hunch it was gone once it left the bat, and it followed a homer by Chris Young and RBIs from Brian McCann and Chase Headley earlier in the game.
"I've seen him a lot over the years and he's dominated me," Rodriguez said of reliever Joe Beimel, who gave up the long ball. "I don't know what the numbers are, but they're not pretty for me. Tonight, I just got a good pitch to hit and hit it.
"I know what his bread-and-butter pitch is, I'm just trying to get a good pitch to do it, not try to pull it."
Kyle Seager single-handedly carried the Mariners, accounting for all three of their runs after he ripped two homers over the fence -- one in the third and one in the fifth, both to right field. Masahiro Tanaka picked up his sixth win of the season, as Beimel was charged with his first loss of the season.
"It was a sinker," Beimel said of the 1-0 offering. "That's usually a pitch that will drop to the bottom of the zone. But it moved more horizontal on that and he could have easily tried to pull it, but he went with it. It was a bad pitch to a guy that has over 650 home runs. You don't want to leave it thigh high."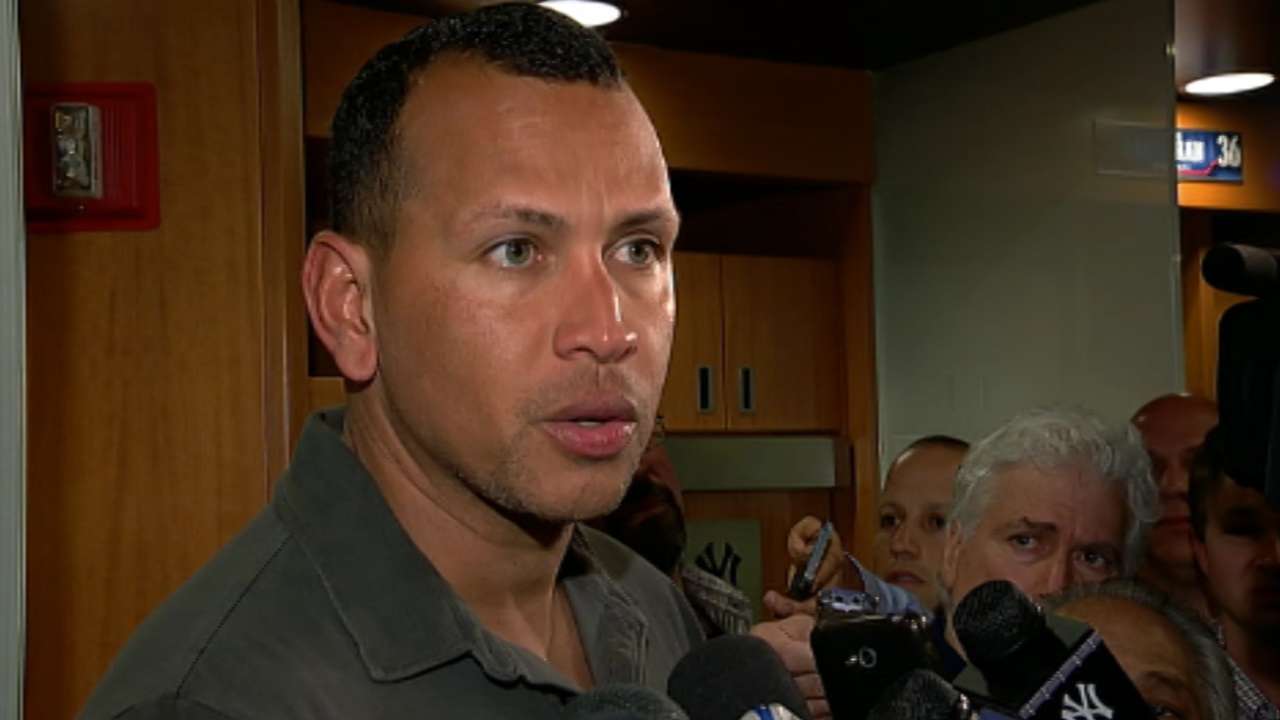 MOMENTS THAT MATTERED
Seager likes the Bronx: Seager's two homers in his 2-for-4 night continued a torrid trend in New York. In his last two games at Yankee Stadium, the Mariners third baseman is 6-for-9 with three homers, two triples, a double and six RBIs. His first homer in the third pulled Seattle into a 1-1 tie and his two-run shot in the fifth made it 3-2. Seager extended a seven-game hitting streak during which he's batted .481 (13-for-27) with three doubles and two homers to hike his average from .252 to .271 with 14 homers on the season.
"I was just looking for something I could handle," said Seager, who was 1-for-6 with four strikeouts against Tanaka coming in. "He's thrown me a lot of pitches in the past that I couldn't handle and still swung at. Fortunately today, I got ahold of two." More >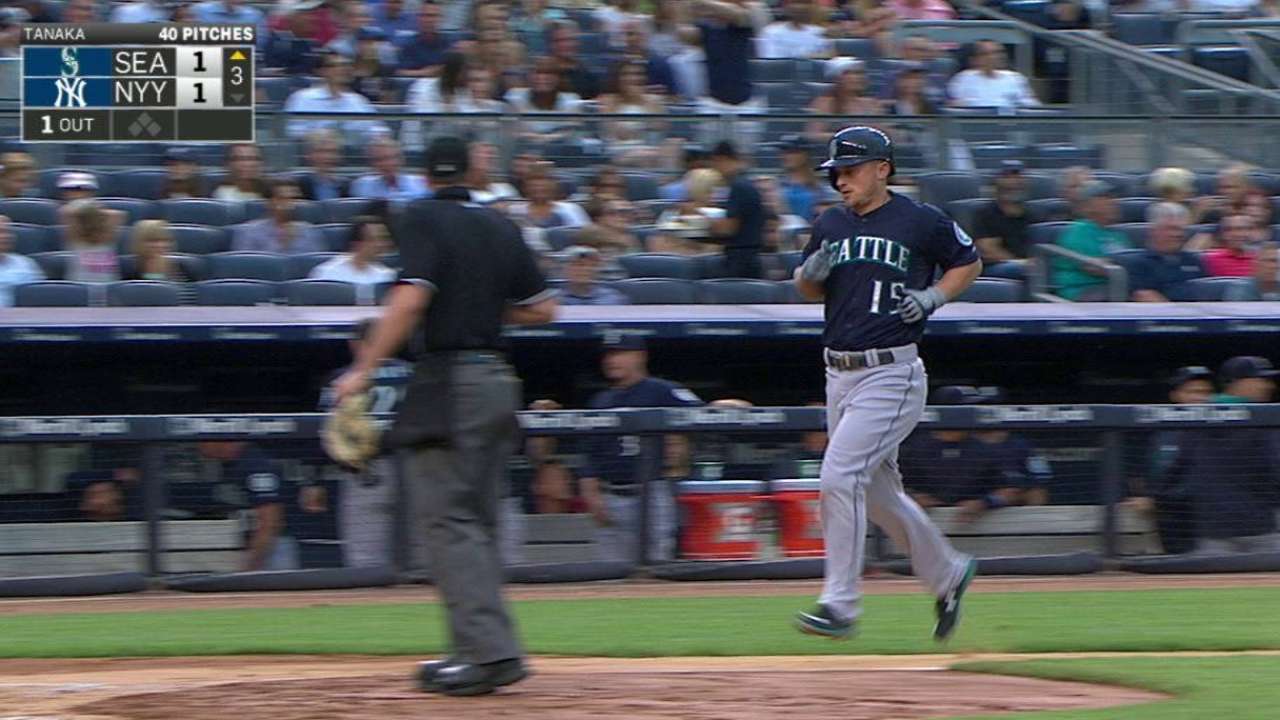 Getting the job done: In the first game back from the All-Star break, Tanaka threw seven innings of five-hit, three-run ball for his sixth win of the season. All three runs were earned and came off the bat of Seager. Tanaka is now 3-0 against the Mariners in three career starts and has racked up 27 strikeouts in that span.
"If you take away Seager, he was really good," Yankees manager Joe Girardi said. "He made two mistakes. Kyle's a dangerous hitter. He's hurt us here a number of times, and he did it again tonight." More >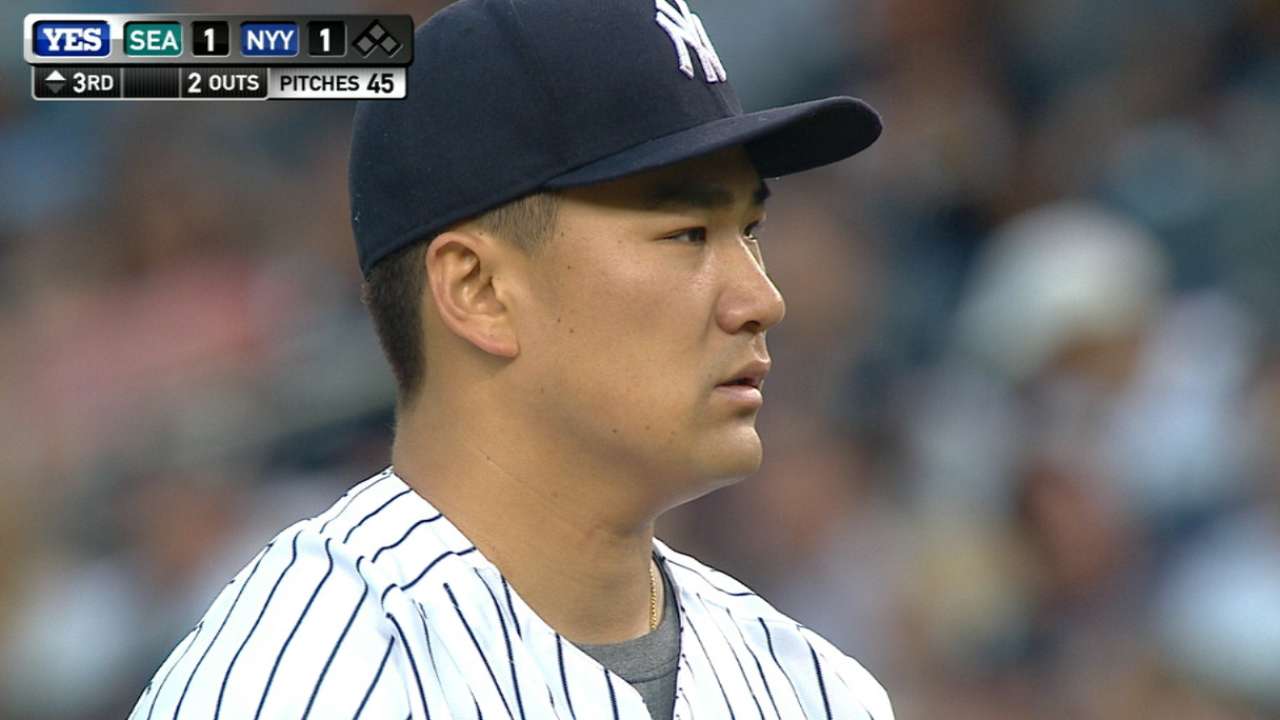 Montgomery solid again: Rookie left-hander Mike Montgomery wound up with a no-decision for the Mariners, but struck out nine and turned a 3-3 tie over to his bullpen with six innings of three-run ball. Since filling in for the injured James Paxton in early June, Montgomery has gone 4-3 with a 2.51 ERA in nine starts. The 26-year-old appeared to be in big trouble in the fifth when he gave up the tying run with no outs on McCann's single, but he stranded runners on first and third by getting a flyout from Young and a double-play grounder from Headley.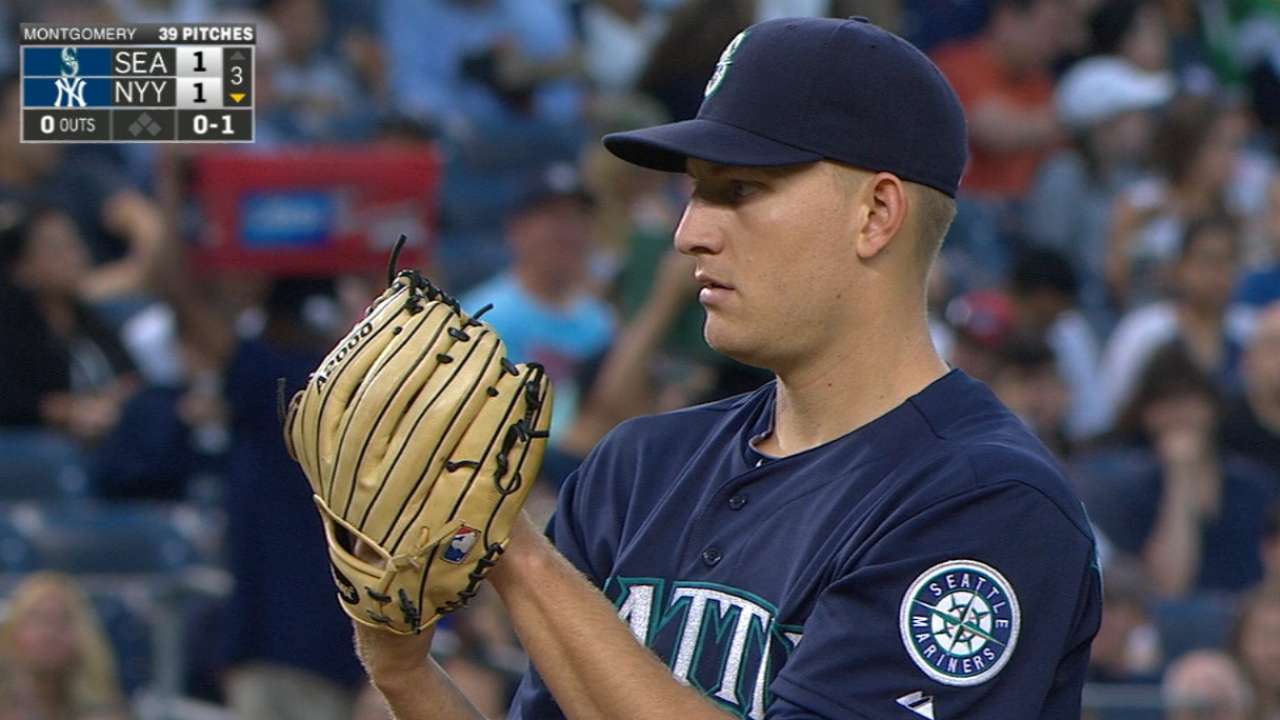 "That was big," Montgomery said. "First and third with no out, I just wanted to make good pitches. I got the first guy to fly out and then the ground ball, that was big and they made a good turn. I really thought that was key to keep the game tied."
Two hits, two runs: Young, playing right field Friday night, got the Yanks on the board early with his 11th homer of the season in the second inning. He then doubled in the fourth inning and scored on Headley's single. Young's homer was his 14th and the double was his 22nd since joining the Yankees in September 2014. Friday was his 13th multi-hit game of the season.
"He's been as good as anyone we have on our team. And it's not just been singles. It's been homers and doubles like he did tonight," Girardi said. "He just missed hitting another homer off a right hander [in the seventh inning]. He's been a big part of our success, and he's done a really good job."
"The main thing is to be able to get consistent at-bats and have the opportunity to go out there and try to find a little streak to get going," Young added. "If I slow down, I still get the opportunity to go out there and my way out of it ... Joe's given me a lot of opportunities, so I'm grateful for that."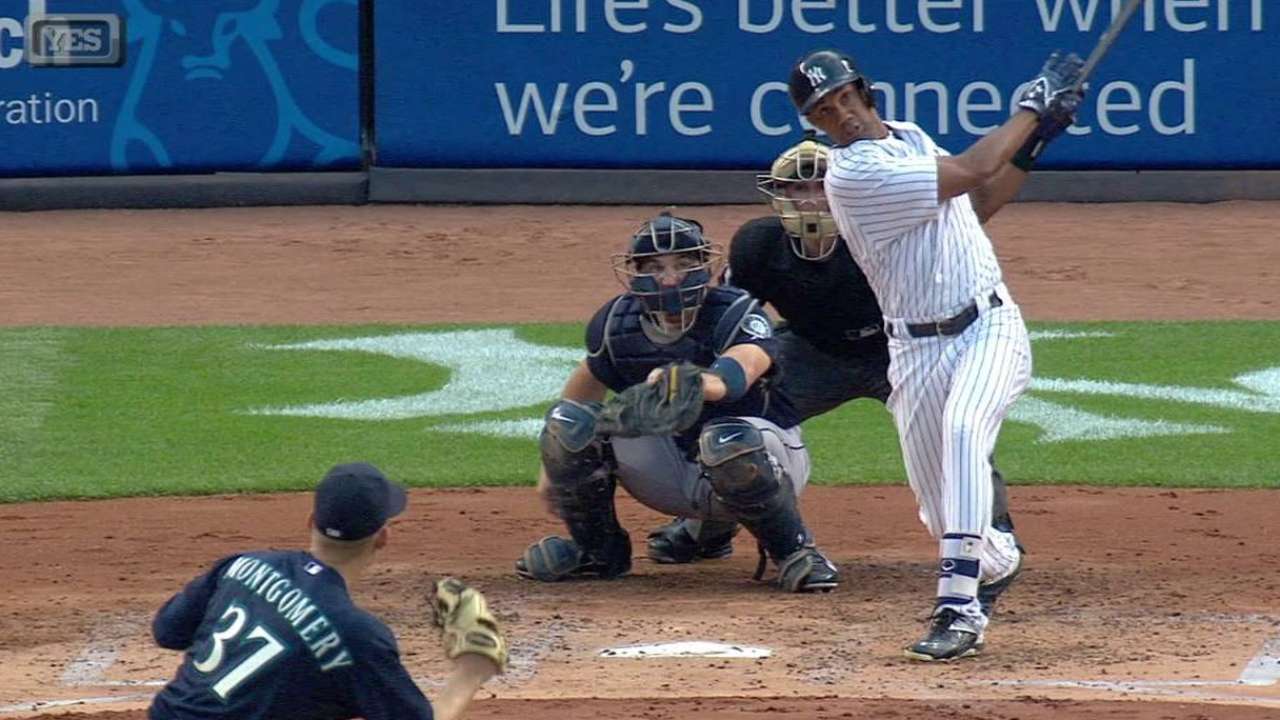 QUOTABLE
"I had the matchup that I wanted. A-Rod is hitting less than .200 against lefties [actually .237, compared to .297 vs. right-handers] and Beimel has had success against him in the past. He just left a pitch where not many people are going to miss. It was just a mistake pitch."
-- Mariners manager Lloyd McClendon, on sticking with Beimel against Rodriguez, with right-hander Mark Lowe warming in the bullpen .
"I also think it's an experienced hitter knows what pitchers are going to try to do to him and he knows what he wants to do. He understands ballparks. He's been around a long time so he understands the situation and what he's supposed to try to do."
-- Girardi, on Rodriguez coming through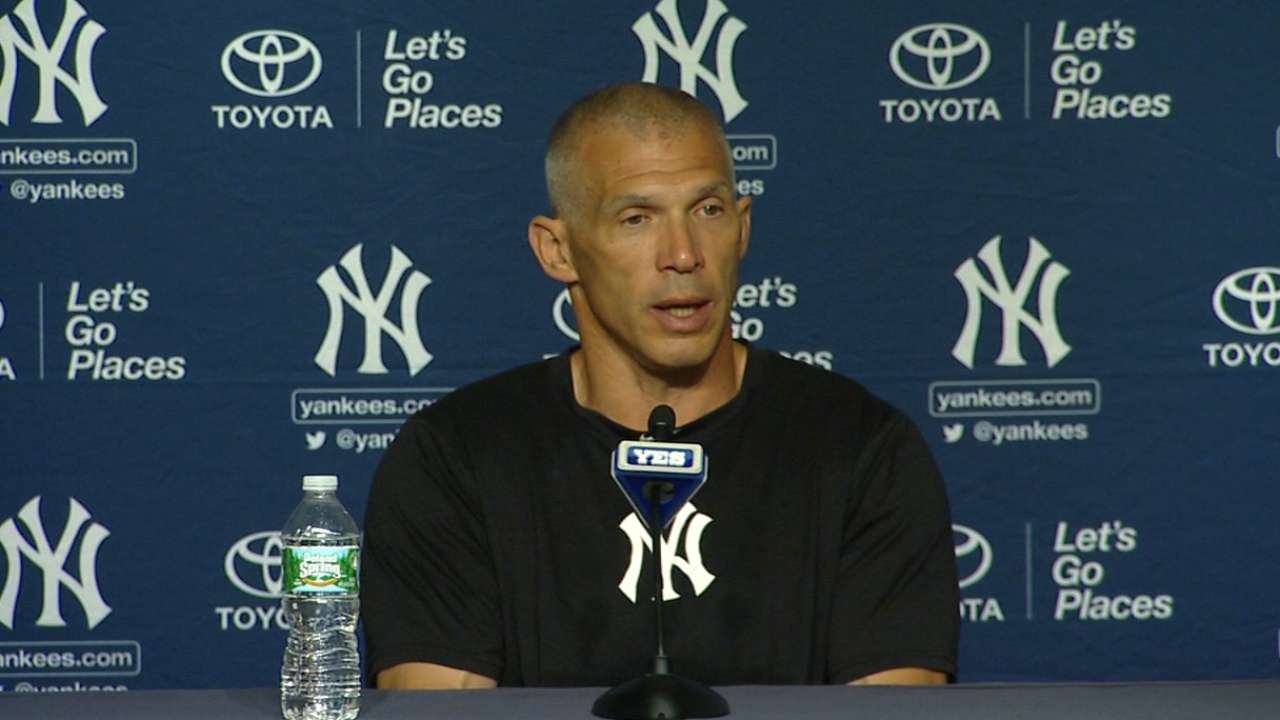 SOUND SMART WITH YOUR FRIENDS
Montgomery gave up three earned runs in six innings to put his ERA at 2.51, the fourth best in Mariners history for a pitcher in the first nine starts of his career. The three ahead of him: Paxton (1.93 in 2013-14), current Yankee Michael Pineda (2.16 in 2011) and Matt Young (2.26 in 1983).
WHAT'S NEXT
Mariners: Veteran right-hander Hisashi Iwakuma (1-1, 5.22 ERA) gets the start in Saturday's 10:05 a.m. PT game at Yankee Stadium. The 34-year-old is coming off his best start of an injury-plagued first half, as he threw eight scoreless innings with just three hits in a 5-0 win over the Angels in his second outing after 11 weeks on the DL with a strained lat. He's 1-2 with a 3.33 ERA in four career starts against the Yankees.
Yankees: The Yankees will send former Mariner Pineda to the mound to face his old team for the second time, both this season and in his career. Pineda is looking for his 10th win of the season. In his last three starts, the right-hander has registered 24 strikeouts to just one walk. His last outing, July 10, was a win in Boston after he pitched 6 2/3 innings to tally six strikeouts and just one earned run.
Watch every out-of-market regular season game live on MLB.TV.
Greg Johns is a reporter for MLB.com. Follow him on Twitter @GregJohnsMLB, read his Mariners Musings blog, and listen to his podcast. Grace Raynor is an associate reporter for MLB.com. This story was not subject to the approval of Major League Baseball or its clubs.