Schroeder enshrined on Brewers Wall of Honor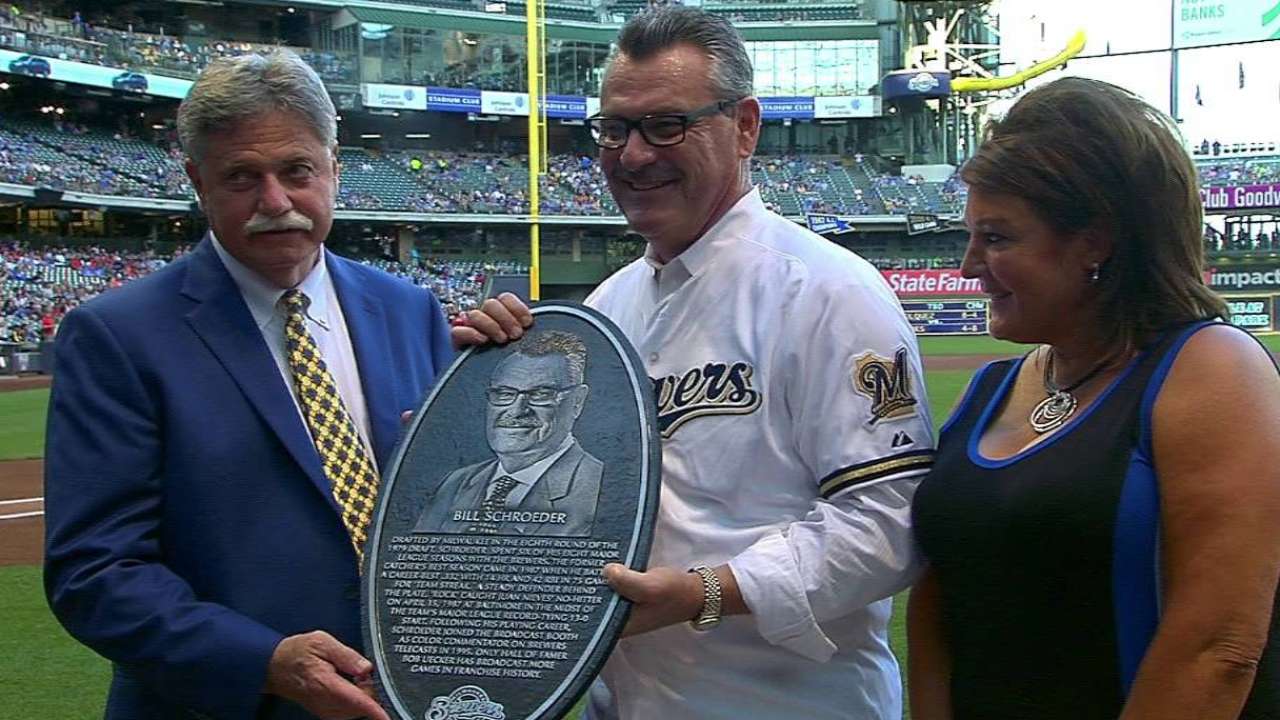 MILWAUKEE -- Former Brewers catcher and current television analyst Bill Schroeder was enshrined on the Brewers Wall of Honor before Milwaukee's 4-1 win in series opener against the Pirates on Friday at Miller Park. A pregame ceremony for the long-time broadcaster saw him throw out the game's first pitch surrounded by friends and family.
For Schroeder, being placed on the wall is a humbling experience.
"I'm honored to even be considered for something like this," Schroeder said before Friday's game. "Being on the list of the people who are on that wall, and being inducted in that list of people who have been impactful in the history of this game here in this town is very important. That means a lot to me."
Schroeder is currently in his 21st season calling games in the Brewers' broadcast booth alongside play-by-play man Brian Anderson. He spent eight seasons in the big leagues with the Brewers and California Angels, tallying a career-best .332 batting average in 1987. Schroeder also caught Juan Nieves' no-hitter on April 15, 1987 in addition to hitting a career-high 14 home runs that season.
The Brewers Wall of Honor, which was unveiled in 2014, commemorates Brewers players and broadcasters that meet a set criteria based on the service to the club. Each member on the wall has a plaque with their photo and a brief synopsis of their career. The wall is located on the North side of Miller Park, adjacent to the Hot Corner entrance.
Last year's inaugural class included 58 members enshrined on the Brewers Wall of Honor. John Axford, Ryan Braun, Prince Fielder, Yovani Gallardo, Carlos Gomez, J.J. Hardy, Corey Hart, Jonathan Lucroy and Rickie Weeks are the nine active players that, as of today, qualify for induction into the Wall of Honor following their retirement.
"I feel as though I'm part of the history of baseball in this town," Schroeder said. "That's very important to me. That's overwhelming for me."
Schroeder says his love for the game of baseball keeps him excited to come to the ballpark each and every day.
"I don't care if the team is winning or losing, 3:30 is the best part of my day. I love coming to the ballpark," Schroeder said.
"There's always something good to talk about. There's always a story that you can dig up. If you love baseball, if you want to be around the ballpark, there always things to talk about in a positive sense. I make a living talking about other people and I'm usually on the other side of this table, [but] this is kind of nice today."
Brandon Curry is an associate reporter for MLB.com. This story was not subject to the approval of Major League Baseball or its clubs.