Hahn shut down for a month with sore elbow
A's take cautious approach with starter after second opinion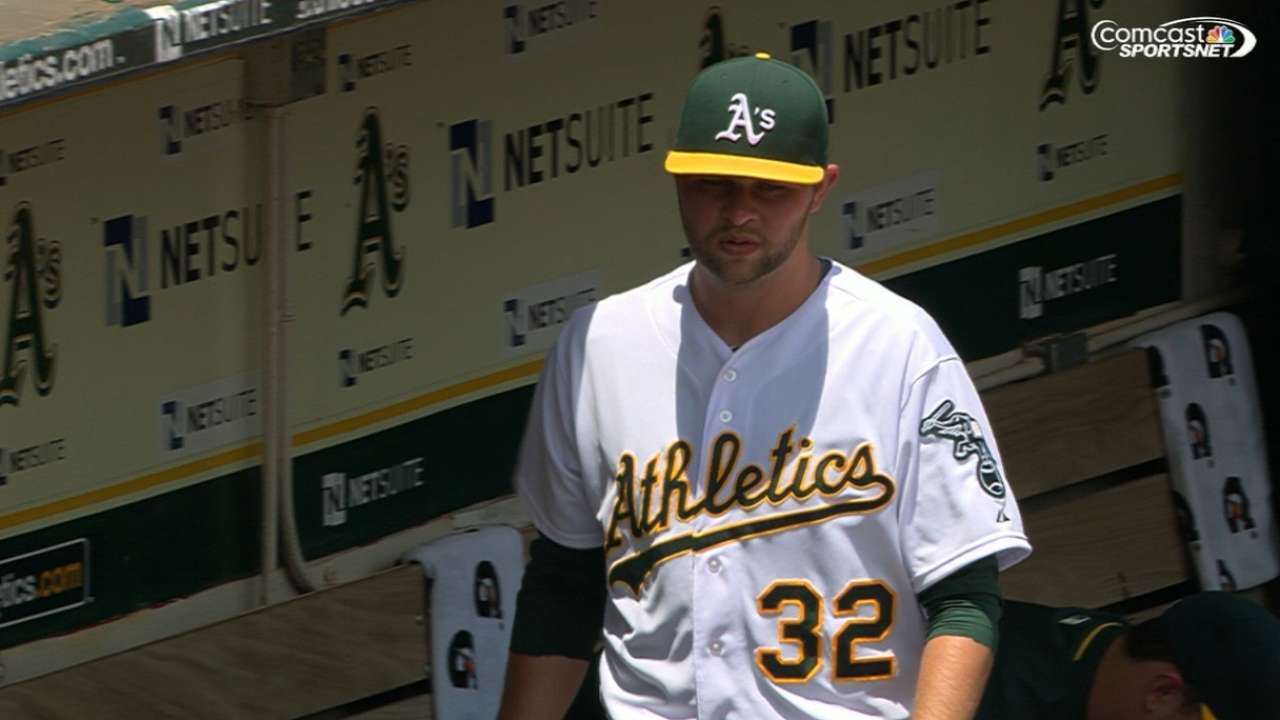 OAKLAND -- The A's will be without starter Jesse Hahn longer than expected, after the right-hander received a second opinion on his sore pitching elbow and was advised not to pick up a baseball for at least one month.
Hahn was originally expected to be shut down for just 10 days but, after consulting with Los Angeles-based orthopedic surgeon Dr. Neal ElAttrache this week, he and the A's decided to give his elbow additional rest.
He'll receive a platelet rich plasma injection Tuesday to alleviate inflammation in the elbow.
"He wanted to continue to pitch," A's manager Bob Melvin said, "but after the doctors took a look at him, we're going to shut him down here for a while."
Hahn, who underwent Tommy John surgery in 2010, is relieved there is no ligament damage in his elbow.
"That took a lot of weight off my shoulders," he said. "That would have been really frustrating if I had to go through that process again, but we caught it soon enough to be able to shut it down and take the precautionary route."
"There's really no timetable with him at this point," Melvin said, "but we want to be awfully careful with a guy that's had Tommy John before."
The 25-year-old Hahn -- originally placed on the disabled list July 6 with a strained forearm -- is 6-6 with a 3.35 ERA in 16 starts for the A's, who will likely call on right-hander Chris Bassitt to fill his rotation spot beginning July 26. They'll stick with a four-man rotation until then thanks to an off-day Monday.
Bassitt excelled in three spot starts for the club in recent weeks, allowing five runs in a combined 17 innings.
Worth noting
•Coco Crisp engaged in baseball activity Friday for the first time since hitting the disabled list with a neck strain May 20. The outfielder took dry swings and is expected to participate in batting practice sometime next week.
Despite the encouraging news, Melvin can't promise Crisp will come off the DL this season.
"It all depends on how he feels once he starts baseball activity again," he said. "He's at the point where, with his neck, it feels good enough to start down this path. Certainly we'd like to get him back, but until he gets out there and actually takes a few days of BP and see how he responds to that, we're really not sure at this point."
• Switch-pitcher Pat Venditte, rehabbing a right shoulder strain, threw a 20-pitch right-handed bullpen session Thursday and said Friday he's "pain-free." He's scheduled for another bullpen Saturday, when he'll throw 30 pitches with his right arm and 20 with his left, and could begin a rehab assignment shortly thereafter, barring any setbacks.
• Left-hander Sean Doolittle (strained left shoulder) is playing catch out to 90 feet.
Jane Lee is a reporter for MLB.com. This story was not subject to the approval of Major League Baseball or its clubs.