Carter sprains right ankle, may land on DL
Astros first baseman injured after leaping for high throw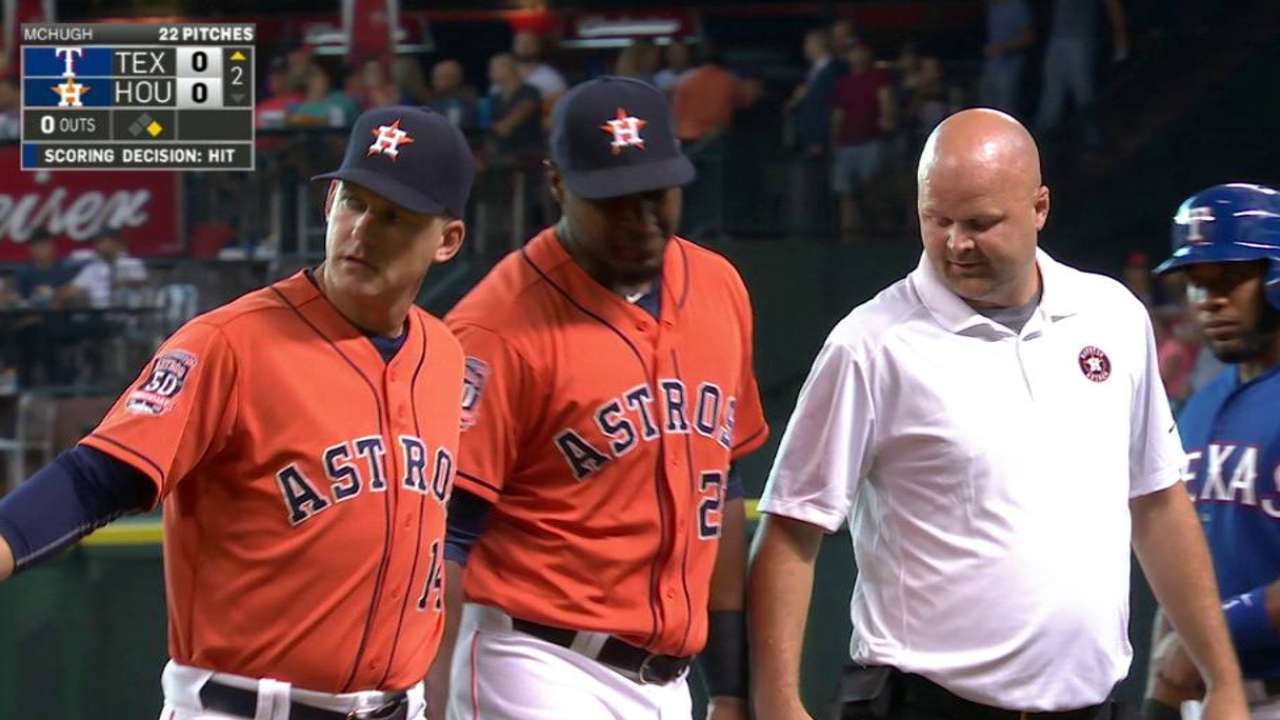 HOUSTON -- After leaving Friday's 3-2 win against the Rangers with a sprained right ankle, Chris Carter and Astros manager A.J. Hinch are uncertain if the first baseman will avoid the disabled list.
Carter landed awkwardly trying to corral a high throw from second baseman Jose Altuve, who had to range into short right field to field a grounder hit by Elvis Andrus. Once he scooped it, Altuve sailed the throw, forcing the 6-foot-4 Carter to jump for the ball. He couldn't come up with it, landing awkwardly and twisting his ankle.
"It's sore," Carter said. "I landed on it pretty awkwardly right there and we'll see how it feels [Saturday]. It swelled up pretty good around the ankle, so I iced it the rest of the game."
Carter entered the clubhouse with the ankle heavily wrapped, but was able to put on his tennis shoe and walked out without crutches or a boot. He said he did not have an X-ray.
Initially, assistant athletic trainer James Ready came out on the field to tend to Carter. Manager A.J. Hinch couldn't quite tell how Carter was injured, so he stayed in the dugout until Ready motioned for him, signaling trouble.
Carter walked off the field with no assistance a short time later. He was replaced by Jon Singleton.
"I'm not going to have him out there hobbling around so I pulled him off," Hinch said. "We'll re-evaluate him overnight, see how he comes back. It's possible that he avoids the DL, it's also very possible he wakes up [Saturday] and we have to talk about what's next for the next couple of weeks."
Singleton finished 1-for-3 with two strikeouts in Carter's place.
Chandler Rome is an associate reporter for MLB.com. This story was not subject to the approval of Major League Baseball or its clubs.