Lowrie hoping to begin rehab stint next week
Hinch pleased with 'steady progress' from infielder; Springer receives good news in recovery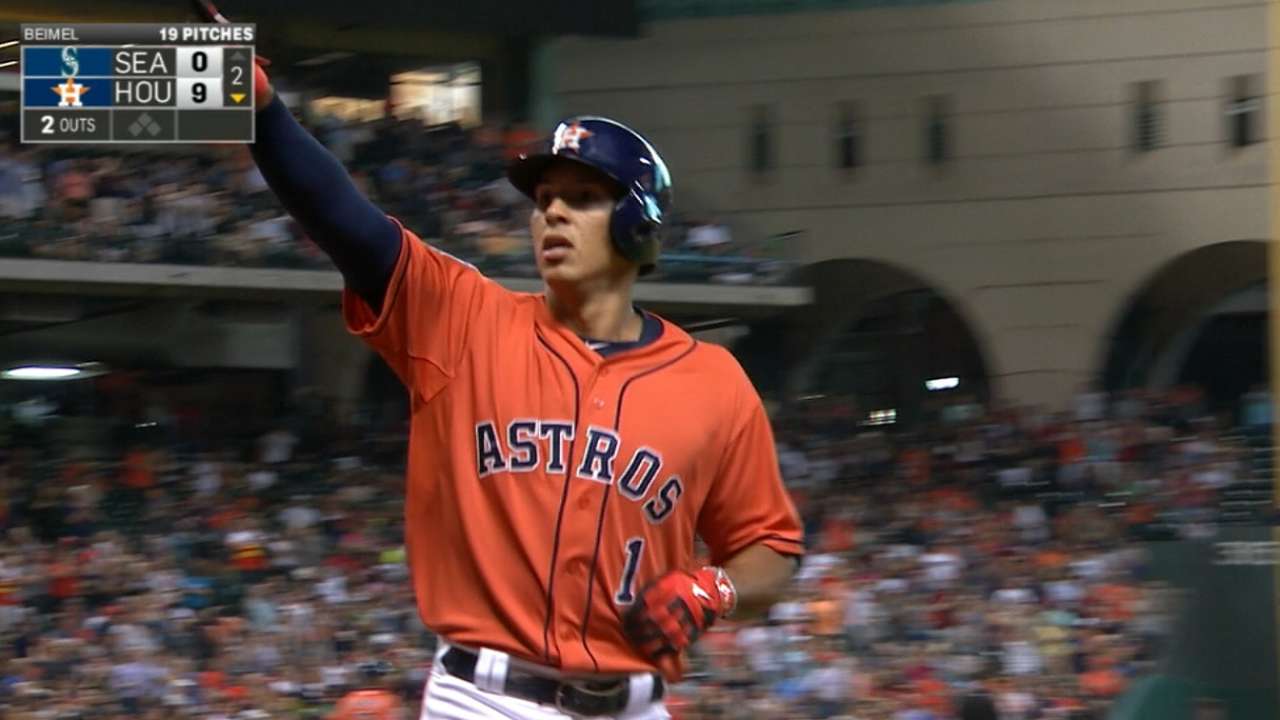 HOUSTON -- Astros infielder Jed Lowrie, sidelined since late April with a torn ligament in his right thumb, said Friday he hopes to be sent to a rehab assignment as early as next week.
Lowrie and Astros manager A.J. Hinch said while there is no date set to begin the rehab stint, progress the 31-year-old infielder made over the All-Star break has expedited the process. Lowrie spent the break in Kissimmee, Fla., getting extra work in at the Astros' Spring Training facility after Houston's final series of the first half in St. Petersburg, Fla., against the Rays.
"He's making steady progress and I was really impressed with the progress that I saw from the last day in Tampa to the workout [Thursday]," Hinch said. "Bat speed was better, his mobility, arm strength, everything was a tick better than in Tampa."
Lowrie worked out during the team's voluntary workout Thursday and Hinch said he'll work out with the team during its series with the Rangers this weekend. Lowrie has taken grounders regularly on the left side of the infield for the past three weeks and said Thursday he's begun to take batting practice off coaches.
"It was a necessary step," Lowrie said. "That's the furthest it's gone to this point, but I need to continue to do that to desensitize the thumb and continue to strengthen [it]."
Lowrie surmised his stint would last a bit longer than usual rehab assignments -- he estimated five or six games.
"The first chance we get to get him out to an affiliate, we're going to do that," Hinch said.
Springer sees doctor
Though he still has a cast signed by all of his teammates occupying his right wrist, George Springer saw a doctor Thursday, who gave him good news on his progress.
"It's a slow process, it's not going to be healed anytime soon," Springer said. "Just sit and wait. As far as I know, I'm doing good from a progression standpoint, so just taking it from there."
The "sit and wait" part of the treatment doesn't sit well with the restless 25-year-old, who played catch with his toddler nephew before Friday's series opener and is constantly shown in the dugout fidgeting, trying to occupy himself during games.
"He's arguably our best dancer in the dugout," Hinch quipped. "That hasn't changed."
"We're all willing the bone to heal faster and faster and faster," Hinch said. "There's nothing we can do, he's been great on the bench. It's driving him crazy to not contribute and not to be out there with the guys."
Hinch added Springer will soon begin running and doing leg work to end his rest period and gear up for when he can return to baseball activities -- which Springer estimated will be in four weeks.
Chandler Rome is an associate reporter for MLB.com. This story was not subject to the approval of Major League Baseball or its clubs.