J.D. Martinez robs Davis of HR, then hits 26th
O's slugger has 3rd potential homer taken away this month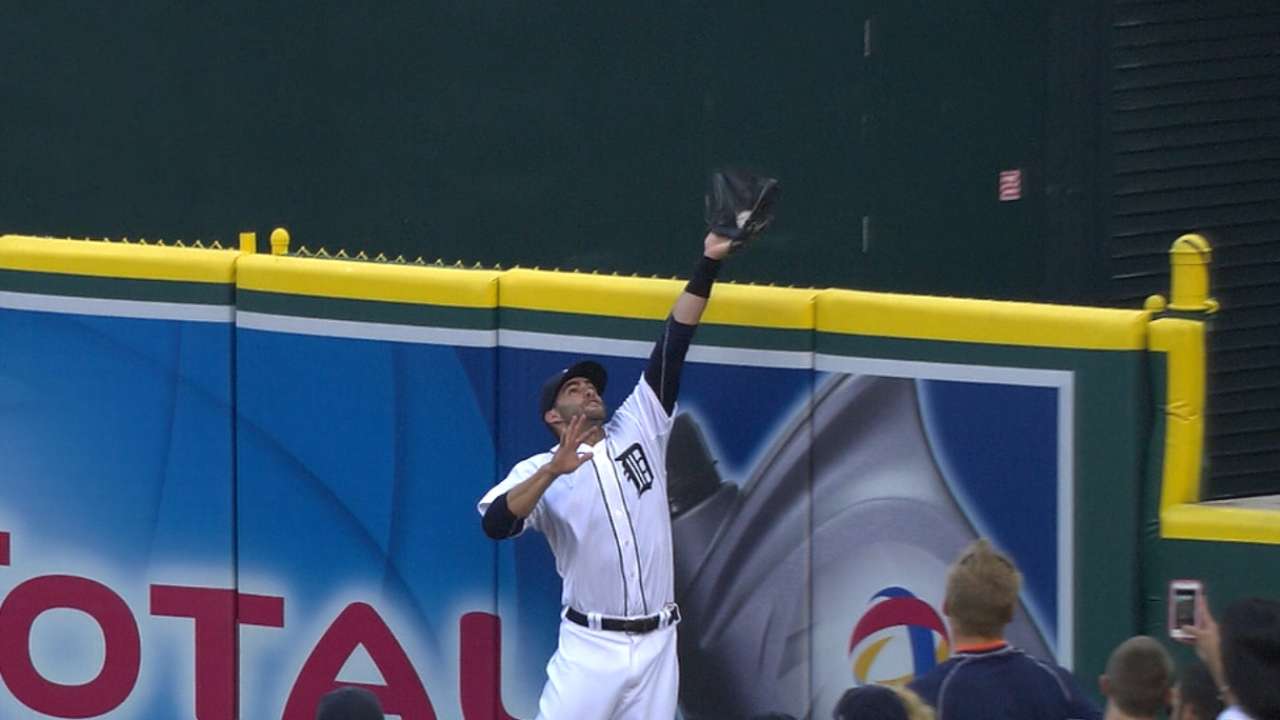 Martinez robbed Orioles slugger Chris Davis of a potential two-run shot with a leaping catch at the wall to end the top of the third inning at Comerica Park with the Tigers leading, 3-1. Were it not for Martinez's spectacular effort, right-hander Anibal Sanchez would have matched his career-worst with 20 home runs allowed in a season.
Instead, Martinez measured the trajectory of Davis' blast and completed the play.
"It was up in the air for a while," Martinez said. "It gave me time to get to the wall and just time it up right. I was able to time it and jump up and catch it.
"You don't see me do that too many times. It's really not my game."
It was an all-too-familiar outcome for Davis, who also had two would-be homers snagged by the White Sox this month. The first, an acrobatic catch by Avisail Garcia in right field, robbed what would have been the game-tying shot in the ninth inning of a 3-2 Orioles loss on July 4.
The following day, J.B. Shuck pulled a ball back from over the wall, prompting Davis to wave a towel in surrender from the dugout.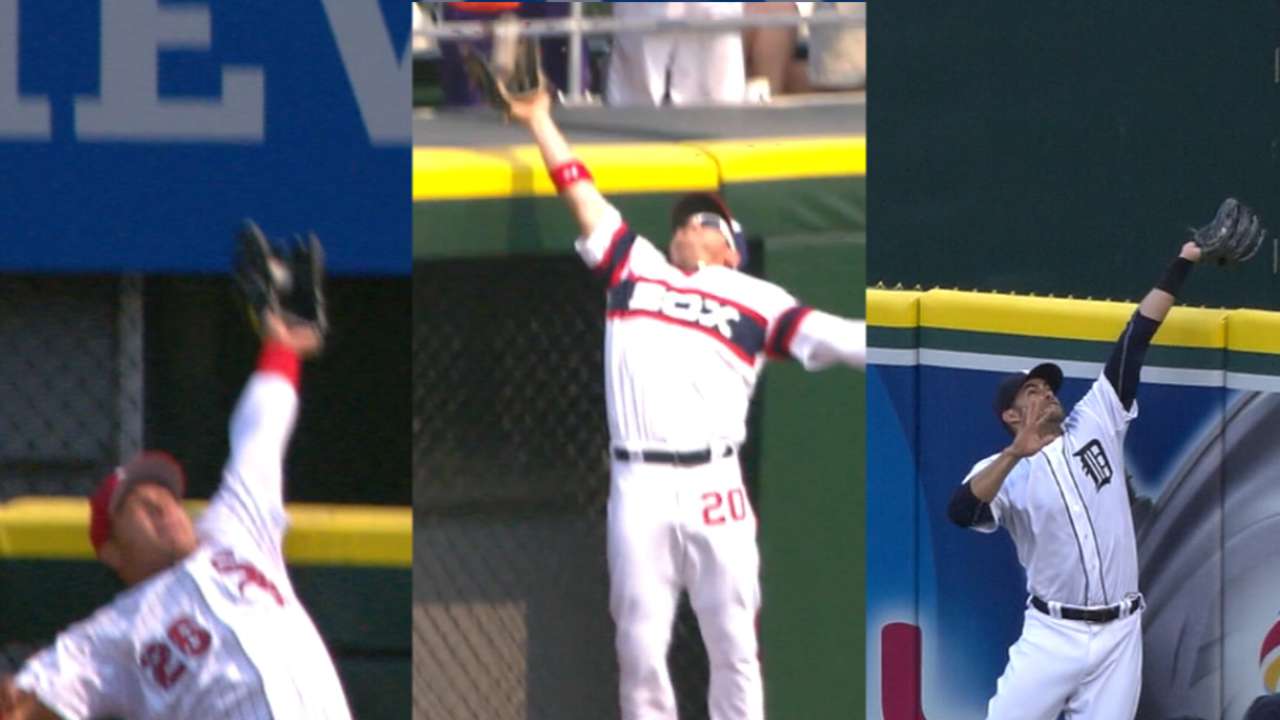 "The two in Chicago were pretty tough," Davis said Friday. "One would have tied the game, and the other I felt like I hit it well enough to hit it out. Tonight, the ball I felt like it got in on me a little bit. It just kept carrying, and J.D. made a great play. You tip your hat and you continue to move forward. It's never easy. And I know that Buck [Showalter] says they all even out, but sometimes it doesn't feel that way."
Martinez's highlight-reel night didn't end in the third inning. In the fourth, he made a jumping snag on a line drive with two outs and the bases loaded, likely saving three runs. The right fielder initially misread the ball but recovered in time to make the catch.
"That's the hardest play in baseball, is a line drive right at you," Martinez said.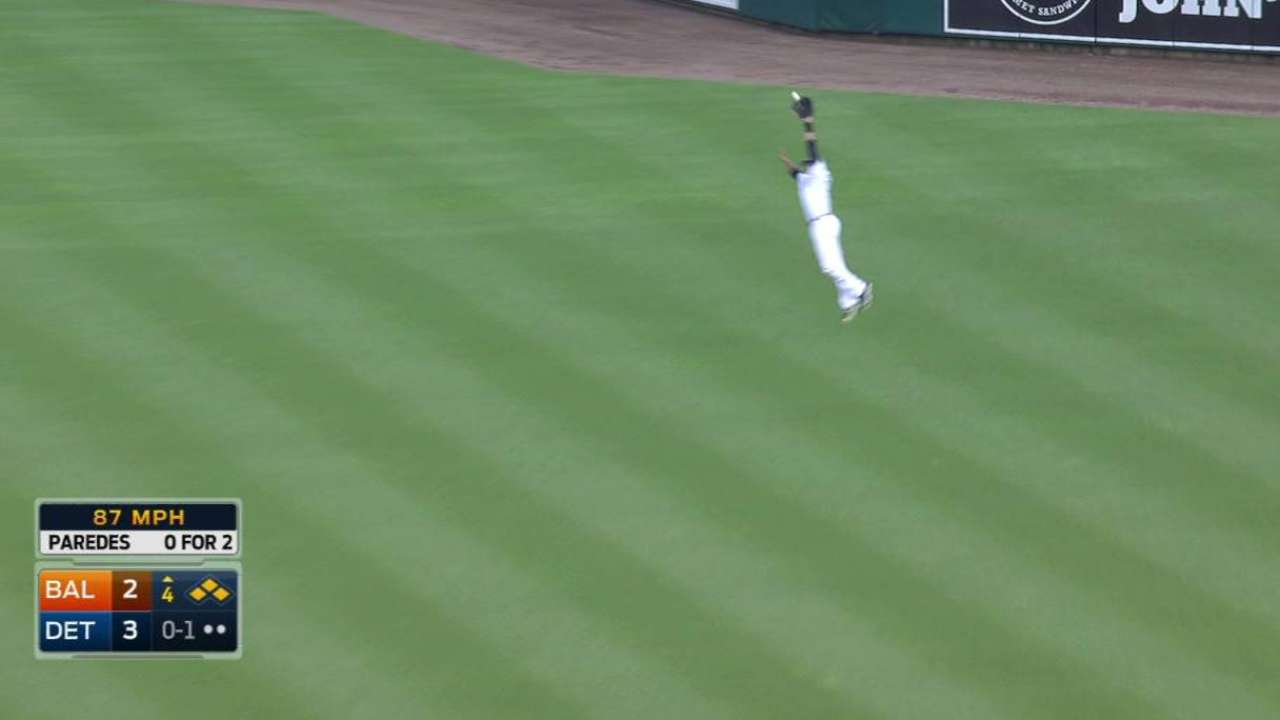 Then he displayed some of the power that earned him an All-Star berth in the first place. In the fifth inning, Martinez connected for his 26th home run of the season, a no-doubter that carried deep into the left-center-field seats.
But the play of the night had come two innings earlier on the opposite side of the outfield.
"That's a huge momentum-builder for us," said catcher James McCann. "That's a big-time play in a big-time spot."
Alejandro Zúñiga is an associate reporter for MLB.com. This story was not subject to the approval of Major League Baseball or its clubs.