Correa dedicated to community service
Astros rookie announces tournament to benefit children; club signs 35 of 42 picks by deadline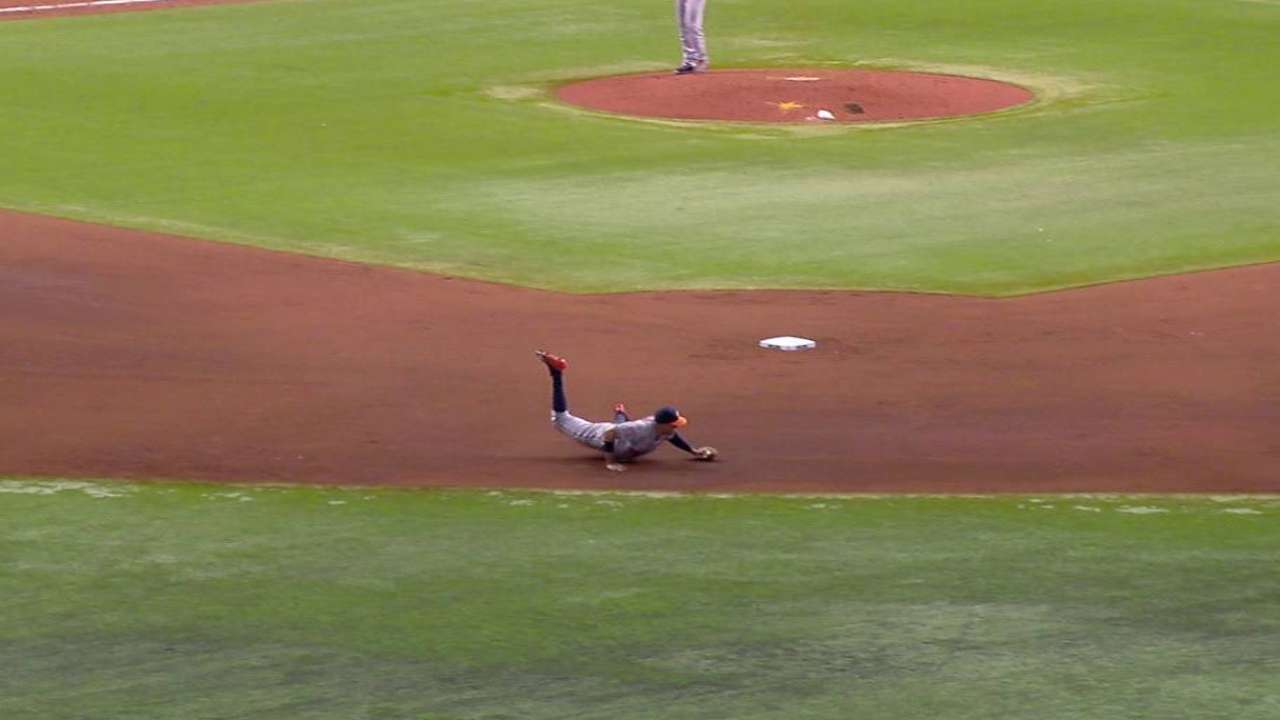 HOUSTON -- Astros shortstop Carlos Correa has made a big impact on the field during his first six weeks in the Major Leagues, and he's already showing a giving heart when it comes to charity work.
Correa, 20, on Friday helped make peanut butter and jelly sandwiches for the Salvation Army for a program to aid the homeless at Sally's House Women's Shelter. On Monday in Puerto Rico, he announced his plans for a tournament in Puerto Rico to promote a foundation that assists youngsters with cardiovascular disease.
Correa said Friday that when he drove by Minute Maid Park for the first time in June, he noticed there was a homeless shelter across the street and wanted to assist.
"I told my agency I wanted to help," he said. "I'm just trying to give back to the community. God blessed me with a lot of talent to play this game, and I want to give back to the community. That's what I'm going to be doing for the rest of my career."
Correa will meet later this week with Chris Flanagan, Houston area commander for the Salvation Army, to announce his plans to work with the group's efforts on behalf of the homeless, said his marketing representative, Frank Higginbotham.
As for his efforts in Puerto Rico, Correa will be joined by Astros teammates George Springer and All-Stars Jose Altuve and Dallas Keuchel for a Dec. 12 tournament in Puerto Rico to benefit the Gogui Foundation. That group helps economically disadvantaged children in Puerto Rico who suffer from cardiovascular disease.
• Friday was the deadline for teams to sign their picks from the 2015 First-Year Player Draft, and the Astros wound up signing 35 of their 42 picks, including the their top 23. The final pick who signed was 23rd-rounder Matt Bower, a left-handed pitcher from Washington State.
Houston scouting director Mike Elias said the team signed fewer Draft picks than normal because it targeted a lot of players late it wasn't likely to sign. The Astros also didn't have as many spots open in the Minor Leagues as they've had in years past.
"We're very happy with the results from the Draft efforts this year," he said. "The fact we signed every player we took inside 10 rounds -- we signed Patrick Sandoval in the 11th round, and we made the most of our other picks shortly thereafter we really targeted guys we wanted, drafted them, signed them and got them out playing very quickly.
"It was good to get them playing time and get those innings and at-bats under their belts this summer. It will help propel them going into next year. Our scouts did a great job of getting everybody signed this year."
Brian McTaggart is a reporter for MLB.com and writes an MLBlog, Tag's Lines. Follow @brianmctaggart on Twitter and listen to his podcast. This story was not subject to the approval of Major League Baseball or its clubs.