Moss hopes for production after needed break
Outfielder uses time off to recharge, aims for consistency in second half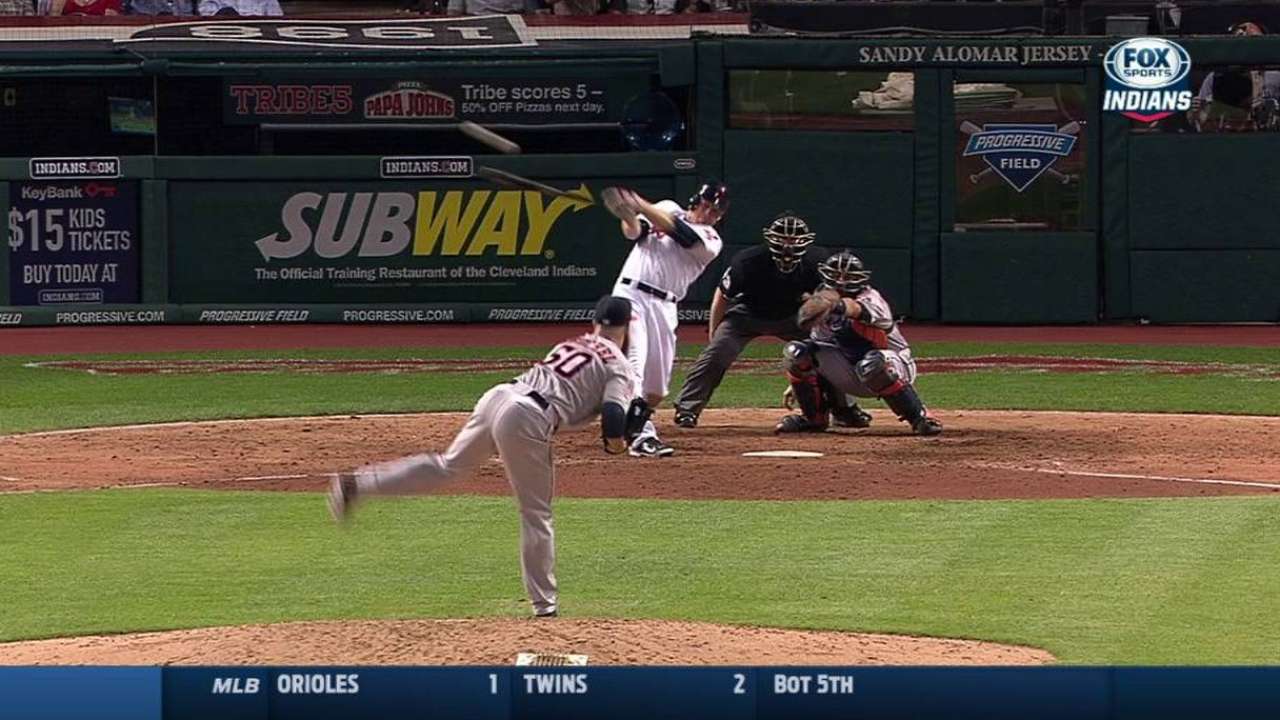 CINCINNATI -- Brandon Moss grilled and spent time boating with his family on Lake Oconee in Georgia over the All-Star break. The Indians' outfielder did not look at video or pore over his first-half statistics. He said he needed this midseason respite more than any other in his career.
Moss needed it to take a deep breath, relax and recharge for the final two-plus months.
"I went out and had a good time," Moss said on Friday afternoon, "and tried to not think so much, just let it go and let the body reset."
Moss, who was acquired from the A's in a December trade, had admitted to feeling pressure to live up to his reputation as a run producer. When the veteran got off to a cold start, the pressure mounted, and he battled to find consistency in the batter's box. Moss knows it is critical to the offense for him to show improvement in the second half.
He is hoping his intermission on the waters of Lake Oconee helped calm his internal storm.
"I've pored over video. I've been in the cage, I've done every early hitting you can do," Moss said. "I've done drills. I've tried different things. I feel like at times it's there and at times it's not. It's just the consistency is nowhere close to what I'm used to having. The power numbers are there. The strikeouts are there. It's just that they're not coming consistently, and they're not coming at times when they matter as much as I would like.
"It just wasn't a very good first half. ... Guys have been picking me up. We've been playing better as a team and starting to make this thing go in the right direction. At the same time, it's part of why I'm here, which is to be a big part of the lineup and be a big part of the team and produce. And I plan on doing that. I want to do that."
Moss' first half consisted of a .220/.296/.427 slash line to go along with 14 home runs, 17 doubles, 46 RBIs and 93 strikeouts in 83 games. Over the 2012-14 seasons with the A's, Moss turned in a .254/.340/.504 line with an average of 25 home runs and 73 RBIs per year.
Indians manager Terry Francona felt that Moss' frustrations probably stem more from his recent woes (.125 average with a .520 OPS in the 15 games entering the break) than anything else.
"The way you finish kind of leaves that taste in your mouth," Francona said. "The last two weeks, he really had a tough time. Up to that point, he had kind of gotten hot. That's the way he can go. He can get just as hot and carry us. If he ends up with 28-30 home runs and 100 RBIs, we're going to be thrilled. It just may not be consistent all the way across the board."
Jordan Bastian is a reporter for MLB.com. Read his blog, Major League Bastian, follow him on Twitter @MLBastian and listen to his podcast. This story was not subject to the approval of Major League Baseball or its clubs.