Phils eye improvement, keep Deadline in mind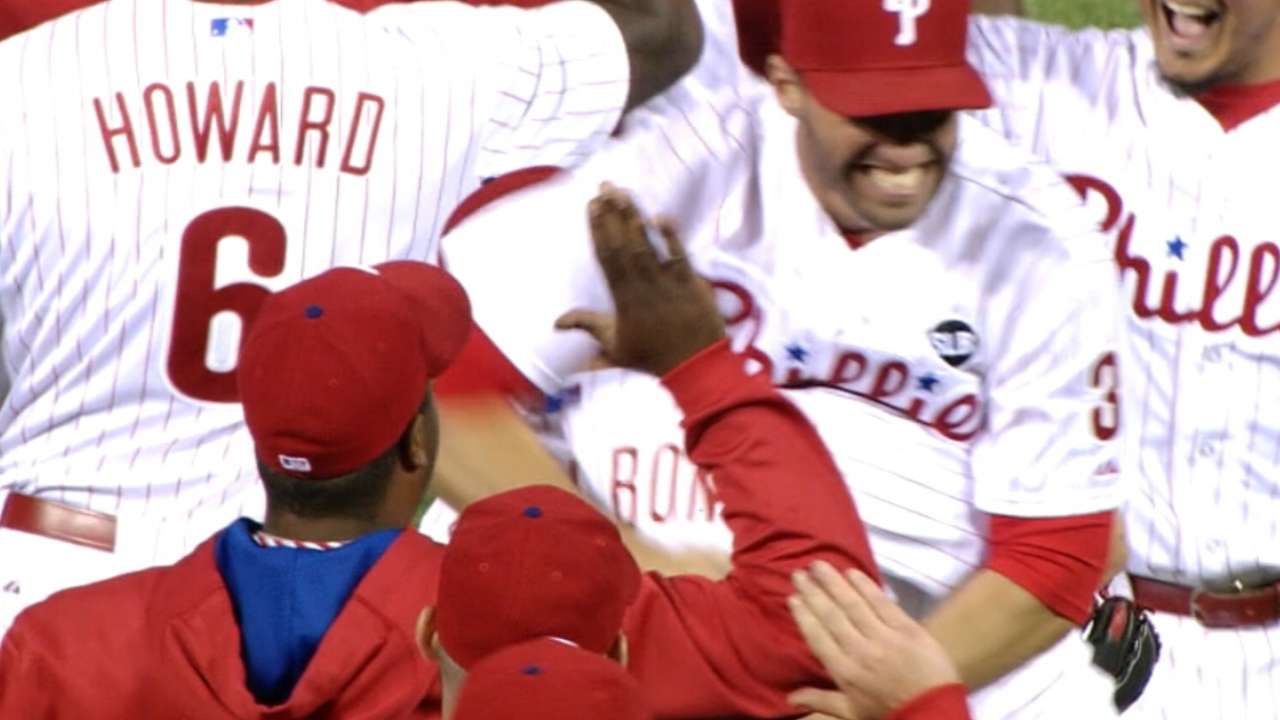 PHILADELPHIA -- Phillies interim manager Pete Mackanin hopes to see incremental improvements from his players in the second half of the season. But predictions about how the Phillies will play? Forget it.
"I don't know who's going to be here by the trading deadline," Mackanin said Friday afternoon at Citizens Bank Park. "We don't know what's going to happen. We might have the same guys. We might have [new] pitchers, hitters, we don't know. That being the case, it's hard to project any amount of success."
The July 31 non-waiver Trade Deadline is just 14 days away, and the Phillies are expected to trade Cole Hamels and Jonathan Papelbon, who is making it very clear he wants out of Philadelphia. Outfielders Ben Revere and Jeff Francoeur have received interest from contending teams and could be had at the right price.
It is hard to imagine the Phillies will trade Aaron Harang or Chase Utley before the Deadline. Both are on the disabled list.
Ryan Howard figures to remain in Philadelphia, unless the Phillies eat most of his contract. He is making $25 million this season and next season, plus has a $10 million buyout on a 2017 club option.
Of course, whether or not anything happens depends on Phillies president Pat Gillick. He is calling the shots until Andy MacPhail assumes control of the organization after the season. Phillies general manager Ruben Amaro Jr. is doing the leg work on potential trades, but Gillick is making the final call.
So while the Phillies certainly hope to win a few more games in the second half than the first half (29-62), it is hard to say what will happen, especially if they trade Hamels (their best pitcher) and Papelbon (their best relief pitcher).
"What I'd like to see is instead of going from A to Z, is take it step by step," Mackanin said. "If our starting pitching improves, we're going to be better. If we can get to the formula that we used when we were winning games earlier in the season, our 7-8-9 guys out of the bullpen we're going to get better. So for me to set goals, I prefer not to do that. I just want to take it slowly and see improvement in every aspect of our games -- baserunning, hitting.
"We've shown improvements in our hitting over the course of the last three weeks or so. So that's good to see. Not the best, but I think we've got more improvement. If every aspect of the game improves slightly, it's going to make us a better team."
Todd Zolecki is a reporter for MLB.com. Read his Phillies blog The Zo Zone, follow him on Twitter and listen to his podcast. This story was not subject to the approval of Major League Baseball or its clubs.