MLB.com Columnist
Barry M. Bloom
Johnson's call to enter Hall as a D-back wasn't easy
After years in Seattle, Big Unit made difficult choice to represent Arizona in Cooperstown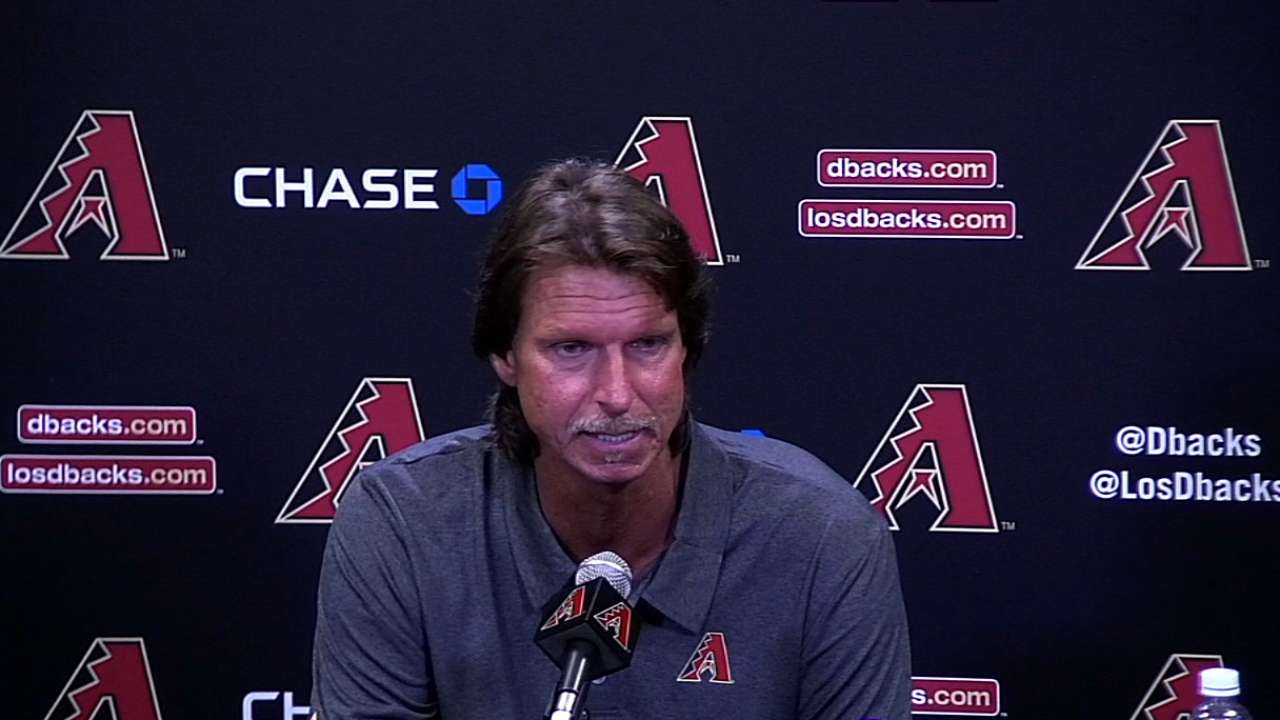 PHOENIX -- With all due apologies to the Seattle Mariners, Randy Johnson is going into the National Baseball Hall of Fame on July 26 in Cooperstown, N.Y., wearing an Arizona Diamondbacks emblem on his plaque. He'll be the first D-backs player to do so.
The Mariners should have their first next year, though, when Ken Griffey Jr. and his 630 homers hit the ballot for the first time.
Johnson made it clear during a media conference on Friday at Chase Field that he wasn't trying to slight the Mariners by making that choice. The Big Unit established himself with 130 of his 303 wins and the 1995 American League Cy Young Award in 10 years with Seattle. But the left-hander came of age with the D-backs. He undoubtedly made the right decision.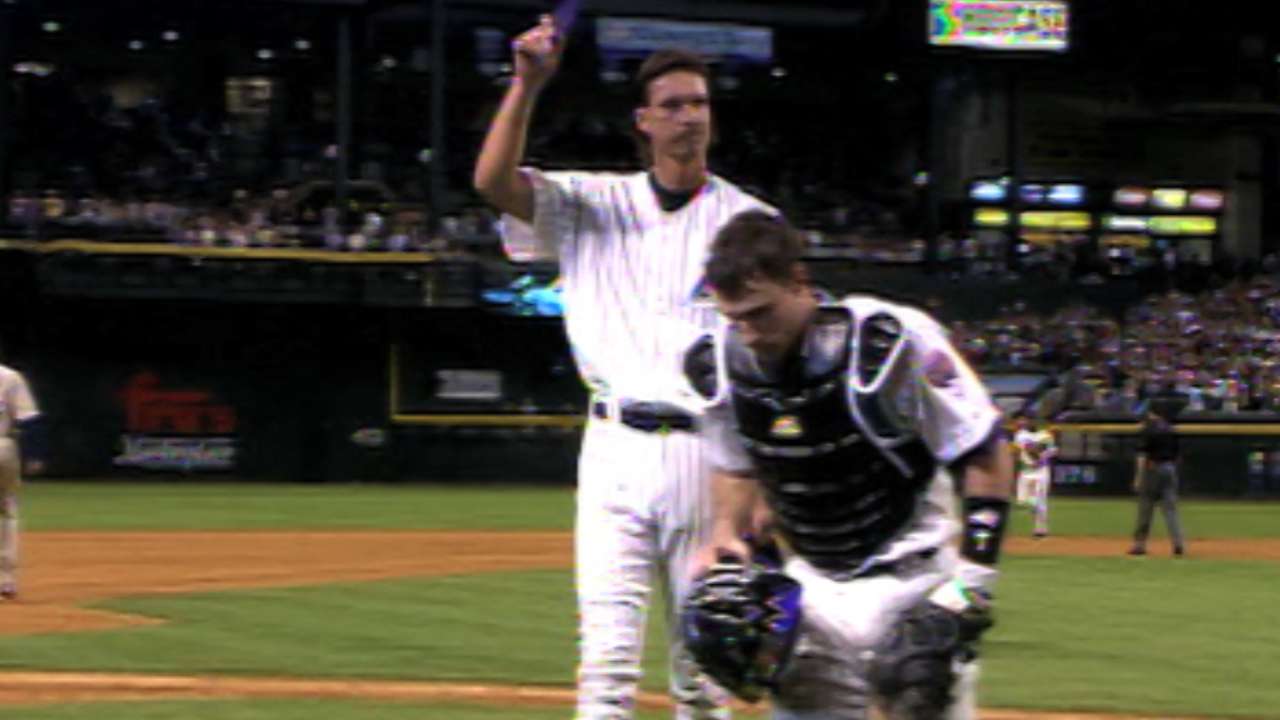 "I just want to let Seattle people know that Seattle was a very special moment for me personally and professionally," Johnson said. "And I'll never forget those moments. But I got elected to the Hall of Fame for my body of work. Seattle was a huge part of that. I got the bulk of my wins in Seattle. It was really my apprenticeship, if you will, there as well.
"But then I came here and I was pitching at a whole other level. It was a shorter time and little bit less wins, but my best years were here and I had many more of them here. I had to think with my head and my heart. If I could wear two emblems on my cap, I would. But I can't."
When Greg Maddux and Tony La Russa were inducted, this is why they decided not to put any emblems on their respective plaques.
Maddux came up with the Cubs, but he is much more well known for his years with Braves and his shared success with fellow Hall of Famers Tom Glavine, John Smoltz and manager Bobby Cox. They all won the 1995 World Series together in Atlanta.
La Russa managed the White Sox when they made the playoffs in 1986, then went on to win one World Series with the A's and two more with the Cardinals. Neither man wanted to slight any of the franchises they worked for by deciding to recognize another.
Johnson is going into the Hall in nine days along with Smoltz, Pedro Martinez and Craig Biggio. Each will have an emblem on their plagues. Biggio had all 3,060 of his hits in 20 years for the Astros. No problem there. Ditto, Smoltz, who played 20 years for the Braves, finishing his career in 2009 with the Red Sox and Cardinals.
It then gets a bit sticky. Martinez played 18 seasons for five teams, beginning with the Dodgers and ending with the Phillies. But his seven years, 117 wins and the 2004 World Series victory with the Red Sox were the deciding factor. He'll go in with a Boston emblem and his No. 45 will be retired at Fenway Park two days after the induction ceremony.
Johnson pitched 22 seasons for six teams, including the D-backs twice. He was drafted by the Expos and finished with the Giants, the team across the bay from his hometown of Livermore, Calif., for whom he won his 300th game. Along the way, Johnson played a decade for the Mariners and eight years total in his two stints for the D-backs.
Johnson said he had a good reason to go into the Hall as a D-back, and he will have his No. 51 retired at Chase on Aug. 8. There's no word yet whether the Mariners intend to follow suit. It's also Ichiro's old Seattle number, so a dual ceremony could be in the future, when the prolific Japanese left-handed hitter is elected to the Hall some years from now.
"Seattle, that's where everything started for me. It started in Montreal, yes, but it really got started for me in Seattle," Johnson said. "I haven't forgotten that. It was hard for me to pick, but I won a World Series here. I won four Cy Young Awards here. Cumulatively, why I got elected was based on 22 years. But then you have to narrow it down. Do you want to go in and represent somebody?
"Well, yeah, I feel like I owe it to one of two teams. One or the other. Seattle or here. So then I decide on Arizona and it wasn't easy. I would hope that when you look at the body of work people would understand that."
If sounds like R.J. is still agonizing about all this, he undoubtedly is. Certainly, Johnson was co-MVP with Curt Schilling of Arizona's seven-game win over the Yankees in the 2001 World Series. Yes, he won the National League Cy Young Award every year from 1999 to 2002. Of course, the 6-foot-10 left-hander pitched a perfect game as a member of the D-backs.
Video: Big Unit fans Posada
But here are the number comparisons: In Seattle, Johnson won 130 games vs. 118 in Arizona. He struck out 2,162 batters with the Mariners vs. 2,077 with the D-backs. Johnson pitched 1,838 1/3 innings in Seattle vs. 1,630 1/3 in Arizona. And he completed 51 games for the Mariners vs. 38 for the D-backs. But Arizona wins out with a lower ERA -- 2.83 vs. 3.42 in Seattle -- and fewer losses -- 62 vs. 74 in Seattle. It's so close, no wonder Johnson seems to be losing some sleep about the decision.
Overall, Johnson finished with a record of 303-166 for a .646 winning percentage, 28th best in Major League history. He's the top left-hander with 4,875 strikeouts, second only to Nolan Ryan's overwhelming 5,714. Both of those strikeout marks may never be approached again.
The numbers all made Johnson a no-brainer for first-ballot election to the Hall. But the splits make it a difficult decision. Who to represent?
"I love Seattle," Johnson said. "I wouldn't be here. I wouldn't be in the Hall of Fame if it wasn't for my Seattle years. I enjoyed walking the streets of Seattle and taking photographs. Thinking, 'My God, why is anybody going to buy stock in Starbucks? What's so exciting about coffee?' I was there for that, for Microsoft and the grunge music. Playing in the Kingdome and playing with Ken Griffey Jr. I mean, he'll be a first-ballot [guy] next year.
"I'm excited about that. Seattle meant a lot to me. I just want them to know that."
Barry M. Bloom is a national reporter for MLB.com and writes an MLBlog, Boomskie on Baseball. Follow @boomskie on Twitter. This story was not subject to the approval of Major League Baseball or its clubs.