Girardi giving Refsnyder chance to show value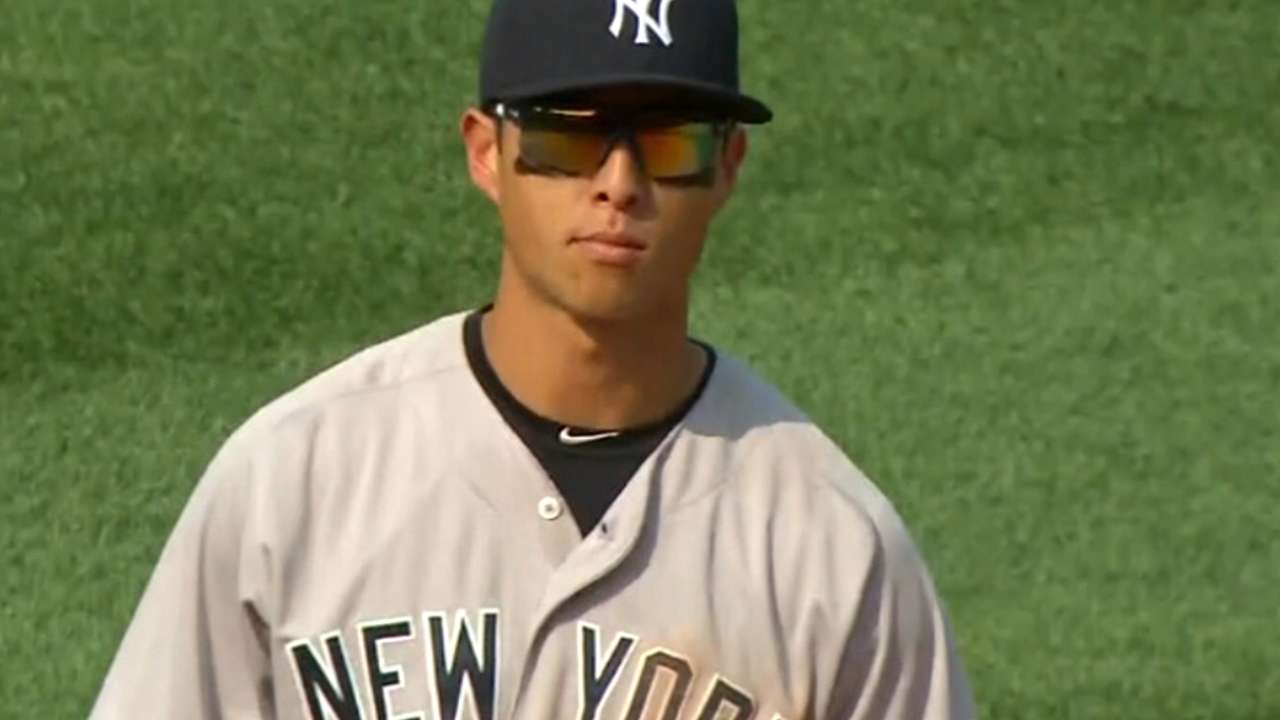 NEW YORK -- Manager Joe Girardi and the Yankees have been pleased with what they've seen out of second baseman Rob Refsnyder, so on Friday night against the Mariners, they continued to give him the chance to prove himself.
In the Yanks' 4-3 win, Refsnyder seized that opportunity again and impressed Girardi with his defense despite going 0-for-2 at the plate.
"He looked pretty relaxed to me. He had some tough plays, some really tough plays tonight, and he made them all," Girardi said. "Some between-hops, slow rollers -- go to your left, turn a double play, try to turn a double play. There wasn't an easy play for him tonight."
Refsnyder, the Yankees' No. 5 prospect according to MLB.com, made his Major League debut on Saturday in Boston and became the first Yankees second baseman to homer in either of his first two big league games since at least 1914. Girardi was also impressed with the 24-year-old's defense over the weekend.
But the manger made it clear Friday that the Yankees are still taking things one day at a time.
"Young players, sometimes you feel like maybe they need a day or they need to step back and slow it down. He has not been promised anything," Girardi said. "This is a game where you're expected to produce, is the bottom line. He's back out there today and we've liked what we've seen so far."
Refsnyder credited Mark Teixeira's experience as one of the reasons why he felt comfortable at second base Friday night and indicated that he was pleased with his at-bats despite having no numbers to show for them.
"I'm just trying to see some pitches. I haven't seen a lot of these guys and a lot of these arms," he said. "I'm not the most talented hitter ... but I was happy with the balls I swung at, things like that."
In Triple-A, Refsnyder hit .290 with 37 RBIs, seven homers and 17 doubles in 81 games this season. Friday marked the third consecutive game that Refsnyder started in place of Stephen Drew at second base. But Girardi noted that despite Drew's quiet numbers, he did help get the Yankees to first place in the American League East at the All-Star break.
Girardi said that with the July 31 non-waiver Trade Deadline nearing, he's not viewing Refsnyder's stint with the Yankees as a "two-week trial."
"I'm not going to say that," Girardi said. "My job is to win with the guys in the room, and that's what I focus on. I don't worry about what this guy's going to do this week or next week or what could possibly happen. I'll be grayer than I already am is the bottom line, and I might even start to lose hair and I don't want to do that.
"Just worry about the guys in the room and we'll see how he does. I mean, obviously, we hope Ref plays really well. But let's see."
Refsnyder said his nerves took a back seat after he turned a double play Saturday in his debut. The level of play is naturally higher in the Major Leagues, he said, but he tries not to let that affect his transition.
"Hitters are better, pitchers are better, there's more fans," he said. "But other than that, I think as a baseball player you've just got to slow the game down. That's really cliche, but there's a lot of chances to speed it up. I think if you prepare, do your homework, the game's the same game."
On Friday, the second baseman heard his name called in the fan roll call for the first time as he made his Yankee Stadium debut.
"It was pretty cool. You hear about it and things like that," Refsnyder said. "It's nice hearing my last name pronounced correctly. It's rare, but it was fun."
He added he was honored that Girardi was interested in watching him play and giving him the chance to prove what he can do. The future isn't something that consumes his thoughts.
"It's flattering. He's our manager," Refsnyder said. "As a young player, I think it's exciting. I think that's what you want to hear."
Grace Raynor is an associate reporter for MLB.com. This story was not subject to the approval of Major League Baseball or its clubs.