Cano key to Mariners' second-half success
Happ to be recalled on Monday for start vs. Tigers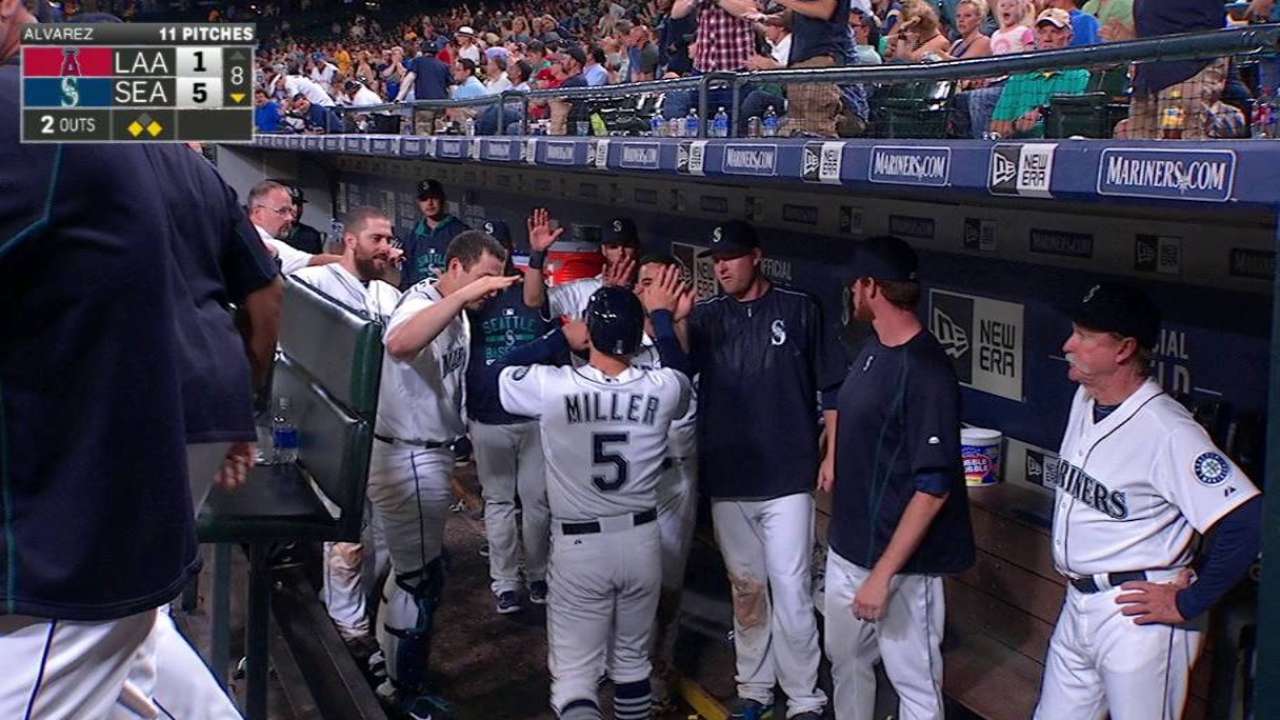 NEW YORK -- Mariners manager Lloyd McClendon gathered his club for a team meeting and then had the full squad on the field at Yankee Stadium for extensive early work Friday as he looked to kick-start his crew coming out of the All-Star break.
"We had a bad first half," McClendon said. "The great thing about the second half is you can put the first half behind you. It's like a new beginning."
And if the Mariners are going to pull themselves back into contention in the American League West, they're going to need six-time All-Star second baseman Robinson Cano to regain his stride. Cano hit just .251 with six homers and 30 RBIs in the Mariners' first 89 games, which is one of several reasons Seattle hasn't produced the sort of offensive results it was expecting.
Like his manager, Cano believes a strong finish can still be in the works in his second season with the Mariners, though he went 0-for-4 in Friday's 4-3 loss to the Yankees to see his average dip to .249.
"It's not how you start," Cano said. "I feel good now and I'm the kind of guy that, until you make the last out, it's not over yet. We have a second half and I know as a team we can play better. We just have to leave everything behind and move on."
McClendon says Cano needs to not worry about anything more than just getting back to being himself.
"I know a lot has been made about Robbie's struggles, and rightfully so," McClendon said. "But one of the things I told Robbie, I need Robbie to just be Robbie. Be a part of this club. We've got a good club. We've got a lot of guys I could say that about. Just contribute and be a part of it."
McClendon said Cano might have been pressing early this season, but doesn't believe it has to do his $240 million contract.
"I think he feels a responsibility to play the best he can for his teammates, not the contract," McClendon said. "This guy is built different than a lot of guys. He's at an elite level and one of the things that I stressed to him, I can't tell you and nobody else can tell you how to get there, but I do know this: It's inside of him. What's inside of him got him to that point. So just reach inside and get it back. Get back to playing the way you're capable of playing."
McClendon didn't get into what exactly he told Cano and his entire team at Friday's meeting, but believes the focus will be improved down the stretch.
"The message has been sent," he said.
Worth noting
• J.A. Happ will be recalled from Class A Advanced Bakersfield on Monday and start that day's game against the Tigers to kick off a four-game series in Detroit. The Mariners will need to send down a position player to open a spot for Happ at that point, with Jesus Montero a likely option after being brought up to give Seattle an extra right-handed bat while Happ wasn't needed between his starts.
"We had an opportunity to bring Montero up because we had three lefties in a row and we had a chance to do some things with the roster to get him here," McClendon said. "He'll get another opportunity to get out there Sunday [against Yankees lefty CC Sabathia]. We'll see. I'm not sure where we go from there."
• Reliever Mark Lowe set a club record for the lowest ERA in team history prior to the All-Star break (minimum of 25 appearances) at 0.64, breaking the mark of 0.77 set by Shigetoshi Hasegawa in 2003.
Greg Johns is a reporter for MLB.com. Follow him on Twitter @GregJohnsMLB, read his Mariners Musings blog, and listen to his podcast. This story was not subject to the approval of Major League Baseball or its clubs.