Manfred praises evolution of All-Star Game
After helping unveil 2016 logo in San Diego, Commissioner discusses event's changes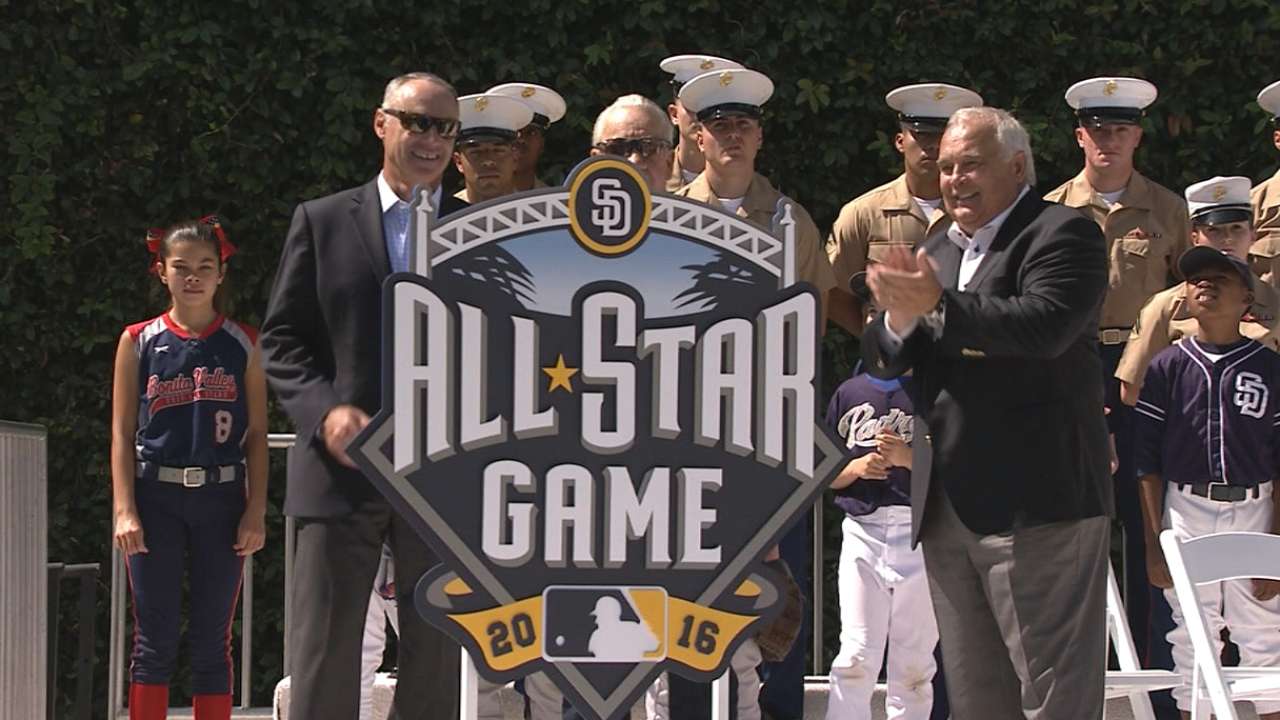 Commissioner Rob Manfred made a final stop in San Diego to reveal the 2016 All-Star Game logo before heading back to New York.
After the logo was unveiled, the Commissioner spoke about how the Midsummer Classic has evolved into a week-long event with a lot to offer fans.
• Padres unveil logo for 2016 All-Star Game
"It really has grown from my first time. It was essentially the Home Run Derby and the game," Manfred said. "Now it's a free concert, Red Carpet parade ... FanFest, all sorts of activities that people in the community can engage with baseball, even if they are not lucky enough to go to the game or the Derby."
Manfred also shared what he learned in Cincinnati this year, noting that the change in the format of the Gillette Home Run Derby presented by Head & Shoulders to include a bracket-style competition with timed rounds instead of a set number of outs made the event more exciting. This year's Derby marked the first time in 10 years alterations were made to the competition.
"I think we learned a lot with the new Home Run Derby format," Manfred said. "We haven't made any decisions yet, but I think you will see us continue to refine that format.
"We've got to make sure we get the timing just right. You may have noticed at the end of four minutes, some of the players were pretty tired."
Manfred also said that he is a fan of the All-Star Game determining home-field advantage in the World Series.
"I think our All-Star Game is the best All-Star Game in all sports, and I think the reason for it is that the game means something," he said. "Players play the game like it means something, and that is really important to our fans."
Beth Maiman is an associate reporter for MLB.com. This story was not subject to the approval of Major League Baseball or its clubs.