MLB.com Columnist
Jonathan Mayo
Draft deadline drama: D-backs sign Swanson
Dodgers agree with Buehler but can't seal deal with other first-rounder, Funkhouser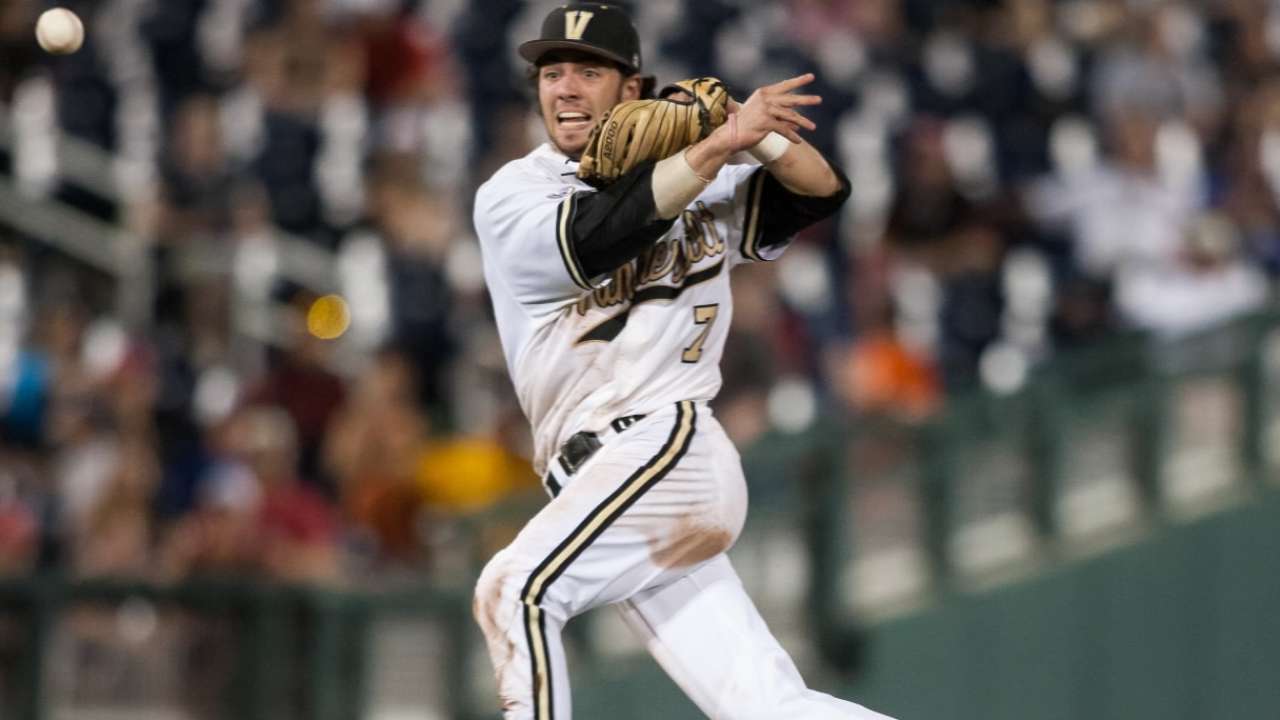 For the second straight year, there was some drama involving the No. 1 pick in the Draft on signing deadline day. This time, however, the team that took him, got its man.
The D-backs were able to bring top pick Dansby Swanson into the fold on deadline day, agreeing to pay the Vanderbilt shortstop a $6.5 million bonus to sign. That was more than $2 million below the assigned value for the pick, which was $8,616,900. It still represented the highest bonus handed to a draftee this year, beating out No. 2 pick Alex Bregman's $5.9 million deal with the Houston Astros.
Draft signing and bonus tracker
"It's a proud day for the organization to get who we thought was the best player in the Draft this year," D-backs scouting director Deric Ladnier said. "We feel he'll be a shortstop for the future for the organization. He brings not only the physical ability but also the intangibles of a winning player."
With the third-highest bonus pool (just over $12.8 million), the D-backs had more than enough money left over to also sign 12th-rounder Wesley Rodriguez. The New York City area right-hander needs Tommy John surgery but had jumped on teams' radars by touching the upper 90s this spring. He agreed to a deal worth $350,000, according to MLB.com's Jim Callis.
The D-backs did not confirm the signing bonuses of Swanson or Rodriguez.
A year ago, the Houston Astros and top pick Brady Aiken did not come to terms. Aiken re-entered the Draft in 2015, going No. 17 overall and signing with the Cleveland Indians after having Tommy John surgery.
Swanson, a Golden Spikes Award finalist who helped Vanderbilt to two straight College World Series finals (winning it in 2014), hit .335/.423/.623 with 15 home runs, 64 RBIs and 16 stolen bases during his junior season with the Commodores.
Kyle Funkhouser, taken by the Dodgers with the No. 35 pick, was the only first-rounder not to come to terms. The Louisville right-hander took to Twitter on Friday afternoon to announce his plans to return to school for his senior season.
Wanted to be the first to announce tht I will not be signing, and will return to the University of Louisville for my senior season #L1C4 #⚾️

— Kyle Funkhouser (@k_funk16) July 17, 2015
As a result, the Dodgers lost that pick value of $1,756,100 from their bonus pool and they will get a compensation pick, No. 36 overall, in the 2016 Draft. They were able to sign their other first-rounder, Vanderbilt's Walker Buehler, for less than pick value for the No. 24 selection ($2,094,400), as the right-hander reportedly will require Tommy John surgery. Buehler reportedly agreed to a deal worth $1.78 million, according to Callis.
They Dodgers were also able to sign their sixth-rounder, first baseman Edwin Rios, for $225,000, slightly less under the assigned slot value of $234,800. Rios was L.A.'s lone remaining unsigned pick from the top 10 rounds aside from the two first-rounders.
The three first-rounders weren't the only ones who waited until deadline day to make a decision. Some other notable players who waited until the last minute:
Brewers: Virginia LHP Nathan Kirby (Competitive Balance Round A). The No. 40 overall pick, Kirby tweeted out shortly before the deadline that he was a member of the Brewers organization.
Officially a member of the Milwaukee Brewers Organization! Could not be more thankful for the opportunity!!

— Nathan Kirby (@KathanNirby) July 17, 2015
Kirby received $1.25 million from the Brewers. The southpaw missed a big chunk of his junior season with what was diagnosed as a lat strain, though he did return to pitch in the College World Series. The injury did knock him down from being a likely first-round pick. He initially had an above-pick value ($1,545,400) deal after pitching in Omaha, but medical concerns arose.
Blue Jays: Eustis (Fla.) High School RHP Brady Singer (second round). Toronto took Singer with the 56th pick, a spot that carried a value of $1,091,200. The No. 83 prospect on MLB.com's Draft Top 200 list decided to head to the University of Florida rather than signing. Toronto will get a compensation pick, No. 57, for not signing the projectable high school right-hander.
Orioles: Flowery Branch (Ga.) High School RHP Jonathan Hughes (second round). Hughes declared his intention to head to Georgia Tech instead of signing with the Orioles. The No. 68 pick had a value of $907,000. Baltimore will get the No. 69 pick in next year's Draft as compensation.
Twins: Kentucky RHP Kyle Cody (Competitive Balance Round B). The Twins used pick No. 73 to take Cody, a spot with an assigned value of $839,700. He's heading back to Kentucky for another season, so the Twins will get a compensation pick, No. 74, as a result.
Jonathan Mayo is a reporter for MLB.com. This story was not subject to the approval of Major League Baseball or its clubs.