Holliday comes off DL; Cards option Greenwood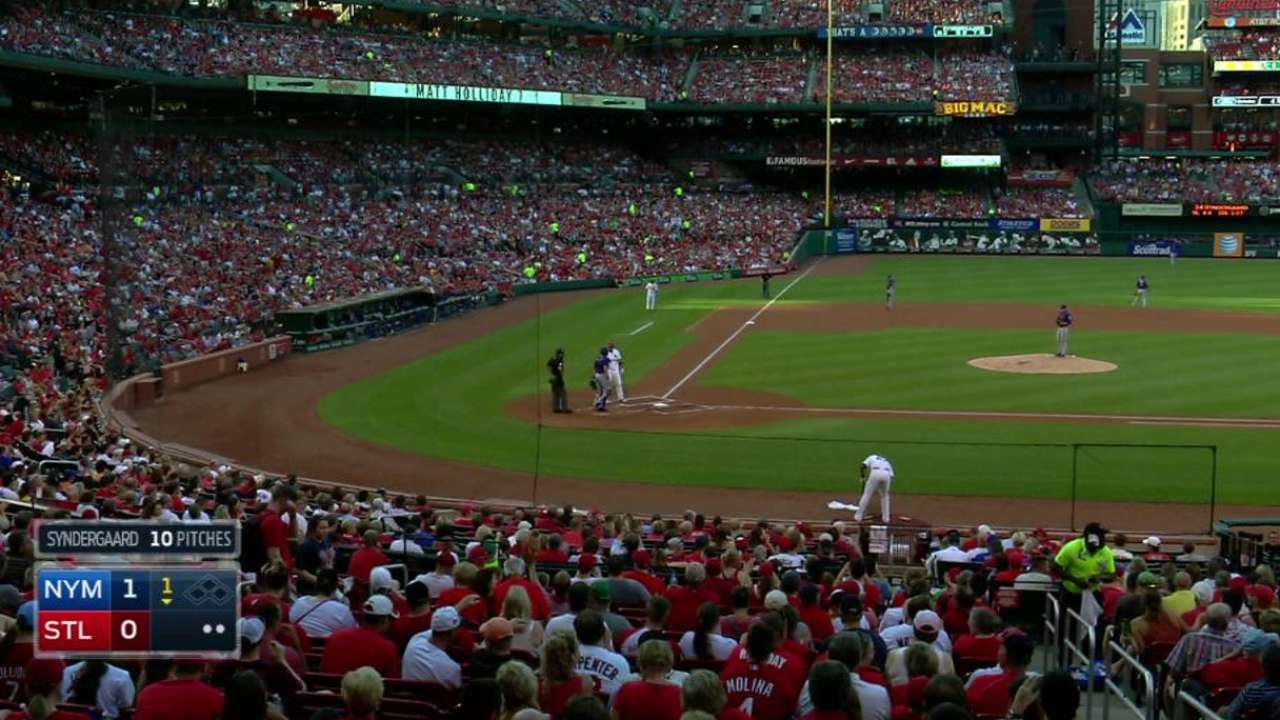 ST. LOUIS -- The Cardinals activated outfielder Matt Holliday from the 15-day disabled list in time for him to be written in at third in the lineup for Friday's game against Mets at Busch Stadium.
Holliday, who had been on the DL since straining his right quad strain on June 8, received a warm ovation from the crowd at Busch Stadium before flying out to the warning track in the first inning. He would go 0-for-3 in the Cardinals' 3-2 win.
The 35-year-old All-Star was ranked fourth in the National League in on-base percentage (.417) and batting average with runners in scoring position (.400) at the time of his injury.
"There's no question he's one of our guys that we lean on for a lot of reasons, obviously the production, the leadership, and he just always has been such a consistent presence in this lineup for such a long time," manager Mike Matheny said. "All those things put together, it's great to have him back."
The Cardinals won 13 of their first 17 games without Holliday but have been outscored, 51-45, while going 5-8 in July.
"There's no question where he belongs in that lineup," Matheny said. "A guy who was having as good of a year as anybody in baseball, we're going to get him right back in the mix, and hopefully get some guys back into some spots where they're more comfortable, maybe, and get off to even a better run. I don't ever want to think that we've seen the best from these guys."
Holliday's return means the Cardinals have five healthy outfielders, creating a three-way competition for playing time in center field between Randal Grichuk -- who started on Friday -- Peter Bourjos and Tommy Pham.
"Whoever is going to give us the best chance at that particular point in time [will play]," Matheny said. "Any of these guys could go out and help us any night, and once they get those opportunities, how they respond is going to kind of dictate what that starting position looks like."
To make room on the roster for Holliday, the club optioned left-hander Nick Greenwood to Triple-A Memphis.
David Cobb is an associate reporter for MLB.com. This story was not subject to the approval of Major League Baseball or its clubs.