Resilient Moose homers on 12th pitch of AB
Solo jack breaks tie, stretches White Sox starter Samardzija's pitch count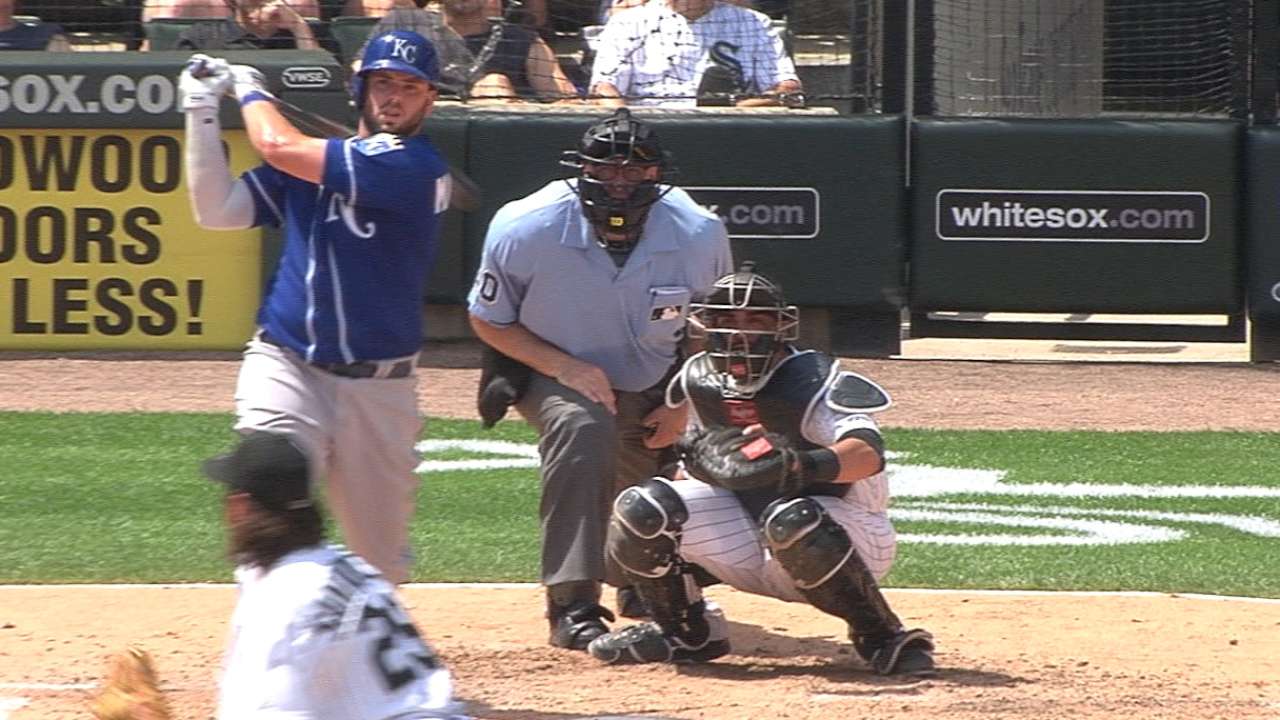 CHICAGO -- Mike Moustakas struck out on three pitches in his first at-bat Friday afternoon. He made sure to take his time after that, though.
Moustakas finished with one hit in the Royals' 4-2 win over the White Sox in the first game of a split doubleheader, but he highlighted the day with a home run to cap off a 12-pitch at-bat.
Tied at 1 in the fifth inning, Moustakas fell behind in the count to Chicago starter Jeff Samardzija, 1-2. He worked his way back, fouling off pitch after pitch, until he straightened one out on a shot to center field.
"You're just trying to battle," Moustakas said. "A guy like that, throwing the stuff he's got, you're just trying to fight. You're trying to do everything you can to make contact, to put the ball in play."
"Yeah, you tip your hat to Moose on that one," said White Sox manager Robin Ventura. "That was a great at-bat fouling stuff off. Even the pitch he hit wasn't just right down the middle. It was a good at-bat and he won that part."
The home run gave the Royals the lead, and Moustakas played one of the largest roles in pushing Samardzija to 111 pitches over seven innings.
In the third inning, Moustakas worked a walk and got in scoring position, but the Royals couldn't push across a run. In his at-bat following the home run, Moustakas worked through seven pitches off Samardzija before he popped out.
"I have to tip my hat to Moustakas," Samardzija said. "He won that game for them today, the way he battled, took a walk, battled and hit a homer to take the lead. He was a tough out out there today."
Greg Garno is an associate reporter for MLB.com. This story was not subject to the approval of Major League Baseball or its clubs.