Rumor roundup: Cincy shopping starters?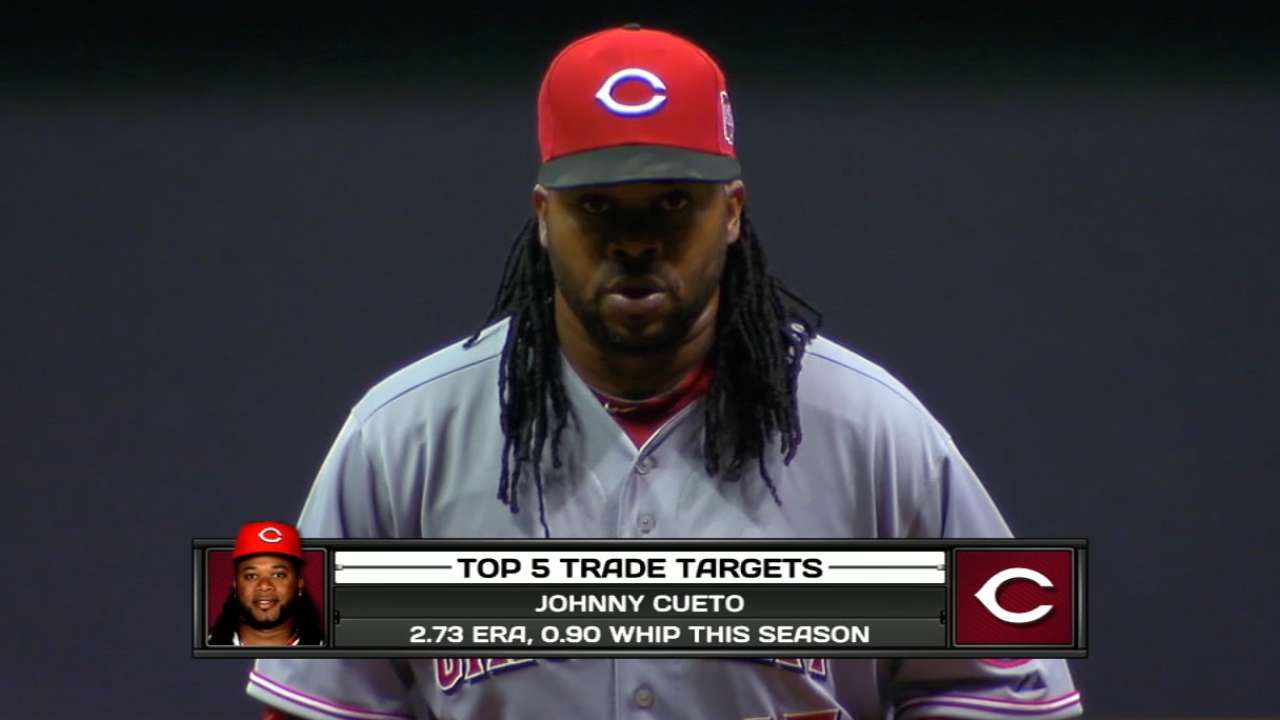 A couple prominent National League clubs are looking to make deals at the upcoming non-waiver Trade Deadline, with ace starting pitchers at the forefront of the conversations.
According to FOXSports.com's Jon Morosi, the Reds are "prepared" to trade pitchers Johnny Cueto and Mike Leake -- who beat the Indians, 6-1, in his Friday start -- since the All-Star break has passed, and CBSSports.com's Jon Heyman says the Dodgers are one of the teams most interested in Cueto.
Heyman, who calls the Dodgers "baseball's financial powerhouse," says they "look like a major player this trading season."
Both Leake and Cueto will be free agents at the end of the season, and Heyman says the Astros also have Cueto at the top of their list.
To no surprise, Phillies ace Cole Hamels remains the subject of many rumors, and Heyman says the Dodgers have "quietly continued having dialogue with the Phillies" about the southpaw. Either way, Heyman says the Dodgers "appear determined" to acquire another top pitcher to join Clayton Kershaw and Zack Greinke in what would shape up to be a formidable playoff rotation.
Heyman says the Phillies "have seemed somewhat more 'reasonable' in their recent trade talks" surrounding Hamels since Andy MacPhail joined the front office this month. And though Heyman says the Rangers could be another team involved, MLB.com's T.R. Sullivan writes that Hamels would not be a fit for Texas.
Sullivan writes that "there appears to be no traction" between the two sides, and he says that even though the Rangers like the pitcher, they're not interested in the contract or the asking price in prospects.
Texas has Wandy Rodriguez as a possible trade chip -- which would allow the team to recall Nick Martinez or Chi Chi Gonzalez -- as well as Carlos Corporan (to then bring up Tomas Telis) for teams looking for catching.
Heyman also calls the Braves sellers with Juan Uribe, Cameron Maybin, Jim Johnson and Chris Johnson available, and says the Brewers would not only be willing to trade star center fielder Carlos Gomez, but also shortstop Jean Segura. That could interest the Mets, who Heyman says are looking at Justin Upton, as well as Gomez.
Joey Nowak is a reporter for MLB.com. Follow him on Twitter at @joeynowak. This story was not subject to the approval of Major League Baseball or its clubs.