Top Phils pitching prospect Nola to debut Tuesday
Righty, ranked No. 2 in Philly's system, No. 28 in all of baseball, will face Rays at Citizens Bank Park
PHILADELPHIA -- Phillies fans craving a glimpse of the future will have an opportunity to watch Aaron Nola make his big league debut Tuesday night against the Rays at Citizens Bank Park.
The Phillies selected Nola with the seventh overall pick in the 2014 Draft, and ever since, fans have been pleading for his arrival. Nola, 22, is the No. 2 prospect in the organization, according to MLB.com, and the No. 28 prospect in all of baseball.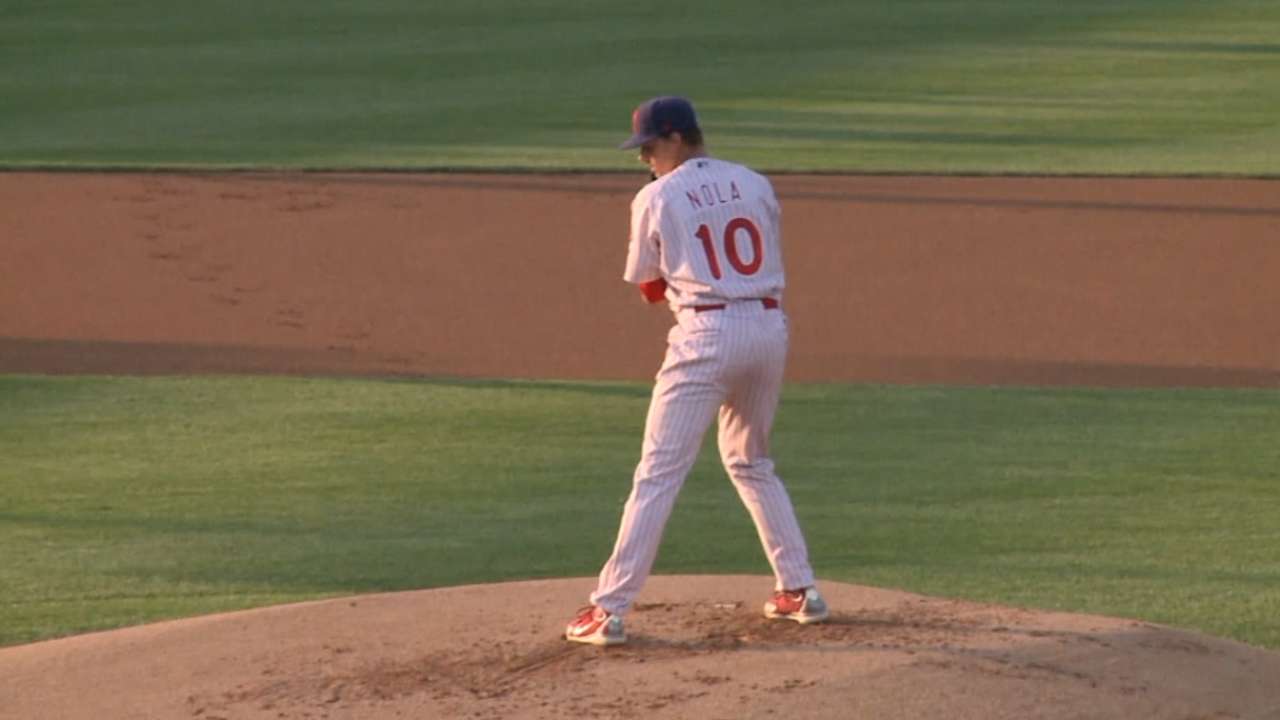 "He's a highly touted prospect. We're hoping to get a good performance out of him, and it always is fun to see somebody be inserted into the team, especially this year, and give everybody a little boost," Phillies interim manager Pete Mackanin said Friday afternoon. "That's why everybody's kind of anxious to see him perform. I know he's got good enough stuff to be competitive here. His first time in the big leagues, when you first make your first appearance, we want to find out if he's nervous, how he handles himself on the mound; if he gets into trouble, how he handles it. But you have to keep in mind it's his first appearance."
Nola posted a 1.88 ERA in 12 starts this season with Double-A Reading. Opponents hit just .219 against him, but most impressively he walked just nine batters (compared to 59 strikeouts) in 76 2/3 innings. He had a 3.58 ERA in six starts with Triple-A Lehigh Valley, which includes five earned runs in three innings Tuesday. He had a 2.43 ERA in his previous five starts with the IronPigs.
Nola is expected to join the team Monday, and it remains to be seen who gets bumped from the rotation for him, but right-hander Severino Gonzalez is a smart bet. He is 3-3 with a 7.92 ERA in seven starts.
The rotation could see plenty of turnover this month. First, Cole Hamels is expected to be traded. Second, Aaron Harang and Jerome Williams could return from the disabled list. Williams (strained left hamstring) made a rehab start Friday night with Reading. Harang (left foot plantar fasciitis) is improving.
"I understand Harang isn't feeling any symptoms, which is a good sign," Mackanin said. "We sure would like to get him back to the form he was in his first eight or 10 starts. That would be a bonus. We know Williams is better than he's performed, so if things come together that way and Nola makes a good impression, we'll probably be a better team the second half. As we all know, starting pitching has been less effective than we'd like it to be. If we can shore that up, that's going to make us better."
Most scouts consider Nola a solid No. 3 starter, but the Phillies could use one of those right now. Other than Hamels, the Phillies are struggling to find starting pitchers who can get through six innings.
Todd Zolecki is a reporter for MLB.com. Read his Phillies blog The Zo Zone, follow him on Twitter and listen to his podcast. This story was not subject to the approval of Major League Baseball or its clubs.