MLB.com Columnist
Barry M. Bloom
Pitchers armed and ready for call to the Hall
Era of the hurler continues as Martinez, Smoltz, Johnson make history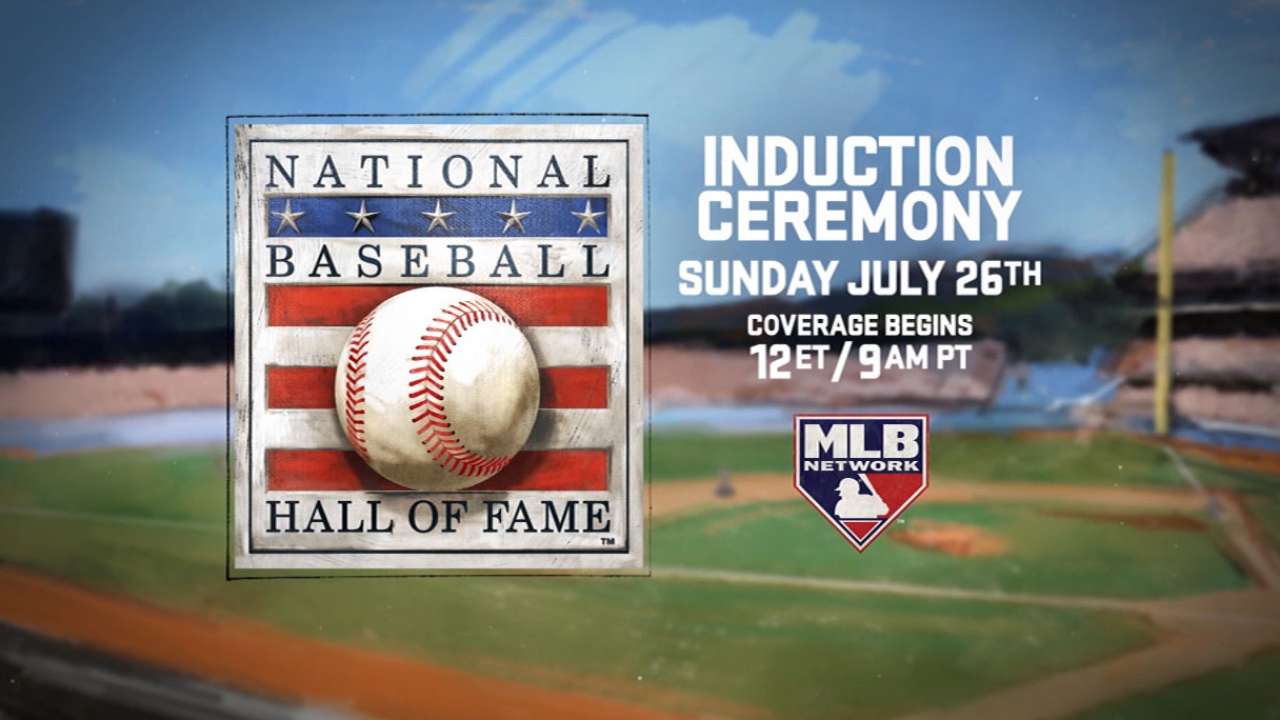 PHOENIX -- In the era of the all-time great pitcher, three more will be inducted into the National Baseball Hall of Fame during this year's ceremonies on July 26.
Randy Johnson, Pedro Martinez and John Smoltz will join Craig Biggio on the stage behind the Clark Sports Center for a ceremony that will begin at 1:30 p.m. ET and can be seen live on MLB Network and MLB.com. The three pitchers were elected on their first time on the ballot, a year after Greg Maddux and Tom Glavine were also first-time electees. Biggio was elected in his third year.
It was the first time in 60 years that eligible members of the Baseball Writers' Association of America elected four players from the same ballot and the first time three pitchers were selected in the same year. The BBWAA has now elected 119 of the 215 players in the Hall.
"The class I'm going in with is an amazing group of guys, obviously, and they all had their own style of pitching," said Biggio, the lifetime member of the Astros who amassed 3,060 hits and was available during a series of conference calls arranged by the Hall with the inductees Thursday. "And then you add last year's guys, I mean, I wish we had more hitters going in, but those guys were amazing in what they did."
Maddux and Glavine went in last year with slugger Frank Thomas, who also made it on his first time on the writers' ballot. The much-heralded Class of 2014 also included managers Bobby Cox, Tony La Russa and Joe Torre, elected by the Expansion Era Committee the first time all of them had been eligible. The Golden Era Committee did not anoint anyone for this year's class.
The BBWAA rarely strays from electing position players, although hurlers Burt Blyleven, Bruce Sutter, Goose Gossage and Dennis Eckersley all made it in the decade prior to last year's class. But when Blyleven was elected in his 14th year on the ballot in 2014, he was the first pure starting pitcher chosen since Nolan Ryan was inducted in 1999.
These last five pitchers were no-brainers. Maddux with 355 wins, Glavine 305 and Johnson 303 may be the last 300-win pitchers in Major League history with today's proclivity toward arm injuries and pitch-count restrictions that limit most starters to about 100 pitches an appearance. Martinez, at 219-100, had a .687 winning percentage, the sixth highest in Major League history.
Martinez is the first native of the Dominican Republic to be inducted since Juan Marichal in 1984. He said as a right-hander listed at 5-foot-11, he was particularly proud of having starred during an era when hitting was prolific and so many players were suspected of using performance-enhancing drugs, referring to his own former Red Sox teammate Manny Ramirez as an example.
"I wouldn't have wanted it any other way," Martinez said. "For me, there's no crying, as far as the way I competed. I know I did it right, I did it the right way. It's none of my business, but looking back on it, it wasn't just Manny, it was probably 60 percent of baseball that was doing that."
Smoltz's career was bifurcated by Tommy John surgery. Because of that, he won 213 games and saved another 154 in his 3 1/2 years as a closer. An astute analyst now for MLB Network, Smoltz flatly said there won't be any more 300-game winners.
"Absolutely not," said Smoltz, the first pitcher going into the Hall after undergoing Tommy John surgery, and perhaps the last. "I don't see how. I don't know that we'll ever see a 3,000-strikeout guy again. I don't know what will happen in a lot of the categories. If every pitching staff is working at a 30- to 40-percent Tommy John rate and DL rate, then how long are those guys going to last? Guys are just not going to be given the opportunity to pitch that much anymore."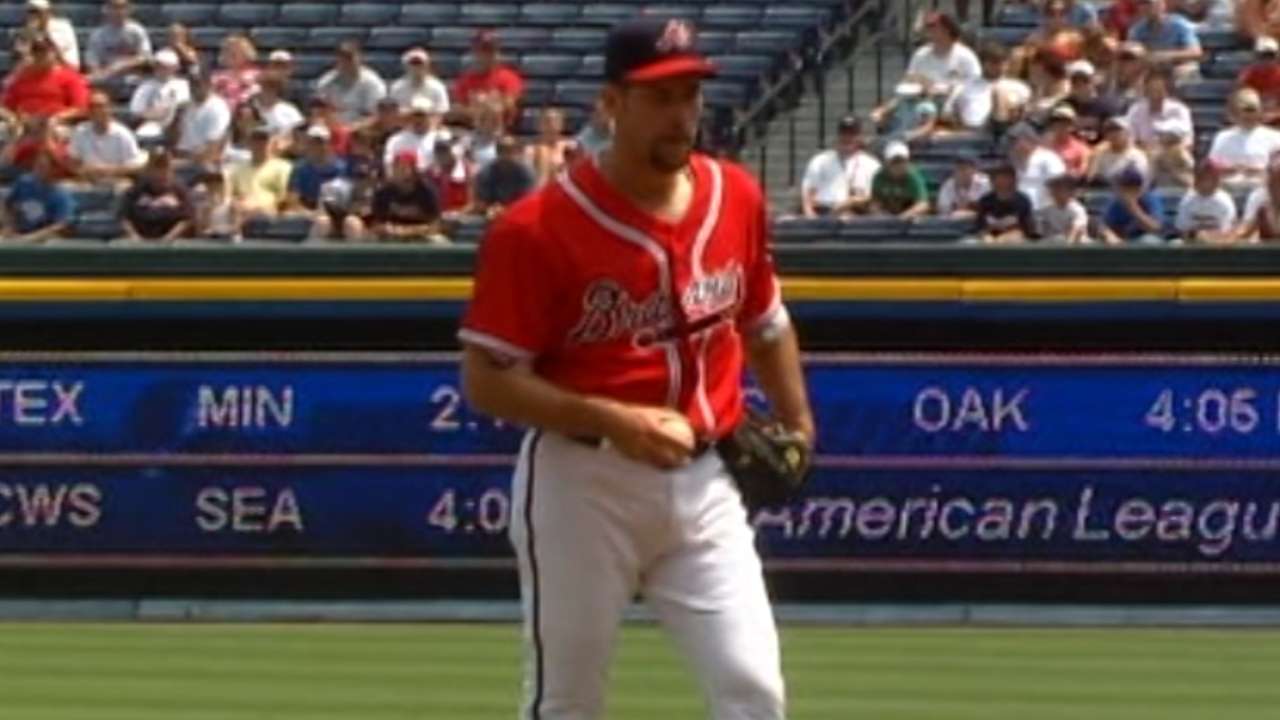 To that point, three of the Mets' young stud hurlers -- Jacob deGrom, Matt Harvey and Steven Matz -- have already had Tommy John surgery at a very young age. Another, Zack Wheeler, is months away from a full recovery.
"There are a lot of good pitchers out there and they're all young. And so, the sky's the limit," said Johnson, second in MLB history with 4,875 strikeouts only behind Ryan's 5,714. "Where they finish up in their success, only time will tell. But where the game has changed and evolved, pitchers from my era and the eras before me, there really wasn't a pitch count. Because of pitch counts, pitchers today won't throw many complete games or even go deep into games. It wasn't uncommon for me to throw [well over] 100 pitches."
No wonder that in this year's balloting, Johnson received 97.3 percent of the vote, Martinez 91.1 percent and Smoltz 82.9 percent. Biggio finally made it at 82.7 percent. Any candidate needs at least 75 percent to be elected.
Biggio joins a plethora of 3,000-hit players in the Hall. Save for Pete Rose (suspended and not eligible), Rafael Palmeiro (once suspended for using PEDs and no longer on the ballot) and Derek Jeter (who retired last year with 3,465 hits and is eligible for the Hall in 2020), Biggio was the only player with 3,000 or more hits who previously had not been elected.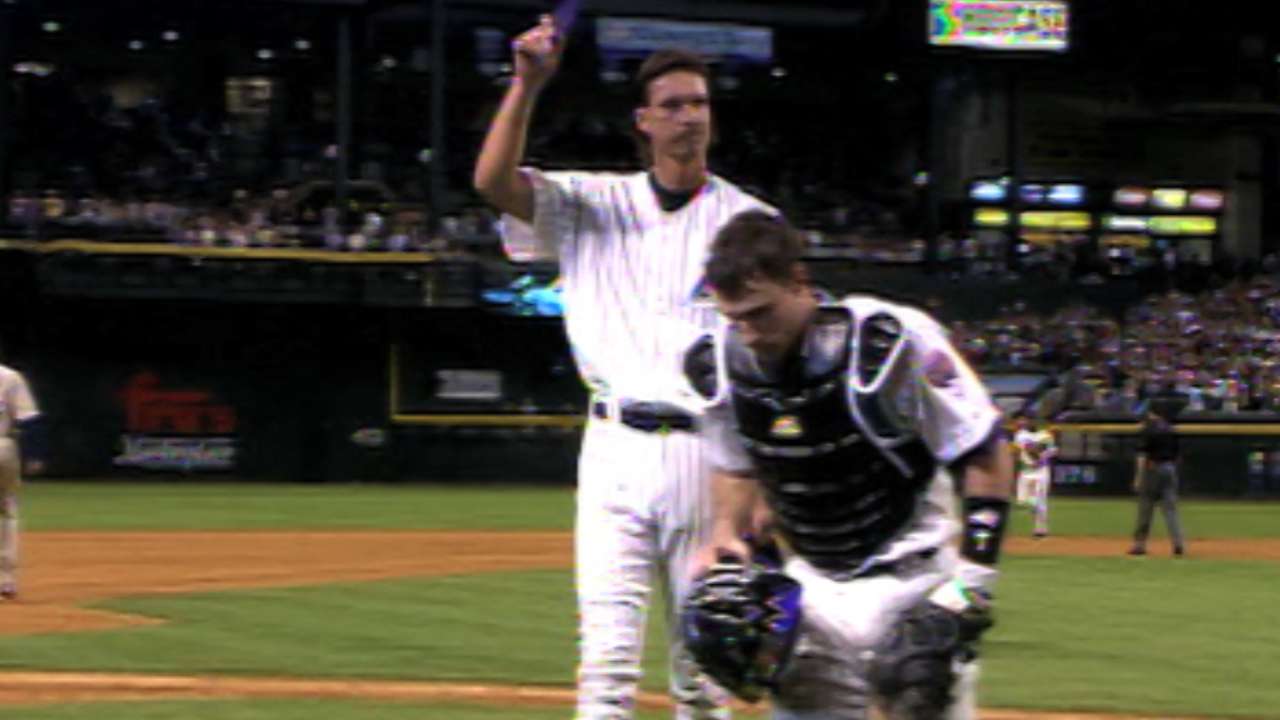 During his 22-year career, Johnson played for six teams, including the D-backs twice. He had one short stint playing with Biggio on the Astros for the last two months of the 1998 regular season and into a first-round loss to the Padres in the playoffs. Johnson was 10-1 with 1.28 ERA and a 0.98 WHIP after his trade from the Mariners to Houston that July 31. He called it the best two months of his career and said Biggio was the first Astro to introduce himself.
Biggio explained why.
"The 2005 team went to the World Series [and was swept by the White Sox], but the 1998 team was the best we ever had," Biggio recalled. "Randy was that piece to the puzzle to get us to the World Series. Randy was the first big trade that I was ever a part of. I was so pumped for this guy. He was a rock star. It was like we just saw Santa Claus when he got here."
At Johnson's height of 6-foot-10, it will seem like Santa and his three elves when the quartet is inducted in Cooperstown in only 10 days.
Barry M. Bloom is a national reporter for MLB.com and writes an MLBlog, Boomskie on Baseball. Follow @boomskie on Twitter. This story was not subject to the approval of Major League Baseball or its clubs.