MLB.com Columnist
Jonathan Mayo
10 prospects poised to impact pennant races
Dodgers' Seager tops list of potential second-half callups that could help teams' playoff runs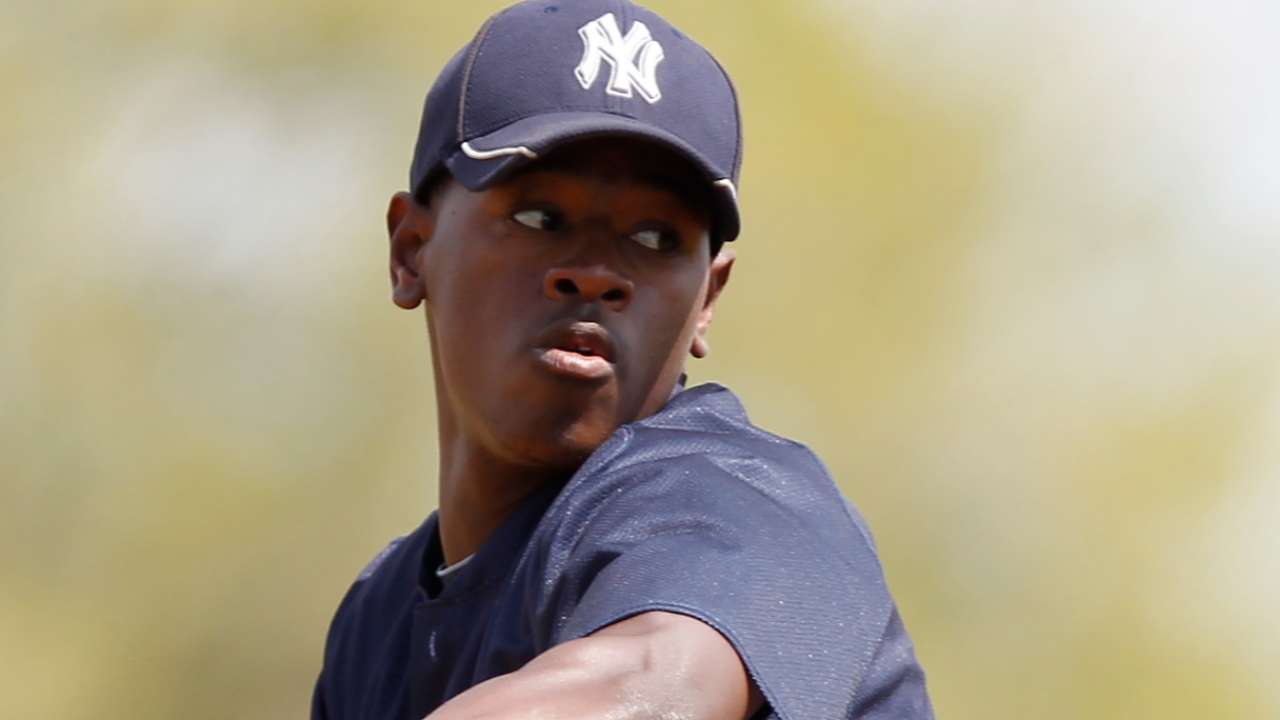 The second half of the Major League season begins Friday, and "the Year of the Prospect" continues with the news that Kyle Schwarber will be called up by the Cubs on Friday. And it might not end there, as there are still plenty of players in the Minor Leagues who could potentially get the call.
Already there's been Kris Bryant and Addison Russell in Chicago, Byron Buxton (now on the DL) and Miguel Sano in Minnesota, Noah Syndergaard and Steven Matz in New York, and Carlos Correa in Houston. Not only have top prospects come up and contributed at the big league level, they've done it for teams contending for a playoff spot.
Which prospects might make up the next wave? The following is a top 10 list, ranked in order of where they currently are on MLB.com's Top 100 prospects list (with ranking in parentheses), of players currently in the Minor Leagues who could make an impact on teams' playoff hopes.
1. Corey Seager, SS, Dodgers (4): After the flurry of top prospects getting called up, Seager has been at the top of the "who's next" list. The shortstop has hit .308/.356/.520 at Double- and Triple-A. A September callup, at the very least?
2. Daniel Norris, LHP, Blue Jays (12): His walk rate has improved, but command is still a concern. Still, the lefty can get big league hitters out and the Blue Jays' rotation is 13th in ERA in the American League.
3. Luis Severino, RHP, Yankees (16): He's been better in Triple-A (1.79 ERA, .184 BAA) than he was in Double-A (3.32, .227). He's ready to help out in a starting role (Yankees are 11th in starter ERA in AL) or his electric stuff would certainly play well out of the 'pen short-term.
4. Mark Appel, RHP, Astros (22): The numbers don't look great, but he's now in Triple-A and many feel he's the type who'll perform better at the highest level. The pure stuff is all still there and the Astros' back end of the rotation has been unsettled.
5. Jose Berrios, RHP, Twins (24): Berrios has started two straight Futures Games and pitched well in the last World Baseball Classic. He just got to Triple-A, but the Twins haven't hesitated to move guys quickly.
6. Carl Edwards Jr., RHP, Cubs (36): The right-hander, formerly known as C.J. Edwards, was moved to the bullpen this year and he's been virtually unhittable with a combined .137 BAA and a 12.8 K/9 ratio. Command is an issue, but his stuff can get big league hitters out right now.
7. Kyle Schwarber, C/OF (38): News broke on Thursday that Schwarber will be rejoining the Cubs on Friday to take the place of the injured Miguel Montero. This time around, he should get to catch, but it's his bat that will make the bigger contribution.
8. Trea Turner, SS, Nationals (49): He's played just 26 games with the Nationals, and only 16 in Triple-A, but he's hit a combined .318/.368/.472 with 17 steals at all stops this season, only his first full one in pro ball. At very least his plus plus speed could help off the bench in September.
9. Michael Conforto, OF, Mets (64): If it were up to Mets fans, their 2014 first-round pick would be up already. He's hit very well (.312/.394/.475) in 37 games since his callup to Double-A and the Mets have been struggling to score runs.
10. Stephen Piscotty, OF, Cardinals (71): It was mildly surprising he didn't get called up when Matt Holliday went down with injury, but Piscotty still can offer batting average, on-base skills and some extra-base. Piscotty started at first base in his last three games, perhaps a sign of things to come?
Jonathan Mayo is a reporter for MLBPipeline.com and writes a blog, B3. Follow @JonathanMayo on Twitter. This story was not subject to the approval of Major League Baseball or its clubs.
This story was not subject to the approval of Major League Baseball or its clubs.