Pedro humbled to have No. 45 retired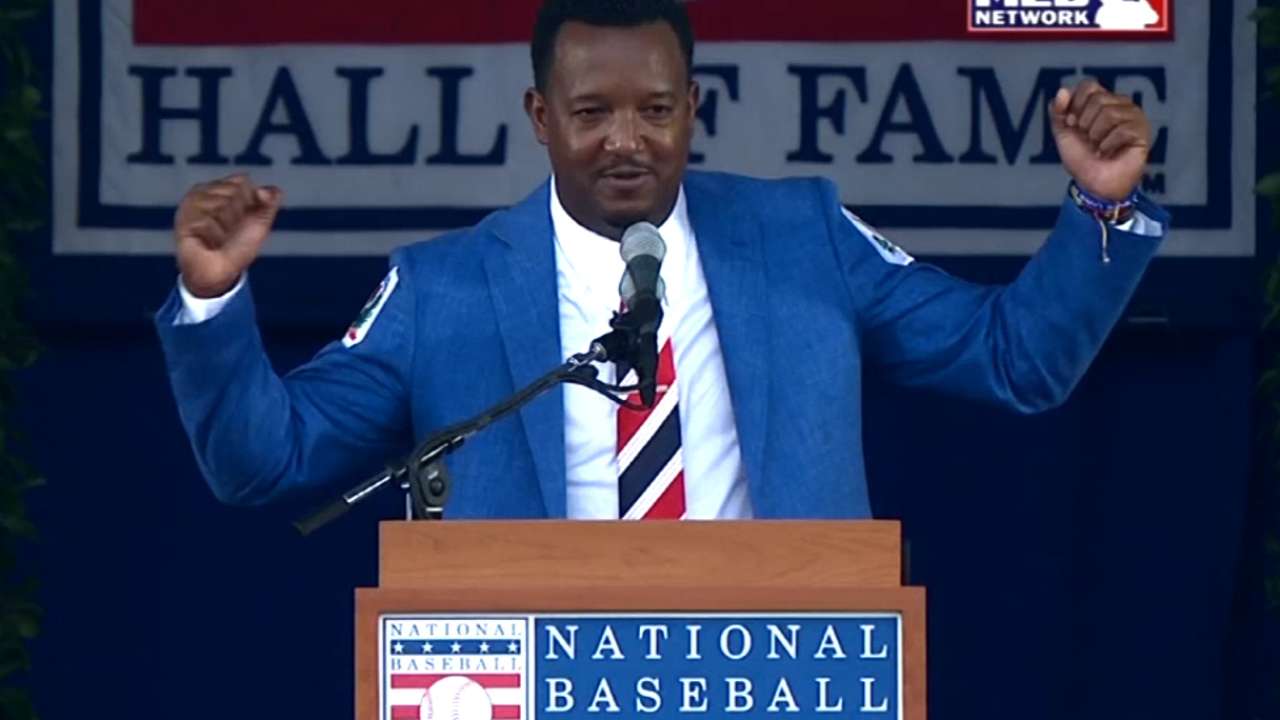 BOSTON -- The magnitude of having his number 45 retired by one of baseball's most historic franchises has not been lost on Pedro Martinez. In fact, he has seemed legitimately blown away that there will be a permanent reminder of his career on the right-field facade at Fenway Park.
The ceremony at Fenway took place prior to Tuesday's game against the White Sox, and just two days after Martinez was formally inducted into the Baseball Hall of Fame.
• Joyous Pedro enters Hall of Fame
"You know what? As excited as I am about the Hall of Fame, I'm equally excited about having my number retired," Martinez said recently. "I think it's a great honor. I don't have enough words to thank the Red Sox for giving me the consideration of retiring my number."
The other numbers retired at Fenway are No. 1 (Bobby Doerr), No. 4 (Joe Cronin), No. 6 (Johnny Pesky), No. 8 (Carl Yastrzemski), No. 9 (Ted Williams), No. 14 (Jim Rice), No. 27 (Carlton Fisk) and No. 42 (Jackie Robinson). Aside from the late Pesky, perhaps the most enthusiastic ambassador the Red Sox have had, all of those players are in the Hall of Fame.
Though Martinez last pitched for the Red Sox in 2004, he has kept close ties with the team he is most identified with, and he is a special assistant to general manager Ben Cherington.
"To actually have a number retired in one of the teams in the big leagues, your number retired forever, so your number is going to be there on an everyday basis and on a yearly basis, it's a great honor," Martinez said. "I'm extremely humbled and extremely proud to have my number retired."
In seven seasons with the Red Sox, Martinez had an historic run of greatness, going 117-37 with a 2.52 ERA. During that span, he won the American League Cy Young Award in 1999 and 2000, and he finished in the top four in the voting four of the other five seasons he spent in Boston.
Ian Browne is a reporter for MLB.com. This story was not subject to the approval of Major League Baseball or its clubs.