Hundley hopes to keep 1st-half momentum going
Rox catcher all about self-improvement -- and raising team performance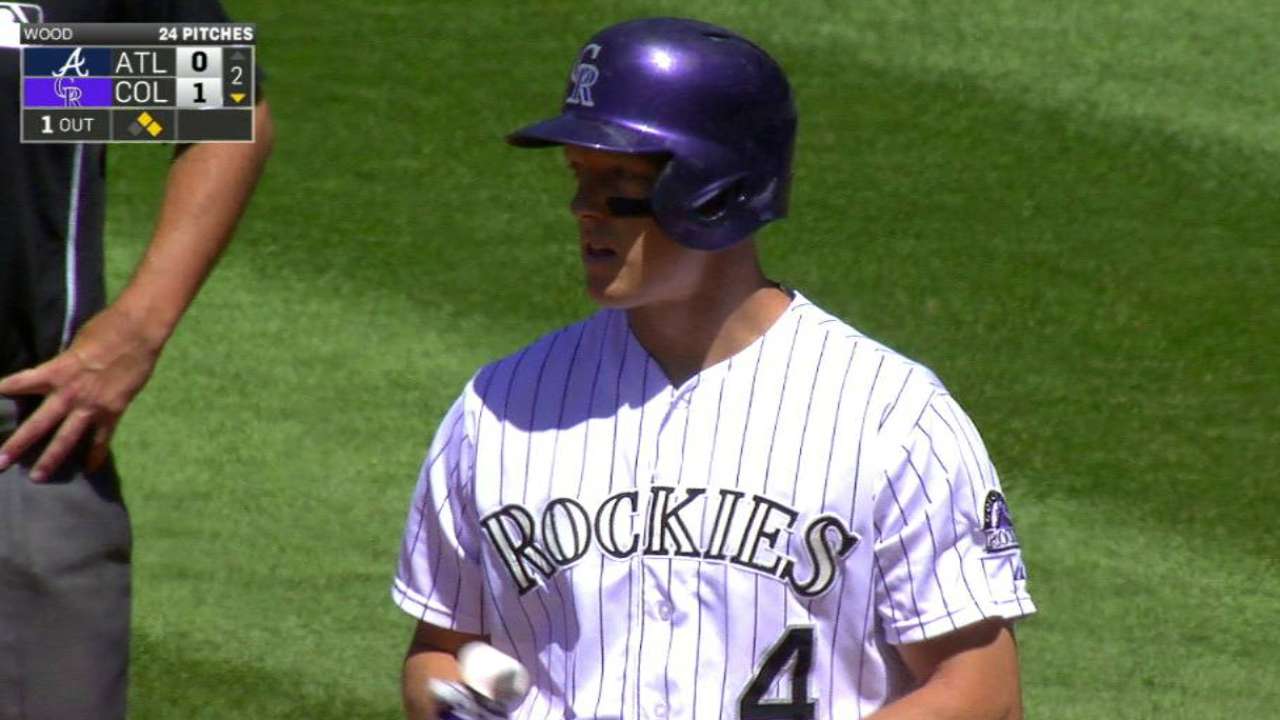 DENVER -- Rockies catcher Nick Hundley is calling on himself to do better, even though he's already had the best first half of his career. He isn't shy about applying that standard team-wide, either.
Hundley, 31, signed a two-year, $6.25 million contract this winter because of his reputation for handling pitchers. And in 66 games, he is hitting .309 with an .815 OPS -- career highs if he keeps it up. Hundley's six home runs, 15 doubles and 30 RBIs also are on pace for career bests.
But with Colorado 39-49 and 11 games out of first place in the National League West, the conversation centers on whether it's time to trade veterans -- Hundley included -- and think about the future. Hundley, however, wants to build on the Rockies' four-game sweep of the Braves before the break.
"To a man, everybody in this locker room can't look themselves in the mirror and say that we've played well," said Hundley, who helped the Orioles to the playoffs last year after being acquired from the Padres, and is the only healthy regular positon player who has been traded in-season. "We know we're better than this, but our record is what it is because we haven't been consistent enough.
"I've been on good teams. I've been on bad teams. I've been traded. I've been to the playoffs. I've been fortunate to experience a lot of stuff in this game. There are a lot of things that can distract you, individually and as a team. It's my job, a veteran's job, to make sure that we don't concentrate on anything except winning baseball games and series."
Offensively, Hundley put into action tweaks that Rockies hitting coach Blake Doyle offered. His body is in position to free up his hands, and he has overcome a pull-happy past to hit to all fields.
"We'd seen the power before in San Diego," Colorado manager Walt Weiss said. "He'd hit some long home runs. But he's just a better hitter now."
The hitting makes Hundley a cog in a lineup full of offensive potential, but he knows it doesn't matter if those parts don't work together to win.
Hundley starts with himself, saying some of the 97 home runs Rockies pitchers have served resulted from his ill-advised pitch calls, and chiding himself for frustration-driven at-bats. He expects teammates to conduct similarly stern self-evaluations.
"Be honest within yourself," Hundley said. "Were you prepared? Did you do everything you could today to help us win? If you didn't, something needs to be said. Guys in this locker room understand if I say something where I'm coming from, and I have their backs.
"It's a fun group of guys to be around, and it's going to be even [more fun] if and when we win."
Thomas Harding is a reporter for MLB.com. Follow him on Twitter @harding_at_mlb, and like his Facebook page. This story was not subject to the approval of Major League Baseball or its clubs.