MLB.com Columnist
Jonathan Mayo
Inbox: Is Reed a future presence for Astros?
Jonathan Mayo responds to fans' questions about baseball's future stars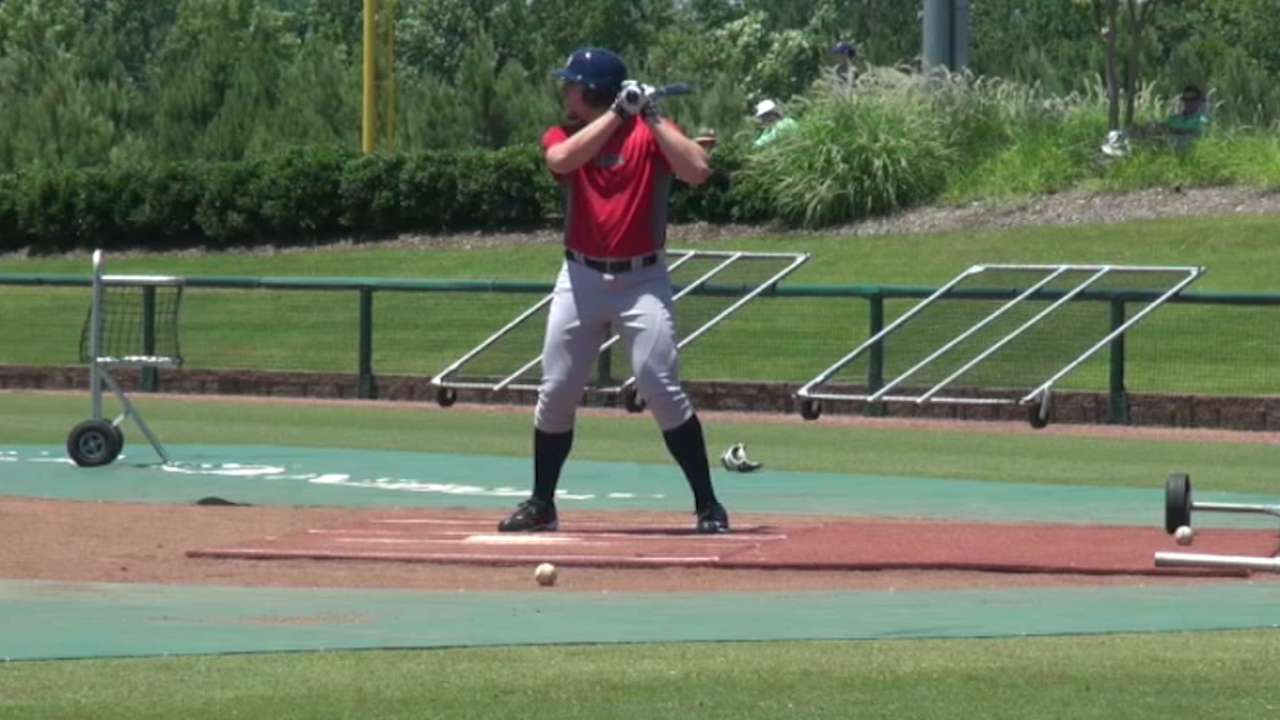 By Friday at 5 p.m. ET, every organization will know exactly what this year's Draft produced.
That's when the signing deadline is for this year's draftees, and as of this writing, there were three first-round picks still unsigned as well as some intriguing picks later on. Many will come to terms by the deadline, but invariably, some will not.
The good news is that even those who sign at the last minute still have time to go out and get over a month's worth of professional experience, a big reason why the deadline was moved up to mid-July.
Click here to submit an Inbox question
What are your thoughts on Jacob Nottingham and A.J. Reed?
-- Kevin G., Houston
Is it time to start taking A.J. Reed more seriously as a future middle-of-the-order presence for the Astros? Doubters will point to his home park, but he did as much, if not more, damage on the road, and he dominated the SEC in college.
-- Nate R., Lebanon, Pa.
Reed has been so effective at the plate he garnered two questions about him. Currently the Astros' No. 10 prospect, he'll likely move up some when we re-rank all of the lists later this month. Reed just earned a promotion to Double-A after absolutely raking in the California League. Nate is right in that Lancaster is about as hitting-friendly as any park in the Minor Leagues, and Reed did have a better slugging percentage (.674) than at home (.593). He leads all Minor Leaguers with 83 RBIs and with his .627 SLG, while his 23 home runs put him second. Reed is a legitimate left-handed power threat, but I'm sure many will want to see him do it outside of the Cal League before becoming true believers.
Nottingham is another Astros prospect on the move, both in terms of getting a promotion and in his stature on Houston's list (he's currently No. 22). The 20-year-old put up some gaudy numbers in the Midwest League (.326/.387/.543 in 59 games) and has continued to hit well in his first couple of weeks in Lancaster. Nottingham's catching also continues to improve. If he can stay behind the plate, he could be a very intriguing prospect. Even if Nottingham can't, it's looking like his power will play at first if needed.
What's the holdup on Dansby Swanson signing?
-- Adrienne K., Chandler, Ariz.
Swanson, of course, is the biggest unsigned name out there. The No. 1 pick finished his season at the College World Series on June 24, so it's understandable why some would wonder why he hasn't joined the D-backs organization just yet. It's interesting to note that one of the other unsigned first-rounders is Swanson's Vanderbilt teammate Walker Buehler.
I don't think there's much to worry about with Swanson; I fully expect him and Arizona to agree to terms, even if it takes up until 4:59 p.m. ET on Friday. I'm guessing the holdup is strictly financial. Sometimes it takes time, or the pressure of an imposed deadline, for two sides to move from where they may have drawn a line. It's often about perceived value. The team feels the player is worth a certain amount; the player and his advisor think he's worth more.
The assigned pick value for the No. 1 pick this year is more than $8.6 million. No one expects Swanson to get that much, but I'm guessing that the delay is about just how much less than that assigned value Swanson deserves.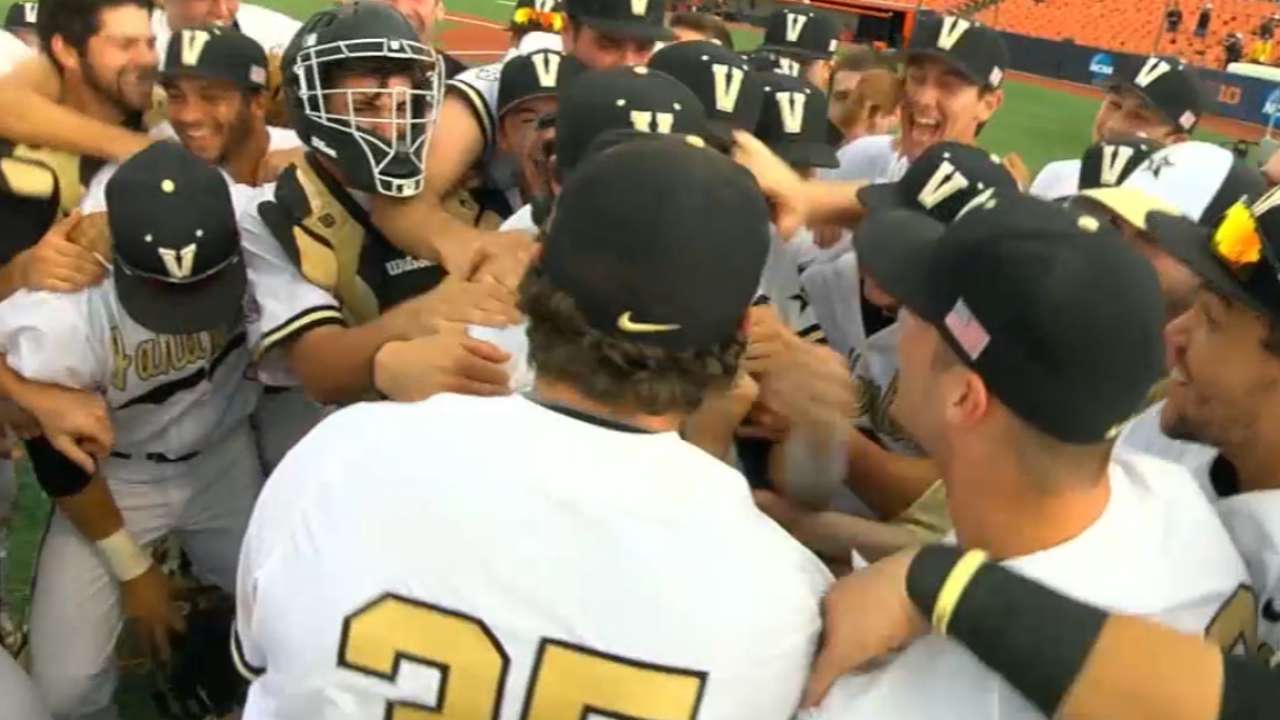 Other than J.P. Crawford and Aaron Nola, who is another Phillies prospect that you think will be an impact Major League player?
-- Andrew F., Philadelphia
The two 2015 Futures Gamers (Nola didn't pitch because he had just thrown in Triple-A action) are the two best prospects in the system, and both are currently in the top 30 of our current Top 100 list. While he's now graduated from the lists, it should be noted that Maikel Franco gives the Phillies a third young impact-type player. There are organizations that would love to have three guys with this kind of future.
Beyond the trio, there's really only one guy right now who would fit your description. That's outfielder Roman Quinn. The former shortstop now playing center field has one plus tool, his speed. Just calling it plus isn't doing it justice as he gets an 80 on the 20-80 scouting scale. The switch-hitter has improved a great deal with the bat, which should allow him to get on base more and use that speed to wreak havoc on the basepaths. The only thing holding Quinn back has been health. He's on the DL now with a quad strain and he's missed considerable time previously. But Quinn has the tools to be a top-of-the-order catalyst in the future.
One more name to keep an eye on in this conversation for the future is Cornelius Randolph. The No. 10 overall pick in the Draft can really hit and should develop into the kind of offensive weapon who will fit your definition of "impact player" eventually.
How about giving Nellie Rodriguez some recognition? He's a Top 100 talent!
-- Luis R., New York
I love the New York pride here. Rodriguez is from George Washington High School (the same place the Indians drafted Manny Ramirez from), though Rodriguez was a 15th-rounder (Manny went in the first round). In 2014, Rodriguez broke out a bit, hitting 22 homers for Lake County, which tied him for first in the Midwest League. He's doing fine in the Carolina League this season, now at age 21, hitting .281/.355/492. Rodriguez's 12 homers and 66 RBIs lead the circuit.
Rodriguez does need to cut down on his strikeout rate (100 K's in 85 games) and continue to improve working counts and drawing walks so he can tap into that tremendous raw power even more consistently. He's adequate at first base, but it's his bat that makes him a legitimate prospect. I'm not ready to call Rodriguez a Top 100 talent yet, but I will say that he should move up a fair amount on the Indians' list when the re-rank comes out.
Jonathan Mayo is a reporter for MLBPipeline.com and writes a blog, B3. Follow @JonathanMayo on Twitter. This story was not subject to the approval of Major League Baseball or its clubs.
This story was not subject to the approval of Major League Baseball or its clubs.