MLB.com Columnist
Hal Bodley
Rays Cash-ing in on young skipper
37-year-old has stepped out of Maddon's shadow in first managerial job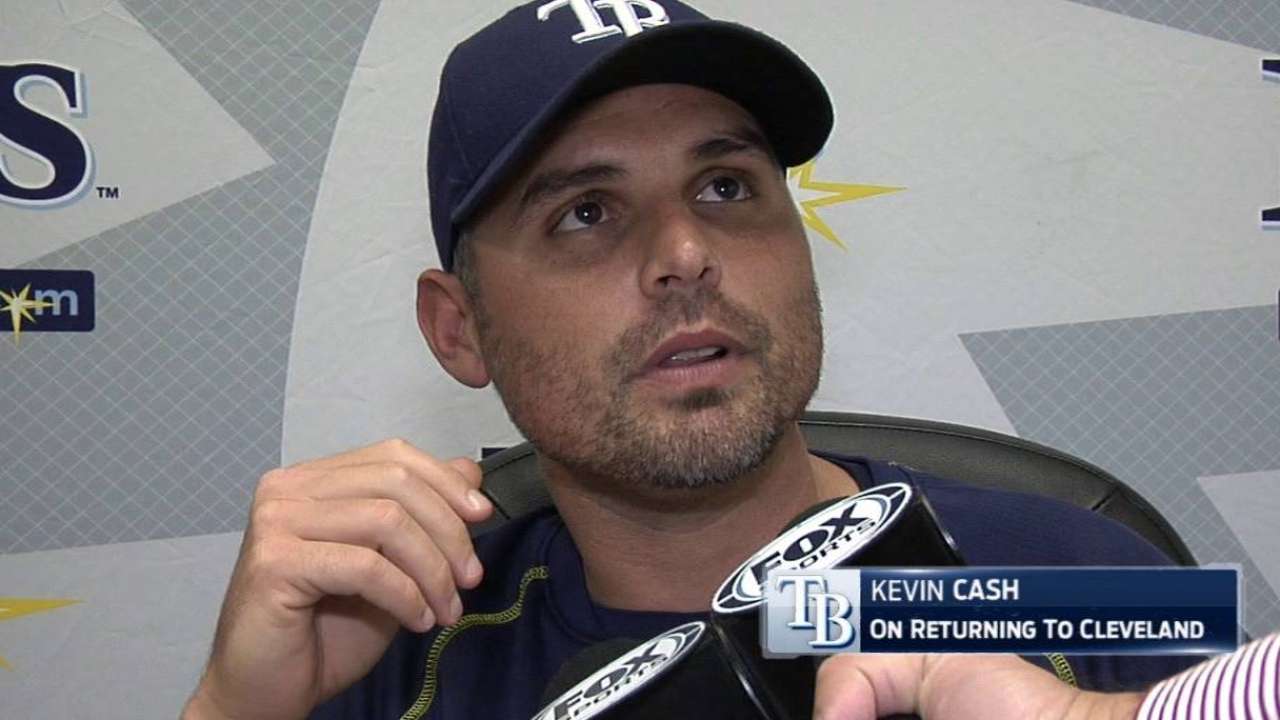 ST. PETERSBURG -- If Houston skipper A.J. Hinch isn't the favorite to win the American League Manager of the Year Award, Tampa Bay's Kevin Cash is.
The job Cash has done with the injury-plagued, bare-bones-budget Rays is utterly amazing. Not only have they been a surprise, they're one of Major League Baseball's most amazing stories this summer.
Cash, 37, is the Majors' youngest manager; he's also the greenest. He never managed anything at any level before taking over for the iconic Joe Maddon this season.
Who would have thought?
Yes, third baseman Evan Longoria said, there were doubts when the inexperienced Cash was hired.
"But I knew our upper management had done their homework," the veteran said. "From the beginning, no one got the feeling Kevin was trying to be Joe Maddon, trying to replicate Joe. He came in, did things the way he wanted to, and we were very receptive to that."
Three weeks ago, when the spirited Rays were leading the AL East by two games, Cash was my choice for the prestigious manager's award. Ditto June 20, when this overachieving team was 10 games above .500.
But then they lost 15 of 18, five series in a row and tumbled.
Maybe the bubble had burst. But last weekend, they picked up the pieces and rebuilt their season, sweeping Hinch's talented Astros and knocking them out of the AL West lead. Houston, another 2015 feel-good story, had been on top most of the season.
So, Tampa Bay is a game over .500 at the All-Star Game break (46-45) and in second place, 3 1/2 games behind the Yankees.
With Maddon and top baseball guru Andrew Friedman gone, the Rays were torn apart and recast with a ton of new faces for 2015.
Few predicted they'd contend. And that was before a rash of injuries depleted their vaunted starting pitching and drastically reduced an already suspect offense with the likes of James Loney, John Jaso and Desmond Jennings on the shelf.
Somehow, Cash has manipulated a roster with a revolving door between Tropicana Field and Tampa Bay's Triple-A Durham squad.
The Rays have seven players on the disabled list, but they have had 19 on the DL since Opening Day. They've used 47 players -- including 27 pitchers -- and have made 90 roster moves to date.
Yet the improvement is more than noteworthy. At the break a year ago, they were 44-53 and mired in fourth place.
Those who know Cash -- a journeyman big league catcher who spent two years (2013-14) as Cleveland's bullpen coach -- aren't surprised.
Especially Tribe skipper Terry Francona. He managed Cash in Boston, when Kevin was a backup receiver with the Red Sox for parts of three seasons. When Francona took the Cleveland job in 2013, he hired Cash to be his bullpen coach.
"What [Cash has] done, especially with all the injuries, is awesome," said Francona. "We miss him in Cleveland, but we're glad for him. He impacted our organization far more than a bullpen coach is supposed to."
I asked how Cash could make such giant strides having never before managed.
"He paid attention. He had a pretty good voice in the clubhouse and was more than a backup catcher hitting .150," said Francona. "As our bullpen coach, he did so much for me."
During an interview in his Tropicana Field office, Cash said, "I learned so much from Tito Francona."
"Hey! It's not what he learned from me," countered Francona. "It's the other way around. We'd drive to the ballpark together and talk about the game. I've been so fortunate to have baseball men like Cash around me and learn so much from them."
On this particular day, Cash pushed back in the chair behind his desk, looking up at the ceiling.
"I cannot imagine enjoying it as much as I have," he mused. "It's a lot of work, you stay busy. The biggest joy is to watch these guys come in and the way they handle themselves and carry themselves every day.
"The credit goes to what they've done and how they've come up through the system. I owe a lot to Joe Maddon and Andrew Friedman for creating that culture. How fortunate [baseball operations president] Matt Silverman and I are to walk into something that's already good."
Longoria, the strongest voice in Tampa Bay's clubhouse, said Cash "is predictable. And from a player's standpoint, that's good. We know our roles, and I think that has been a part of why there's been so much success."
When Cash took the job, he emphasized how important communication would be. He hasn't backed down from that priority.
"Obviously, that's easier to do when you're winning," Cash said. "Players appreciate knowing not only where they stand, but where the staff stands and where your decisions come from.
"There are a lot of tough decisions throughout the day, throughout the game. You're talking about guys' careers. We've called a lot of people up, but we've also optioned a lot. It's on us to communicate as much as possible and tell them why."
All-Star pitcher Chris Archer said Cash has "done fantastic. The biggest thing is the ability and his willingness to communicate. For any team, if your leader is willing to communicate, it's so important. Small communication like saying, 'Hello,' to everyone he sees each day. It seems like he makes it a point to say 'Hello' to all 25 guys who are here. This just opens up the door so that if you do have something on your mind, you're comfortable."
During the dark days as losses mounted, Cash's optimism prevailed. And then the Rays swept the Astros to set the stage for the second half.
"Not that the morale was scuffling," Cash said after Sunday's 4-3 squeaker. "But we were scuffling as a team. We needed to play better, play well, and we did."
Cash, who grew up in Tampa, Fla., and lives there now, refuses to say Tampa Bay has been playing over its heads. He wasn't surprised when the Rays were in first place.
"I thought we'd be very competitive," Cash said. "We didn't value being in first place too much. We just want to play good baseball."
Then, he said firmly, "We catch the ball and play good defense. And pitch really well. When you do those things, you're going to be in the ballgame every single night."
Hal Bodley is the senior correspondent for MLB.com. Follow him @halbodley on Twitter. This story was not subject to the approval of Major League Baseball or its clubs.