Peterson among 10 top prospect performers Wednesday
Mariners No. 2 prospect swats a grand slam for Double-A Jackson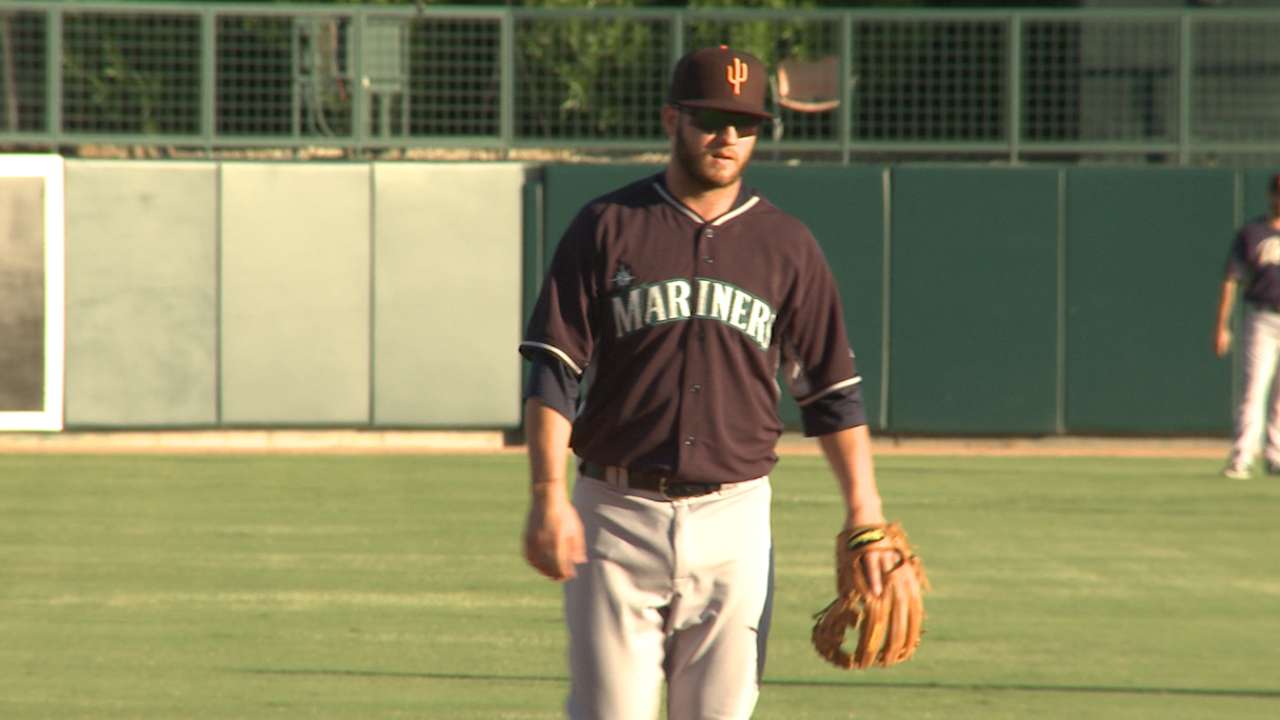 D.J. Peterson is no stranger to grand slams -- he hit three of them in 2013 alone -- but his four-run blast during Jackson's 9-6 win over Mobile was his first in 141 games at the Double-A level.
Seattle's No. 2 prospect (No. 39 overall) is on pace for several career-low marks this season, but you wouldn't know it if you watched him over the past month. Peterson has ripped four of his six homers and 17 of his 40 RBIs since June 10, improving his batting average (.219) and slugging percentage (.342) over that span.
The infielder finished 2-for-5 with four RBIs Wednesday and got some help from No. 8 prospect Tyler Marlette, who went 3-for-5 with a two-run shot. Peterson's new teammate has hit .243/.312/.386 with two dingers and six RBIs since joining Jackson on June 5 and has hit in seven straight games.
The Generals halted a five-game losing streak with the win and will host four more games against the BayBears before heading to southern Alabama for a four-game series next week.
The rest of the 10 best performances from top Minor Leaguers
• Athletics No. 3 prospect Matt Chapman is heating up for Class A Advanced Stockton. The prized third baseman swatted his second homer in three games during the Ports' blowout win over San Jose, pushing his batting average (.259) to its highest mark since June 15. His 2-for-4 performance was his third multi-hit effort in five contests and he has 16 dingers on the year to go along with 16 doubles and 41 RBIs. Selected in the first round of the 2014 Draft, the former Cal State Fullerton star already has career-highs in every major batting category, save for triples; Chapman still needs two more to reach the four he hit in 2014.
• Brewers No. 1 prospect (No. 71 overall) Orlando Arcia homered and recorded his third straight multi-hit game for Double-A Biloxi. The shortstop finished 2-for-5 with a solo shot Wednesday and is hitting .315/.355/.466 with five homers, 24 doubles and 47 RBIs this season. Over the past three contests, he's hitting .500 (7-for-14) with four RBIs. The fourth-year player is currently on pace for career-highs in doubles, triples, homers and RBIs.
• Brewers No. 3 prospect Monte Harrison was perfect Wednesday, going 4-for-4 with a double and a triple for Rookie-level Helena. He's been one of the squad's best hitters since he joined the team after posting a .148/.246/.247 line in 46 games for Class A Wisconsin. The center fielder has hit .312/.379/.532 with three dingers and 13 RBIs in his new digs, while also adding four doubles, two triples and nine stolen bases in 21 games.
• D-backs No. 7 prospect Peter O'Brien won Top Star and nearly played the hero on his 25th birthday. A clutch two-run homer provided a late lead in the eighth, but the International League rallied for three runs in the ninth to snag a 4-3 comeback victory over O'Brien and the Pacific Coast League in the Triple-A All-Star Game. The former Hurricane drilled a two-run shot to break up a 1-1 game in the bottom of the eighth. But the celebration didn't last long. PCL pitcher Jon Edwards loaded the bases with no outs in the top of the ninth before giving up a two-run single to Yankees prospect Kyle Roller. A new hurler -- Louis Coleman -- could not stop the bleeding and allowed the go-ahead RBI single to the first batter he faced, Tyler Henson.
• Marlins No. 1 prospect (No. 19 overall) Tyler Kolek snapped a four-game losing streak with an efficient performance. The 6-foot-5 right-hander allowed just two hits while striking out four and walking four in four innings. He picked up a no-decision, so he still has not won since June 15, but Kolek has been fairly consistent this season. The 19-year-old Texas native's ERA hasn't strayed below 4.10 or above 5.11 since April 28, a span of 13 starts.
• Phillies No. 17 prospect Aaron Brown had not hit a homer in almost a month and had not collected a three-hit game since May before ending both streaks on Wednesday. The right fielder homered twice while going 3-for-3 in Class A Advanced Clearwater's 9-1 win over Palm Beach, pushing his average to .250 for the first time since June 11. Brown now has six dingers and 31 RBIs on the season.
• Pirates No. 13 prospect JaCoby Jones smacked his 10th homer of the year as part of a 3-for-5, four-RBI night. The Class A Advanced Bradenton shortstop swatted two doubles Wednesday, bringing his season total to 15. He's also got 52 RBIs and was selected to the Florida State League All-Star squad in June. Drafted in the third round in 2013, Jones has already racked up 34 dingers, 34 stolen bases and 132 RBIs in 215 career games.
• Red Sox No. 1 prospect (No. 6 overall) Yoan Moncada has been a slugging machine recently. The Class A Greenville second baseman connected on an inside-the-park homer Wednesday that marked his third dinger in three games for the Drive. Moncada has four on the year, along with nine doubles, 20 RBIs and a perfect 15-for-15 stolen base line. While Greenville has dropped its past two contests -- including a 6-2 loss to Augusta on Wednesday -- Moncada has been heating up. He's 7-for-15 with five RBIs since Sunday.
Alex M. Smith is a reporter for MLB.com. This story was not subject to the approval of Major League Baseball or its clubs.