MLB.com Columnist
Bernie Pleskoff
Standout prospects from the Triple-A All-Star Game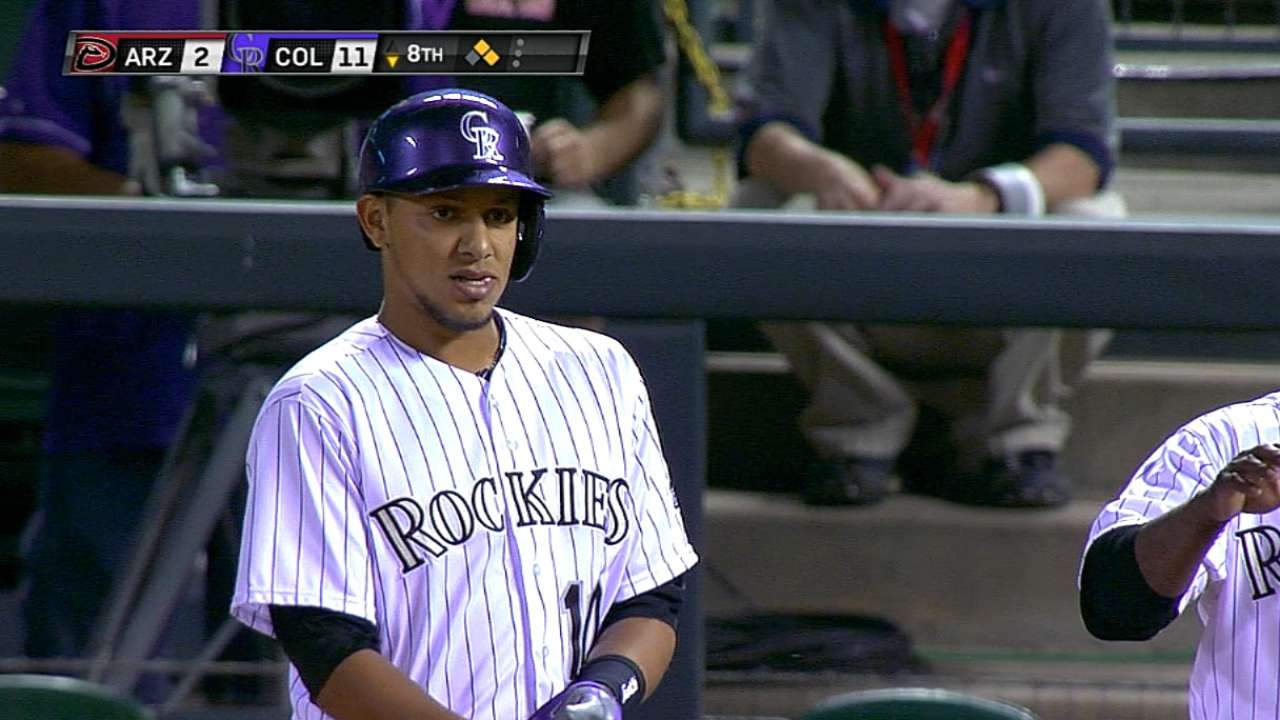 OMAHA, Neb. -- Storms during the day and threatening evening skies in Omaha, Neb., didn't deter a sellout crowd of 9,023 fans from coming out and cheering for the latest edition of the Triple-A All Star Game -- a 4-3 International League victory over the Pacific Coast League on Wednesday.
A stiff wind that was moving from right field to left at beautiful Werner Park intensified as the game progressed. The wind helped Rockies prospect Cristhian Adames hit a game tying sixth-inning home run. Adames had entered the game as a replacement player and his homer came in his first at-bat of the game.
I couldn't help but notice some of the players that showed skills and tools that could ultimately help their big league club as their development progresses.
Cristhian Adames, SS, Albuquerque (Rockies)
Other than hitting the tying home run, Adames showed very good range and a nice arm from shortstop.
Of course, Troy Tulowitzki is the resident shortstop in Colorado. But all things must come to an end at some point, and its possible Adames could be in the conversation if a change is made at the key shortstop position.
Adames is a switch-hitter, with a bit more power coming from the right side. But he hits much more for average than for power. In fact, in parts of eight seasons, he has hit 25 Minor League home runs in 2,775 plate appearances.
Adames is probably best suited as a sure-handed and consistently solid defensive shortstop. He has good fundamentals and will make the routine play look easy.
Ranked at No. 18 among the top 30 Rockies prospects, Adames' most productive role may well be that of a utility player. But he'd be very capable and highly reliable in that case.
Peter O'Brien, OF, Reno (D-backs)
O'Brien came to the D-backs in a trade with the Yankees, where he was seen as a very promising power hitter with work to do to hone his skills as a catcher.
Since his arrival with Arizona, O'Brien has been converted to the outfield. His excellent arm strength plays very well in right field.
O'Brien came in second in the Home Run Derby held here at Werner Park on Monday evening. His power is real, and it will likely improve. It is by far his most advanced tool.
O'Brien swings and misses plenty. But teams usually find a place for a slugger with his kind of upside. As he demonstrated in the All-Star Game, his booming bat can change a game.
The right-handed hitting O'Brien is 6-foot-4, 235 pounds. At the age of 24, he has a tremendous future with the bat. As an outfielder, he still needs further development in route running and judging balls, specifically in the lights.
O'Brien earned a co-Most Valuable Player Award for his efforts in the game. He is No. 7 among the D-backs' Top 30 Prospects.
Dixon Machado, IF, Toledo (Tigers)
Machado has been around a long time. He has completed seven Minor League seasons and has played at every level of the Tigers organization, including for the parent Tigers.
Machado walked and had a hit in tonight's game. He also played very steady shortstop.
Only 23, Machado is a right-handed hitter with an ability to hit quality pitching. He isn't overpowering, but he'll get his share of gap doubles and has enough speed to mix in an occasional triple.
Any time a middle infielder can get on base and make things happen with good speed and baseball instincts, he has a chance to help. That's Machado. His bat helps. His glove helps. Neither will often change the outcome of a game, but he can be counted upon to contribute good baseball mechanics and sound play when he's called upon.
Shawn Armstrong, RHP, Columbus (Indians)
The right-handed Armstrong only worked one-third of an inning. But it was clean. What I saw was enough to convince me that his arm strength and command are worthy of serious consideration as a potential pitcher at the big league level.
Armstrong comes right after hitters, no nonsense. On Wednesday, he used a 95-96 mph fastball. He didn't mix in much of any other pitch in his repertoire, striking out the only hitter he faced.
So far this season at Columbus, Armstrong has struck out 53 in 34 1/3 innings. He is No. 30 among the Indians' Top 30 prospects.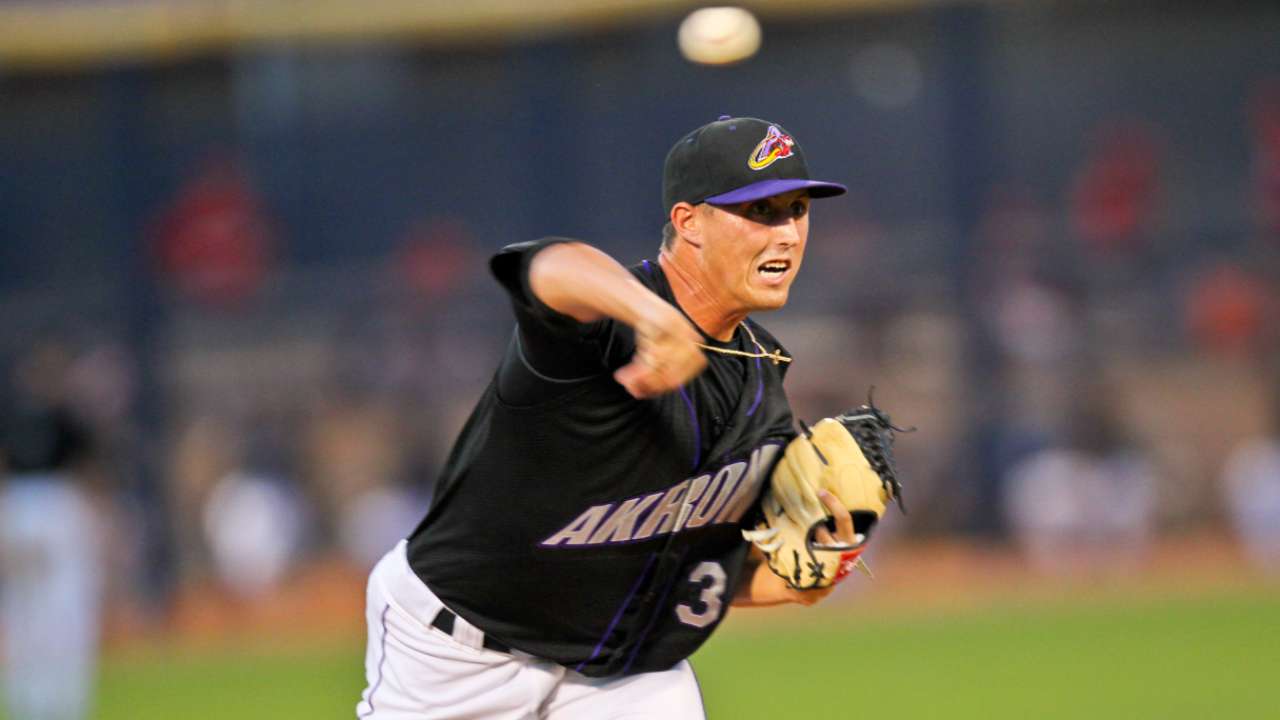 There were a couple other impressive performances by others in tonight's game that may not be as highly advanced as those players noted above. Among them were:
James Beresford: I liked Beresford's approach at the plate. Playing for the Minnesota Twins' Rochester club, he has a .307 batting average. He had two big hits in the game tonight, including a first inning triple. He scored a run and played well.
Kyle Roller: New York Yankees prospect Kyle Roller had the biggest hit for the winning International League stars. He had two hits and two RBIs in the game, with his ninth-inning single the big blow. Roller may not be on the Yankees' radar right now, but he has shown he can hit with 12 homers and 49 RBIs this season. He earned an honor as a co-Most Valuable Player along with O'Brien.
Bernie Pleskoff has served as a professional scout for the Houston Astros and Seattle Mariners. Follow @BerniePleskoff on Twitter. This story was not subject to the approval of Major League Baseball or its clubs.