Ortega excited to broadcast 2016 ASG to the world
Padres' Spanish voice has called All-Star and World Series games for ESPN Deportes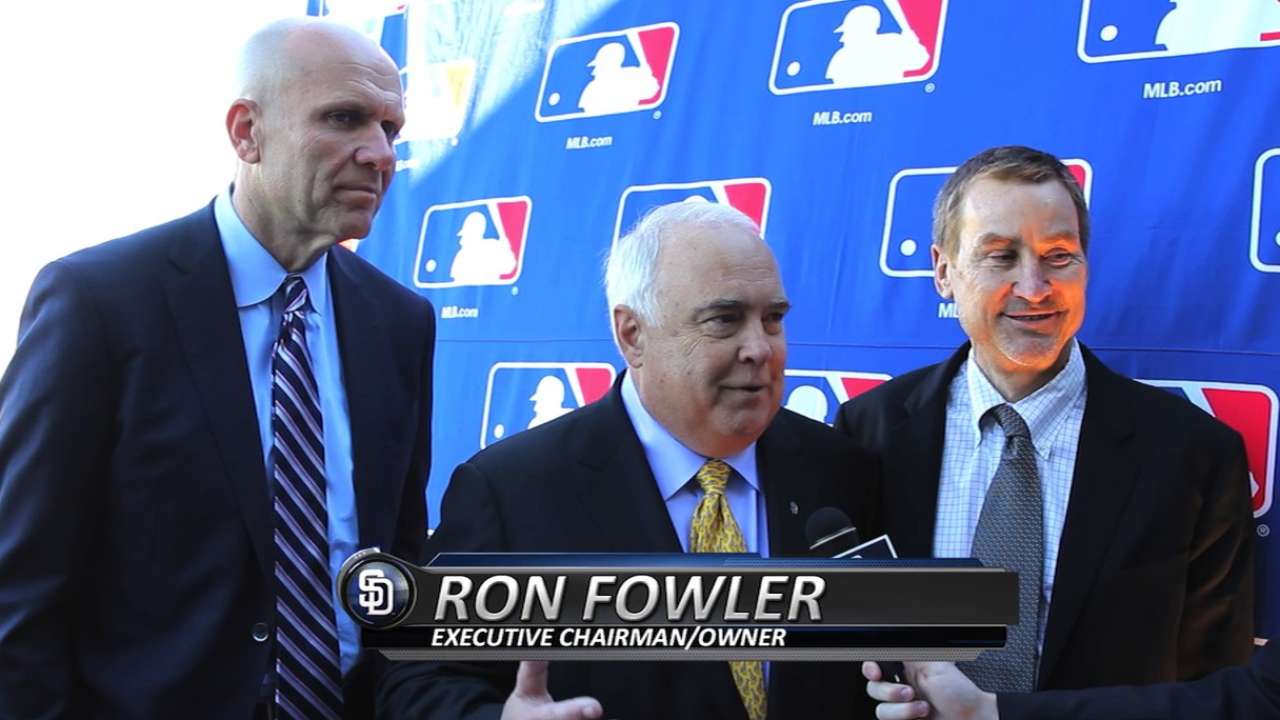 Bill Center, longtime sportswriter for U-T San Diego, is an employee of the Padres.
Eduardo Ortega hadn't even departed from Cincinnati on Wednesday morning when his thoughts already began turning to San Diego and the 2016 All-Star Game.
"I can't tell you what it will mean to me if I am doing the play-by-play of the next All-Star Game from Petco Park," Ortega said. Ortega is the daily Spanish-language voice of the Padres on XEMO (860 AM).
On special occasions -- such as the All-Star Game, postseason and World Series -- Ortega broadcasts Major League Baseball to millions of fans in Latin America and beyond on ESPN Deportes Radio.
"It is an honor to be part of this," said Ortega the morning after his 16th play-by-play broadcast of the All-Star Game. "What was special this year is that we also did the Home Run Derby, and the use of the clock was a big hit, bringing more drama.
"But next year, I am already very excited just thinking about doing an All-Star Game in my hometown. I can't wait for what the Padres are going to show the world. I can't wait to be a part of it."
Now in his record 29th season as the Spanish voice of the Padres on XEMO and Fox Deportes television, Ortega has handled the Spanish radio play-by-play for 20 World Series, in addition to 16 All-Star Games.
The Padres' Spanish broadcasts on XEMO reach as far south as Ensenada, and as far east as Mexicali. They also reach countless Spanish-speaking fans in San Diego and Imperial counties.
"I've had fans tell me they listen to the Spanish broadcasts on radio, while watching the picture on television," Ortega said. "That is special to me because we are there for the fans."
Ortega has been in the broadcasting business for 35 years. He has been with the Padres for all but one season -- he was the Giants Spanish-language voice in 1991 -- over the past three decades.
He joined the Padres broadcast team when the club's original Spanish-language voices, Mario Thomas and Gustavo Lopez Moreno, were still active. Thomas was the Padres' Spanish-language, play-by-play voice for the club's first 27 seasons.
"I grew up in Tijuana listening to them," Ortega said. "Then I started working with them in 1986. Last year, when I broadcast my 28th season, it was quite an honor to think I had been there longer than the man who was an inspiration to me."
Ortega has been the lead broadcaster in the Padres Spanish-language booth since he returned from San Francisco in 1992. Since the start of the 2012 season, Ortega has been joined in the XEMO booth by former Padres catcher Carlos Hernandez.
"Carlos has been a tremendous plus for our product," Ortega said. "It is great having the knowledge and insight of a former player, particularly a catcher, sitting next to you."
Ortega began broadcasting World Series games on Spanish-language radio in 1993, then added on broadcasting the All-Star Games.
ESPN Deportes Radio has 67 stations in the United States, and is carried on by affiliates throughout Latin America. The broadcasts of All-Star, postseason and World Series games are also available online.
"In the postseason, they first sent me to the marquee playoff series before the World Series," said Ortega, who admitted he doesn't really know how many people the broadcasts reach.
"I've received notes from Europe and the Philippines, as well as from fans throughout Mexico and Latin America," Ortega said. "It's surprising."
Now, the Chula Vista, Calif., resident is eagerly looking forward to broadcasting from his hometown next July.
"The whole world will be looking to San Diego and our All-Star Game," Ortega said. "It will be my first international broadcast from San Diego. I wasn't involved with the 1992 All-Star Game here. And when the Padres were in the 1998 World Series and previous playoffs while I was here, I did the Padres Spanish-language broadcasts.
"So the 2016 All-Star Game is going to be extra special for me. It's going to give me a chance to talk some about the history of the Padres and San Diego to people everywhere. Quite an honor."
For a man of honors.
In 2012, Ortega was inducted into the Tijuana Sports Hall of Fame. Eight years earlier, he was presented a Career Achievement Award from Tijuana Sports Media. In addition to ESPN Deportes, Fox Deportes and XEMO, Ortega has worked for the CBS Hispanic Radio Network, LBC Radio Network and Cadena Caracol. Since 2005, he has also been the voice of the Mexicali Aguilas of the Mexican Winter League.