TBT: Lyons recalls famously 'revealing' moment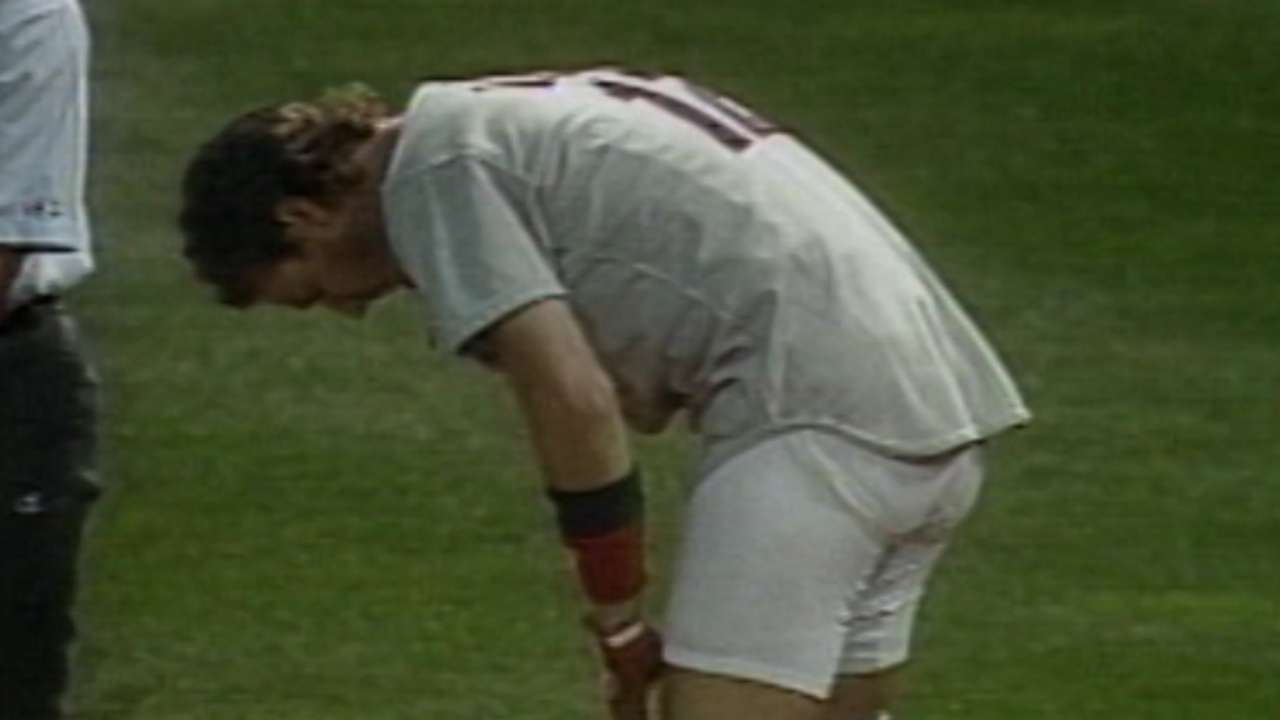 He played nine seasons in the Major Leagues. He compiled a .252 batting average. He parlayed his all-out style, colorful personality and big league nickname, "Psycho," into a successful broadcasting career.
But when Steve Lyons the baseball player is remembered, he simply can't escape what happened 25 years ago today. He knows it, he understands every angle of it, and he accepts it.
He has to, because he hears about it, as he says without a hint of hesitation, "Every single day."
It was July 16, 1990, and Lyons, a 30-year-old utility player for the Chicago White Sox skirting the edges of the Mendoza Line, got the start at first base against Detroit at Tiger Stadium. The White Sox, managed by Jeff Torborg, were 52-31 and comfortably in contention, two games behind the World Series-bound Oakland A's in the American League West. It was just a regular Monday night game against a middling, four-games-below-.500 Tigers team, and Lyons stepped to the plate in the top of the fifth inning against Tigers right-hander Dan Petry.
Now here's the first very Lyons-like thing that happened: With his team down, 4-1, Lyons tried to get a rally started. That would be the hallmark of his playing days … or at least one of the hallmarks: doing whatever his talent and drive would allow him to do to help his team win. It had served him well. He was a first-round selection out of Oregon State in the 1981 Draft and debuted in The Show for the Red Sox four years later.
"I really couldn't hit, so I had to be pretty good at something," Lyons says. "So I did what I could. I'd bunt. I'd try to move runners over. I had to play that way. It was the only way I knew. I had to scrap and scratch for everything I got."
So Lyons laid down a bunt and darted toward first base, hell-bent on igniting a rally. Tigers first baseman Cecil Fielder gloved the ball and threw overhand to Petry, who was covering first base. It was going to be a close play, and Lyons was Lyons, so he dove headfirst toward the bag. He arrived around the same time as Petry and it was up to umpire Jim Evans. Evans ruled Lyons safe, and Petry didn't agree and decided to start a rather animated conversation about the matter with Evans.
"I was pretty sure I was out," Lyons says. "So I was standing there, and I got caught up in the argument between Petry and Evans. And that's when I started feeling the dirt running down the inside of my pants."
This was nothing new for Lyons, who spent many Major League moments in baselines on his stomach. But the next thing he did … that was definitely new.
"I was in tune with the argument and forgot where I was for a second," Lyons says. "I guess I thought I was back in the dugout. So I pulled them down," Lyons says. "I pulled them down to get the dirt out."
And just like that, a legend was born.
As soon as Lyons -- and the announced crowd of 14,770 -- realized what he had done, Lyons' face was washed over with a hearty smile of recognition and embarrassment. He shook his head a few times in disbelief.
"As soon as I realized that I was still out at first base and not down in the dugout, there was a little bit of shock," Lyons says.
The moment wasn't shared by everybody on the field. In fact, it happened so quickly that it was easy to miss. Lou Whitaker, who was playing right field for the Tigers at the time, didn't see it at all.
"I think I was pulling my pants down in right while it happened," Whitaker says now. "But nothing surprised you back then. It was a different era in baseball. Guys were crawling to first base, guys were doing all kinds of crazy things."
That was the general attitude of one of Lyons' teammates, who knew better than to think this was some sort of unfathomable spectacle.
"For me, I think it was normal … coming from him," then-White Sox shortstop Ozzie Guillen said years later in a baseball-'s-lighter-side reel. "That's 'Psycho.' 'Psycho' just being 'Psycho.'"
The moment, which endures 25 years later every time Lyons runs into a former teammate or opponent from that game, got even better. While it's impossible to determine if Lyons was the first person to ever pull down his pants at first base during a Major League game (calls to Elias Sports Bureau for clarification were never attempted, let alone answered), let's just say there's a good chance he was. A very good chance.
And this was not lost on the astute Motor City spectators. Once Lyons was finally returning to the dugout after three quick groundouts and a half-inning in the field, women in the stands threw $1 bills at him.
And believe that the quick wit -- and the financial recognition -- were very much appreciated.
"Heck yeah," Lyons says with a laugh. "I wasn't making too much."
As Lyons would find out, the real riches were yet to come. While some players might try to forget or live down or even bristle at the notion of the media or fans bringing up their association with one of the game's classic bloopers, Lyons has owned it, embraced it and enjoyed it.
"I always tell people that I did it because I needed a date," Lyons says.
A quarter-century later, it's clear upon revisiting the moment with Lyons that he's been asked about it so many thousands of times that his responses are almost pure autopilot. Add that to the polish and delivery of a well-trained on-air personality and you're not going to get any fresh takes from the indelible event. And that's OK. He's the one who still has to wear it, and what you saw -- and still see from time to time on the Internet and on Jumbotrons all over the American and National Leagues -- is what you get.
"It was probably the most memorable thing I did," Lyons says.
"It would be nice to be remembered for a Game 7 home run in the World Series, but it's also nice to be remembered for something."
Doug Miller is a reporter for MLB.com. Follow him on Twitter @DougMillerMLB. This story was not subject to the approval of Major League Baseball or its clubs.