White Sox lookback, Part 6: Completing the sweep
Guillen: 'Those guys, they did it with heart'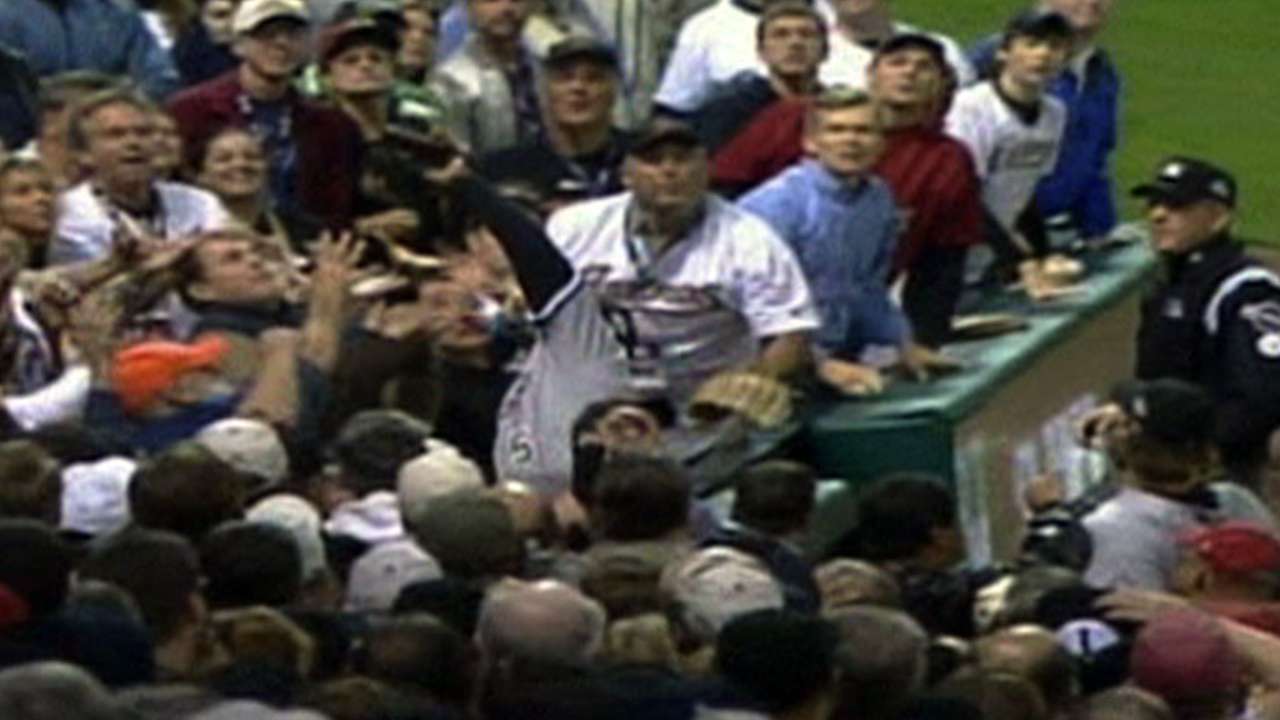 CHICAGO -- The White Sox will be honoring the 10-year anniversary of the team's 2005 World Series championship this weekend at U.S. Cellular Field. This latest celebration presents a chance to look back at key moments from that postseason run -- especially by focusing on the World Series -- with words coming primarily from the participants themselves.
Here is Part 6 of this multipart championship oral history series.
Game 4, World Series, Completing the sweep
A pitchers' battle between Freddy Garcia and Brandon Backe came to a close when Jermaine Dye singled home pinch-hitter Willie Harris, who singled off of Brad Lidge to start the eighth. Dye moved to second on Scott Podsednik's sacrifice bunt, and took third on Carl Everett's groundout. Cliff Politte, Neal Cotts and Bobby Jenks closed out the championship-drought-ending win. That ninth inning included an amazing catch by Juan Uribe, who jumped into the stands on the run to grab Chris Burke's foul pop-up for out No. 2.
White Sox chairman Jerry Reinsdorf: "The Uribe catch, because of where I was sitting, it was right in front of me. It was right in front of me. So, the last out of course, that was really a great play, and it's so bang-bang that you don't even know if he's safe or out until you see the umpire call the out."
When the game was complete, Reinsdorf quipped that his first thought was, "We have to get downstairs."
Reinsdorf: "It didn't really hit me until the parade. It was sort of surreal. When I realized the impact that we had on the city, on the community and then finding out that if you had gone to any cemetery the next day, the graves were already decorated with White Sox stuff. [Mayor] Richard J. Daley's grave was decorated. And then the parade -- two million people, no arrests."
White Sox manager Ozzie Guillen: "A lot of people say when you win, it's fun. No, winning is hard. A lot of people misunderstand. Yes, it's fun, but when you win, and get closer and closer to the World Series, it's getting harder and harder. It depends how you control it. How you go about it. How you take care of that situation. I think those guys, they did it with heart."
Dye, the World Series MVP: "Just being able to go 11-1 in the playoffs and put together a great team over the course of the whole season, it's something I'll never forget. Guys joined together and worked hard and just the attitude that we brought to the ballpark every day. We didn't let all the distractions come in our clubhouse and I think that was a special team that year."
White Sox general manager and current executive vice president Ken Williams: "Here's what I say. If there's a better team performance in the playoffs, the baseball playoffs, I'm not aware of it."
Up Next: The World Series celebration
Scott Merkin is a reporter for MLB.com. Read his blog, Merk's Works, follow him on Twitter @scottmerkin and listen to his podcast. This story was not subject to the approval of Major League Baseball or its clubs.