MLB.com Columnist
Roger Schlueter
Stats of the Day: Trout leads off with a bang
Angels star is youngest to lead off ASG with homer; first with consecutive MVP Awards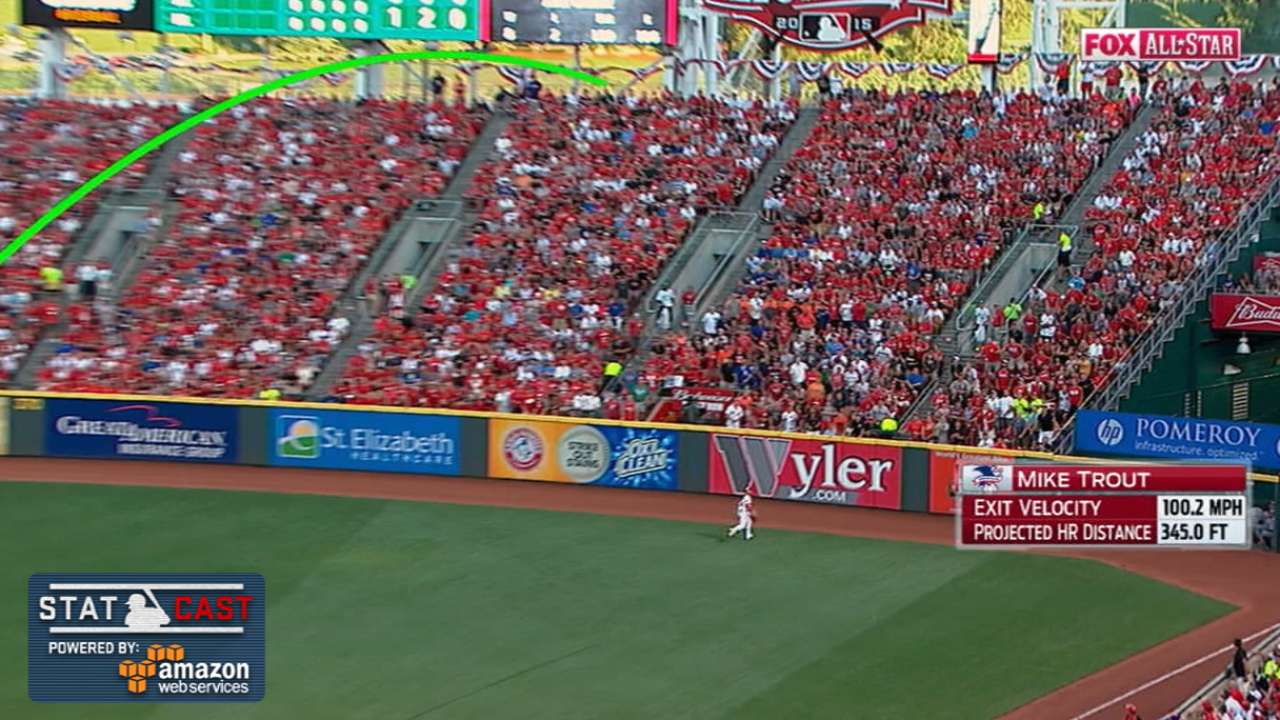 Here are five interesting items from the 2015 All-Star Game presented by T-Mobile:
• In the 86th Midsummer Classic, the American League defeated the National League, 6-3. With the victory, the AL has won three straight, but the Junior Circuit still trails all-time, 43-41-2.
• Mike Trout went deep to become the sixth player in All-Star history to belt a leadoff home run. At 23 years and 341 days old, Trout is the youngest of the sextet, which is also made up of Frankie Frisch (1934), Lou Boudreau ('42), Willie Mays ('65), Joe Morgan ('77) and Bo Jackson ('89). In four of the previous five cases, the leadoff homer led to a team win. Only Frisch, who was representing the NL, had his leadoff home run come in a losing effort.
• Trout won the Ted Williams All-Star Game MVP Award presented by Chevrolet after going 1-for-3 with two runs scored, a walk and a homer. With the recognition, he became the fifth player to win multiple All-Star MVP Awards, but he was the first to do so in consecutive Midsummer Classics. The other two-time winners were Mays (1963, '68), Steve Garvey ('74, '78), Gary Carter (1981, '84) and Cal Ripken, Jr. (1991, 2001).
• Andrew McCutchen produced the first home run by a Pirates player in an All-Star Game since Dave Parker went deep in the 1981 Midsummer Classic. McCutchen was the ninth starting center fielder for the NL to homer. With he and fellow leadoff man and center fielder Trout both going yard, the 2015 All-Star Game was the second in which both leadoff men homered (Mays and Dick McAuliffe led off and had home runs in 1965), and it was also the second in which both starting center fielders went deep (George Foster and Fred Lynn did this in '76).
• Jacob deGrom worked a scoreless sixth inning, fanning the side on 10 pitches. He became the sixth hurler to face at least three batters and fan all of the hitters he faced in his All-Star debut, joining Bobby Shantz (1952), Bill Caudill ('84), Brad Lidge (2005), Ryan Dempster ('08) and Jose Valverde ('10).
Roger Schlueter is a contributor to MLB.com. This story was not subject to the approval of Major League Baseball or its clubs.